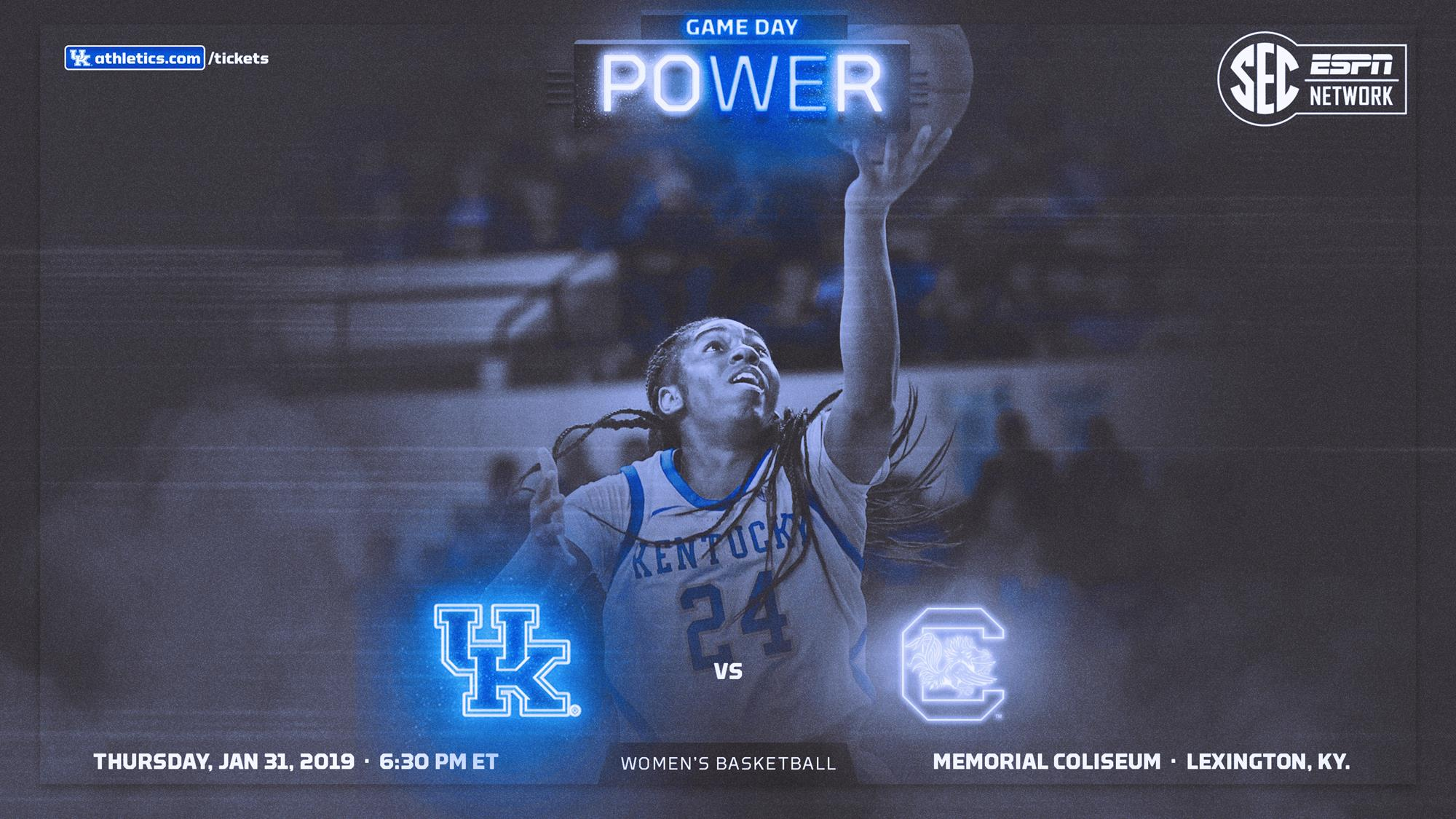 January 30, 2019 - 11:55 AM
No. 19 Kentucky Begins Home Stretch vs. No. 16 South Carolina Thursday
LEXINGTON, Ky. – The No. 19 University of Kentucky women's basketball team will square off against a ranked opponent for the third straight game when it plays host to No. 16 South Carolina on Thursday at 6:30 p.m. ET inside historic Memorial Coliseum. The game starts a two-game home stretch for UK that concludes Sunday vs. Florida inside Rupp Arena at 2 p.m. ET.
 
Single-game tickets are $10 (all ages) in reserved seating areas, while general admission tickets are $8 for adults and $5 for children (ages 6-18) and seniors (age 65+). Young fans are encouraged to take advantage of the Kid Zone pregame with games, poster making stations, coloring stations and more. Senior guard Taylor Murray is scheduled to sign autographs on the concourse following the game.
 
The game will be televised on the SEC Network with Pam Ward and Carolyn Peck on the call. The action can also be seen through WatchESPN on computers, smartphones or tablets. Darren Headrick will have the call on the UK Sports Network on 630 AM in Lexington. Live stats and free live audio will be available online at UKathletics.com.
 
Spectator parking is located in all E-lots surrounding Memorial Coliseum and are off control 3 hours prior to tip. Additionally, the South Limestone Garage (PS#5) and the Rose Street Garage (PS#2) are available 2 hours prior to tip. With the Gatton Student Center lot and expansion of North Craft lot there are 238 additional parking spots for spectators this season around Memorial Coliseum. The Bill Gatton Student Center is available as a pay-to-park option. Availability is based on the Gatton Student Center Event Schedule.
 
The Lexington Parking Authority Transit Center Parking Garage, located between High Street and Vine Street is available for parking after 5 p.m. during the week and all day on the weekends. Additionally, a free shuttle service will pick up in the High Street lot beginning 2 hours prior to tip. UK Athletics Event Staff will be at the Transit Center Garage Entrance to assist with directing patrons to the correct shuttle pick-up location.
 
Parking is prohibited in any R (Residential) lots. Vehicles parking in R lots without a proper permit, along yellow curbs, grass spaces, or other non-specified and unapproved areas may be subject to ticket and/or tow. Disabled spectator parking is available with a valid, state issues disabled hangtag in the E lot North of the Craft Center. These spaces are available on a first-come, first-served basis until full.
 
Shuttles are available beginning 2 hours prior to tip off and pick up and drop off near the South Limestone Garage (PS#5) and near the Transit Center Parking Garage and High Street Lot. Shuttles will start back up after halftime to return guests to their parking areas, the shuttle will discontinue service 1-hour post-game.
 
Doors to Memorial Coliseum open 1.5 hours before tip and UK Athletics encourages women's basketball fans to arrive early to ease traffic and parking congestion around the Coliseum. For more information on parking around Memorial Coliseum and other game-day questions visit UKathletics.com.
 
Kentucky (17-4, 4-3 SEC) is coming off a tough loss on the road at No. 24 Texas A&M last Sunday, 73-71. The Wildcats trailed the entire game but had possession down two with nine seconds remaining to potentially tie or win the game when a jumpshot from freshman Rhyne Howard rimmed out. The loss was Kentucky's third against a ranked opponent this season and moved UK to 2-3 on the road. Thursday's game against South Carolina marks the third straight for UK over a ranked opponent starting the stretch with a 52-41 win over then-No. 25 Missouri in Memorial Coliseum last Thursday.
 
Senior guard Maci Morris, who scored a game-high 22 points against Texas A&M hitting four 3-pointers, leads UK in scoring this season averaging 16.6 points per game. The native of Bell County, Kentucky, has hit a team-high 53 3-pointers adding 25 assists and 27 steals. Howard, who has been named the SEC Freshman of the Week five times this season, is averaging 16.5 points per game after scoring 21 against the Aggies with five 3s made. The rookie leads UK with 7.2 rebounds per game and ranks second on the team with 49 3-pointers and 46 steals while her 53 assists rank second on the team. Murray is averaging 12.5 points per game and is the final Wildcats scoring in double figures. The senior guard leads UK with 75 assists and 69 steals while her 48.4 percent from the field is also a team high.
 
South Carolina enters Thursday's game with a 14-5 record, including a 6-1 mark in league play. The Gamecocks are 9-2 at home, 4-1 in true road games and 1-2 in neutral-site games. USC is coming off back-to-back Monday night games with a win at home vs. Missouri on Jan. 21 before a victory at Vanderbilt earlier this week. After Thursday's game, USC will travel to face Arkansas before a home game vs. Ole Miss and non-conference showdown with UCONN on Feb. 11.
 
As a team, the Gamecocks are averaging 75.3 points per game while limiting teams to 63.8 points per game. USC is hitting 43.3 percent from the field this season, including 32.9 percent from 3 and 72.7 percent from the free-throw line. The Gamecocks have a +3.2 turnover mark and +2.6 rebounding margin. South Carolina is hitting 6.3 3-pointers per game.
 
Four Gamecocks are averaging 10 or more points led by junior guard Te'a Cooper, who leads the team with 12.9 points per game. Junior guard Tyasha Harris is averaging 10.5 points per game with a team-best 84 assists and 35 steals. Junior forward Mikiah Herbert Harrigan and senior forward Alexis Jennings are averaging 10.1 points per game with Herbert Harrigan averaging 5.2 rebounds per game while Jennings is pulling down 5.3 boards per game.
 
Kentucky leads the all-time series in games played against South Carolina 33-30, including a 20-9 mark in games played in Lexington. The Gamecocks have won eight straight games against the Wildcats, including three straight in Lexington. UK's last win against South Carolina came March 1, 2015 in Lexington (67-56). UK will return a trip to South Carolina on Feb. 21 and counting both games this season, the two teams will have met 10 times in the last three seasons.
 
For more information on the Kentucky women's basketball team, visit UKathletics.com or follow @KentuckyWBB on Twitter, Instagram and Snapchat, or Kentucky Women's Basketball on Facebook.
 
UK ATHLETICS COMMUNICATIONS AND PUBLIC RELATIONS
KENTUCKY WBB PRE-SOUTH CAROLINA NEWS CONFERENCE
WEDNESDAY, JANUARY 30, 2019
MEMORIAL COLISEUM – LEXINGTON, KY.
Head Coach Matthew Mitchell
Opening statement…
"Well, tough game ahead of us tomorrow night versus South Carolina. They're a very good team. They're playing really well, they're really scoring a lot of points lately, and they're on quite a good win streak here. So, we had a tough one versus Texas A&M, the team played really hard, but came up a little short. It's going to be very important that we prepare well here today and see if we can go out and earn a victory over a very good South Carolina team."
 
On the health of the team…
"We're pretty healthy. It's just a tough time of the year. I'm sure everybody is dealing with it. We're just a little banged up, but we're relatively healthy and no one is out as of right now. It should be full speed. We haven't practiced yet today, so you never know what may happen. But, we're relatively in pretty good health."
 
On how to prepare a team for back-to-back big games…
"Well, what we have tried to do all season is largely staying focused on what we need to do to be successful no matter who we are playing. Certainly, each team poses a unique challenge. But, we have tried to keep a good structure to our SEC practices to make sure that we devote enough time to what Kentucky needs to do well to win games. So, the Tuesday morning practice, the Wednesday afternoon practice, the game-day practice leading into the Thursday game is pretty much the same structure. And, I think that signals to the players how important it is to focus on what we need to accomplish in each game and work hard at that. So, we always know that we're going to have to out-hustle our opponent if we're going to want to win. We've got to play really tenacious and disruptive defense, and push the ball in transition. So,  South Carolina is a big challenge, but we've got to stay focused on what we need to do to be a good basketball team."
 
What is the top focus in practice…
"Well, as far as rebounding goes, we're really proud of the team. I shoulder a lot that blame, for not making  it as habitual as it needed to be and that always happens in practice. So, when a team is not doing one of the fundamentals well, I think that is a coaching problem. I think that is our problem and we've got to get that corrected. So, we've tried to start each practice with a real emphases on rebounding. We've tried to coach it better and the players have really responded with two very solid rebounding performances.  I thought out-rebounding Texas A&M on the road  was a good step for us. We still have a lot of improvement that we can make in that area. But, at least now when the shot goes up we're not staring at the ball and trying to find someone… they're  trying, and that is really important. There for a while we weren't mush  of a factor on boxing out and we don't have a… Taylor Murray is a really great explosive leaper and out-of-area rebounder. Rhyne Howard is a really good rebounder. But, we don't have a ton of out of area rebounders, so we have to be fundamentally sound and really sharpen that area.  So, I give the players  a lot of credit for getting that moving in the right direction and making some improvements. Right now for us, we've worked really hard in that area. One thing that I thought was disappointing in the Sunday game versus Texas A&M was just our offensive spacing, our timing and our execution and we need to clean that up. We've had some  good moments of that throughout the season, but that needs to improve over the coming days."
 
On a unique coaching technique to get the team focused for the final stretch before postseason…
"Yeah, I'm sure everyone has a different opinion on this. I actually think the last two weeks of January might be tougher than any other time, because you've started in the conference and it is tough and very competitive, there isn't a lot of light at the end of the tunnel. I think things start to come in more focus at the end of February, where we start to see where the positioning of the league is shaking out. You start to find out where you are and what you need to do to achieve your goals. So, I think  our team is very excited and very motivated to be a NCAA tournament team, to challenge for an SEC Championship, to be the very best that they can be to be a championship-level team. So, our focus has been pretty good. It's a long season. We're a two-semester sport. We started in June and had the tip to Italy, so there are going to be some days where you're just not quite top notch. What our team has done when we've had those lapses that we don't want, or find acceptable,  is they have a real great knack of bouncing back and maintaining their focus. I think they're excited to play. We know how important these games are. We've put ourselves in great position, and we just need to move and keep plugging here, and stay focused."
 
On how to make sure one loss doesn't turn in to two…
"Well, we're just not looking at it that way at all. As coaches will tell you, you're going to try to do a great job on South Carolina and that is the only game that we can focus on right now. One way we try to work through it is to have great process. So, we do the same thing after every game, win or lose. We have areas for praise and we have areas for progress. And, we try to put that game in the books, while also bringing out the information that is useful for us to improve as we move to the next game. So, I think the structure of that and the commitment to that process has been really good to us. We are going to work hard, not to let any kind of thoughts about Texas A&M creep into our operation here. This is a very different game, this is a totally different game. They are a really good team. Then, we will be on to another good team and another good team after that. So, it's just so important to try to focus on these precious 40 minutes that we have Thursday night. And, we will have our hands full to earn a victory, much less be worried about the last game and what happened there. So, we've got a really high character group of kids. We're not perfect, we have so many flaws. But, they want to win, they've worked hard to win this year. They have proven they can win, so we're going to go after it hard tomorrow night."
 
On if you expect the bench to play a role versus South Carolina…
"Yeah, well we have had great contribution from everyone on our team and that is the kind of team we are. We have to do it together, so I expect us to come out against a very good South Carolina team and play with tremendous energy and give it great effort. That is what it'll take tomorrow night."