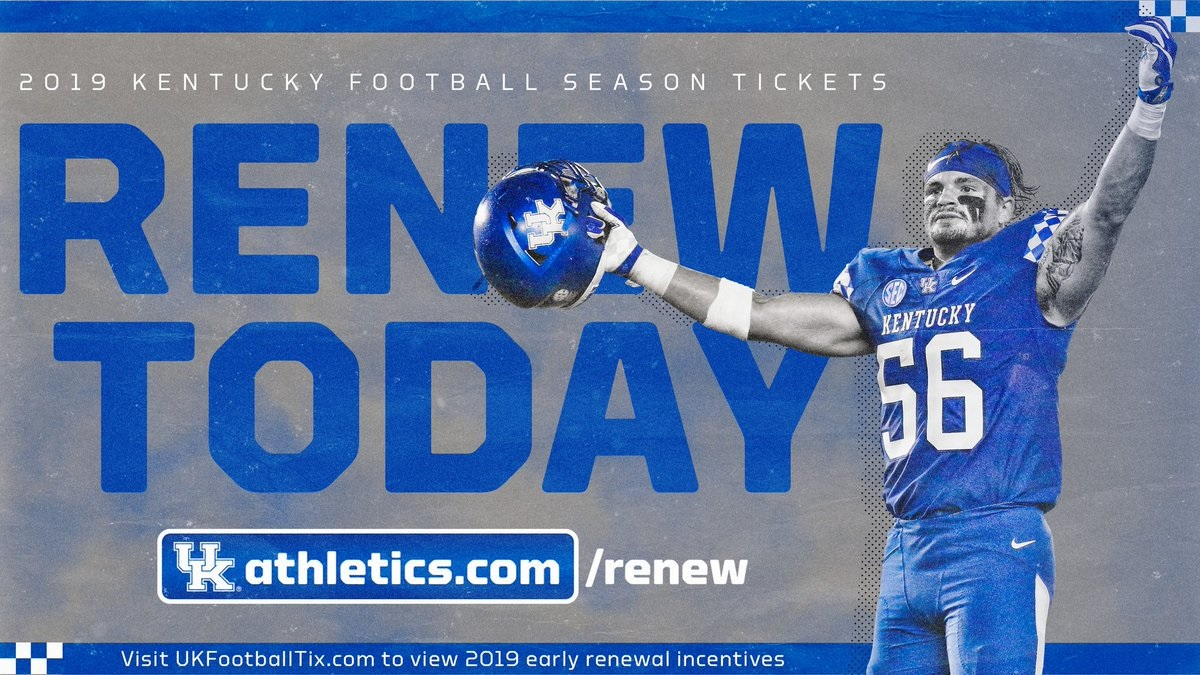 LEXINGTON, Ky. – After a VRBO Citrus Bowl championship and its most successful season in decades, Kentucky football has sustained positive momentum with strong early season ticket sales.
 
In just two weeks, more than 10,000 season tickets have been renewed or purchased. That includes more than 850 new season tickets sold to deposit holders and existing season ticket holders, representing a more than 800-percent increase from last season at this time. UK is already nearly three-quarters of the way to topping the approximately 1,200 new season tickets sold for the 2018 season.  
 
Fans renewing their season tickets can still do so before the end of the Early Signing Period this Friday. Season ticket holders who renew during the Early Signing Period will be able to lock in their 2019 tickets and parking at 2018 prices, plus the addition of sales tax. Renewing by Friday will provide the opportunity to receive eight home games for the price of seven. After Friday, renewals will be available at standard pricing.
 
Renewals are available online through each season ticket holder's My UK Account at UKathletics.com/renew, while paper invoices will be mailed in late February.
 
New season tickets will go on sale to the public Feb. 8 through the Kentucky Football Virtual Venue. This interactive site allows fans to view seats and work together with a personal ticket representative to compare and purchase available seat locations. Fans can gain priority access to the best seat locations prior to the public on-sale date and earn exclusive incentives by placing a $50 per seat deposit or by contacting the UK Sales Office at (800) 928-2287 (Option 1).
 
Kentucky football will play eight home games this fall for the first time since 2015. The Wildcats' strong home slate features matchups against Southeastern Conference foes Florida (Sept. 14), Arkansas (Oct. 12), Missouri (Oct. 26) and Tennessee (Nov. 9) and a Senior Day showdown with in-state rival Louisville on Nov. 30. Toledo (Aug. 31), Eastern Michigan (Sept. 7) and UT Martin (Nov. 23) round out the home schedule.
 
Once again, UK Athletics will offer a variety of season ticket holder benefits, including the opportunity to order additional single-game tickets at exclusive prices in advance of the general public and recognition on the Kentucky Farm Bureau "Wall of Commitment" inside Kroger Field. Click here to view a complete list of 2019 season ticket holder benefits. The following exclusive incentives will be also be available to fans who renew season tickets or purchase new season tickets prior to the following dates:
 
Benchmark 1: Renew by Feb. 1 (Not Valid On New Sales):
Receive five (5) bonus K Fund priority points**
Early Signing Period pricing, with eight home games for the price of seven
Ability to renew through a five-month, no-interest payment plan
Priority access to tickets to Kentucky football's Blue-White game, prior to the general public, while supplies lasts
Plus, all benefits in Benchmark 2 and 3
Benchmark 2: Renew or purchase by Mar. 8:
Entry to win an invitation to an exclusive live recording of the Mark Stoops Radio Show
Ability to renew through a four-month, no-interest payment plan
Plus, all benefits in Benchmark 3
Benchmark 3: Renew or purchase by Apr. 12:
Receive two (2) complimentary tickets to UK Athletics' annual CATSPY Awards in mid April
Receive an exclusive UK Football Season Ticket Holder window decal
Invitation to the 2019 Kentucky football season ticket holder facility tour
Entry into "Season Ticket Surprise" drawings, including access to premium seating and suite tickets, autographed Kentucky football memorabilia and complimentary tickets to away-games
**Bonus K Fund priority points will be added Feb. 1 to all accounts and will count towards priority rankings for the 2019-20 men's basketball upper-level seat selection process. Visit UKathletics.com/RuppRenovation for more information.
 
Single-game ticket information will be released at a later date. A variable pricing model implemented based on fan feedback will be in place based on seating location and opponent to best reflect the value of each ticket and protect the investment of season ticket holders.
 
Student season ticket information for 2019 will be released at a later date at UKStudentTix.com, and students will receive more information by email in the spring.
 
The Kentucky football team finished the 2018 season ranked No. 11 in the Amway Coaches Poll, the program's first ranking in final polls since the 1984 season and its highest since the 1977. The Cats' record after defeating Penn State in the Citrus Bowl is 10-3, giving UK just the third 10-win season in school history.