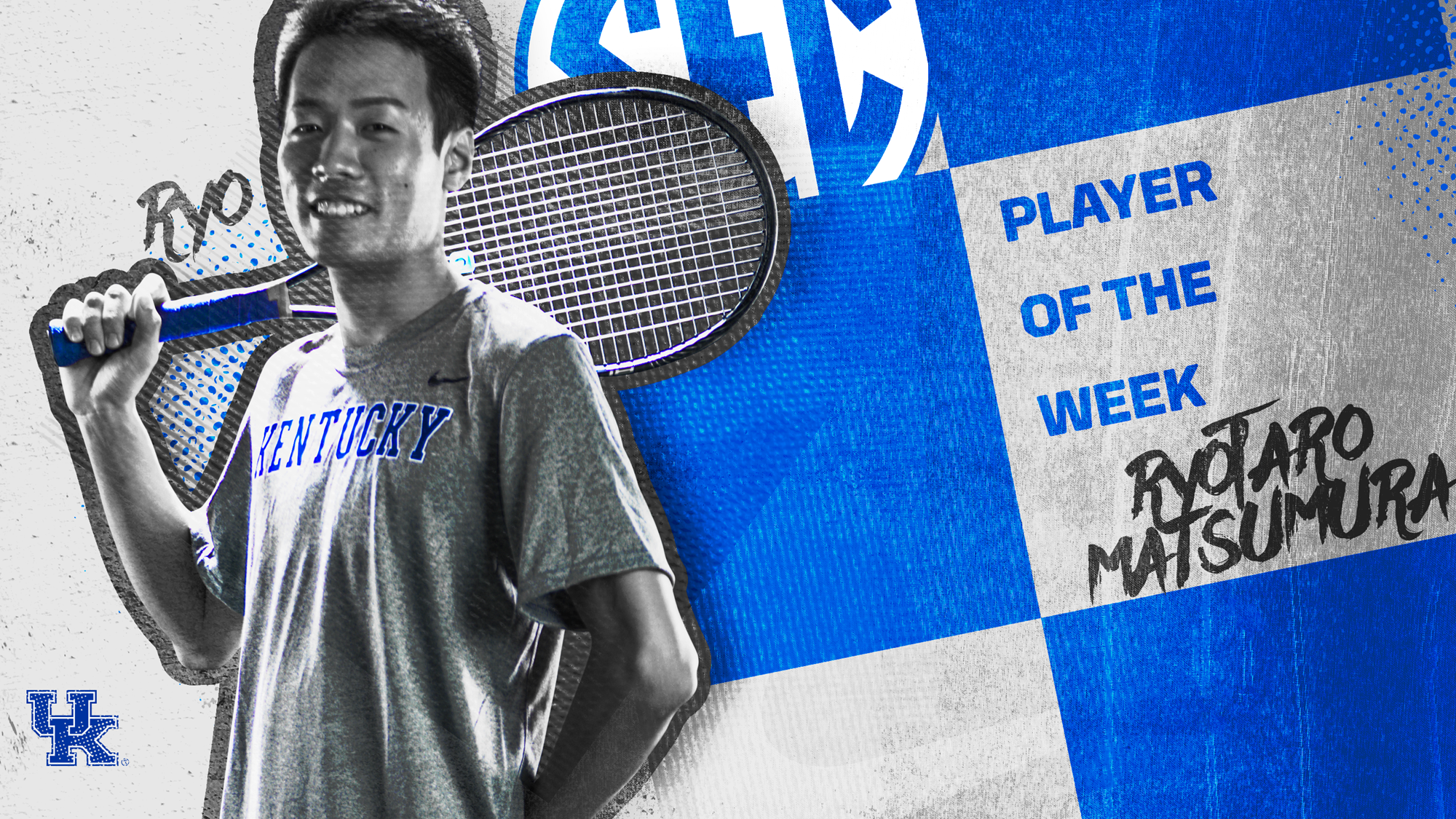 January 30, 2019 - 03:51 PM
Ryo Matsumura Dubbed SEC Player of the Week
LEXINGTON, Ky. – After picking up two top-30 singles wins in a personal undefeated stint at ITA Kick-Off Weekend, Kentucky senior Ryo Matsumura was named the season's first Southeastern Conference Player of the Week on Wednesday.
 
"Ryo had a great week," said head coach Cedric Kauffmann. "He starting to play like he can, and he's really open about getting better each week. I can't wait to see how he does in the next couple. Congratulations to him."
 
Last Saturday, Matsumura defeated 27th-ranked Charlie Broom 6-2, 6-2 in Kentucky's 4-3 loss to Dartmouth in the New York City region's opening match of ITA Kick-Off Weekend. The Fukui, Japan native claimed the match's first singles point after sealing the one for doubles alongside sophomore Kento Yamada in a 6-4 victory over Dartmouth's Casey Ross and Peter Conklin.
 
The next day, Matsumura continued his push on court one with a 6-4, 6-2 win over 30th-ranked Jason Kros in the Wildcats' 4-0 sweep of Virginia Tech in the region's consolation match. Matsumura and Yamada's doubles contest with Kros and Brandon Perez remained unfinished in a 6-6 deadlock once Kentucky emerged victorious in its other two matchups.
 
Matsumura was designated first-team All-SEC in 2018 after receiving two second-team honors as an underclassman. Matsumura's junior campaign also included an SEC Co-Player of the Week garnishing last April en route to being named an ITA All-American last summer.
"I'm happy to receive this award," Matsumura said. "As an individual, I had a great week knocking off two top-30 players. I'm looking forward to battling Virginia this weekend. Everyone on the team needs to be ready."
Kentucky will take on No. 12 Virginia on Sunday at 1 p.m. ET at Boone Tennis Center.
 
For the latest on Kentucky men's tennis, follow @UKMensTennis on Twitter and @KentuckyMensTennis on Instagram, and follow the team on the web at UKAthletics.com.