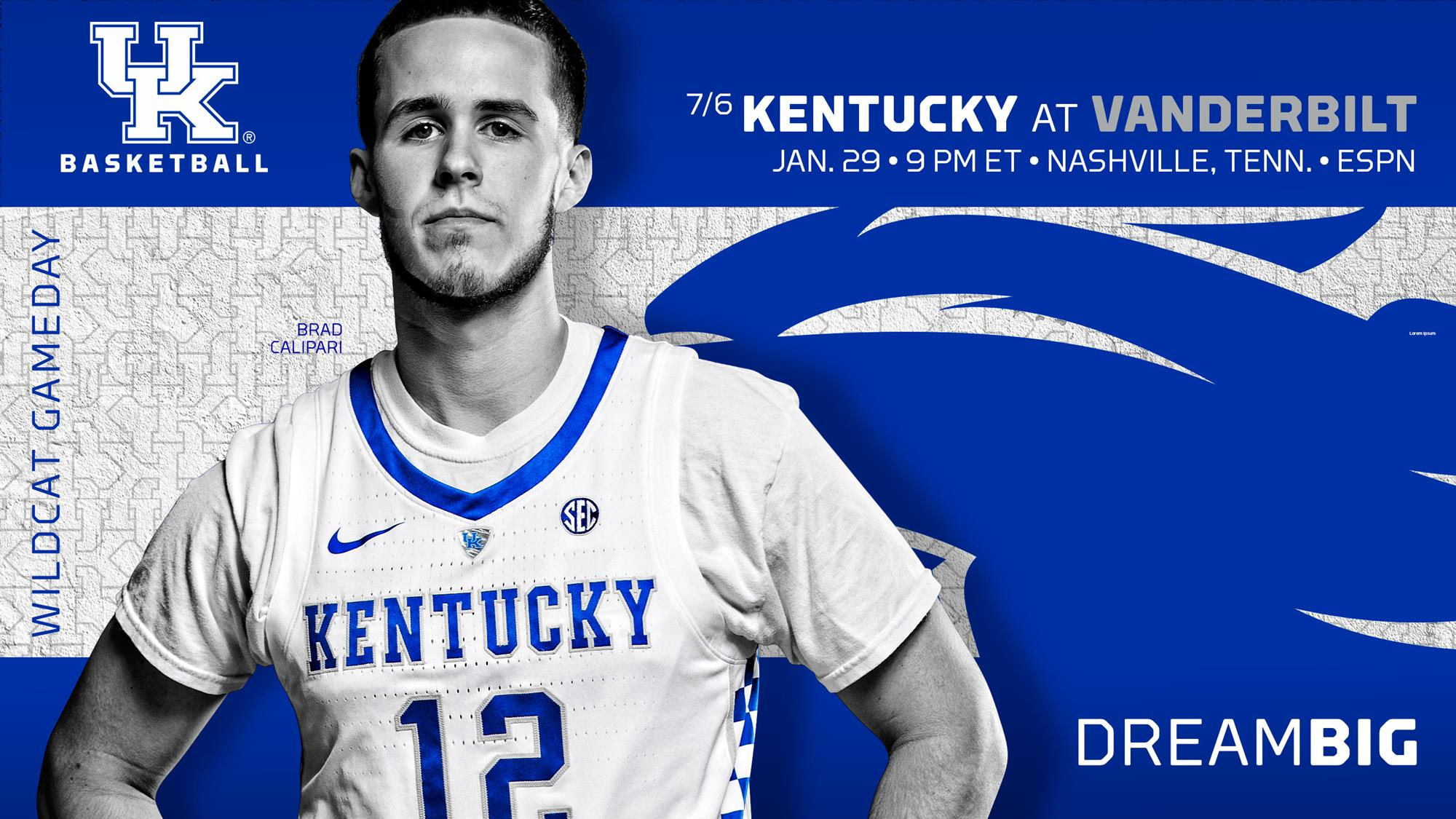 January 28, 2019 - 06:15 PM
Defensive Work Yielding Results for Herro, Cats
It takes a trained eye to appreciate what Tyler Herro is doing for Kentucky.
 
Take Saturday's win over Kansas, when it would have been easy to dismiss his impact after Herro managed only six points on 2-of-9 shooting, as an example.
 
"I think that what is happening for Tyler Herro, right in front of our eyes, is non-basketball people are looking at him saying he's missing shots," associate head coach Kenny Payne said. "Basketball people are looking at Tyler saying, 'Man, his energy. Man, he can pass. Man, he's defending. He does a little bit of everything. He can drive to the basket.' "
 
Herro might have missed all four of his 3-point tries, but Kentucky still couldn't afford to have him off the floor. Embracing the assignment of shadowing Lagerald Vick and holding Kansas' second-leading scorer to 10 points, Herro played a team-high 38 minutes.
 
"At the beginning of the season, I don't think I could have made the impact I did on that game," Herro said. "Just because I feel like I'm not the same player as I was. Credit to the coaches making me a better player. I feel like obviously I wanted to make shots, but it was good to be able to impact the game in a different way playing defense."
 
Kentucky at Vanderbilt

Tue., Jan. 29 – 9 p.m. ET
Memorial Gym
Nashville, Tenn.
Game Notes: UK | VU
UK Athletics App Digital Guide

Coverage

TV: ESPN
Radio: UK Sports Network
Watch
Listen
Live Stats

UK
2018-19 Stats
VU
79.5
PPG
75.8
67.3
Opp PPG
72.7
.481
FG%
.445
.412
Opp FG%
.425
38.8
RPG
37.2
.350
3PT FG%
.333
.360
Opp 3PT FG%
.310
.750
FT%
.690
14.3
APG
12.6
6.8
SPG
4.9
5.4
BPG
4.3

Herro is well aware his reputation coming into his freshman year at UK was primarily as a shooter. He's now relishing the thought of showing that reputation does not do his blossoming game justice.
 
"That's one of the things that he takes pride in," Payne said, "one of the responsibilities of him walking into this program is, 'I'm coming here to show people that I'm not just a shooter. I'm going after people. I can play. I can put it on the floor. I've got wiggles. I've got swag. You name it, I got it.' "
 
After he dished five against Kansas, Herro now has three or more assists in four of his last five games. Though his outside shot (34 percent from 3) has been more inconsistent than he expected, he's still UK's second-leading scorer thanks to 53.2-percent shooting from inside the arc and 91.1-percent shooting from the line.
 
Those things, however, were part of his game before he set foot on campus. The defense, on the other hand, has advanced by leaps and bounds in mere months.
 
"Just the coaches pushing me personally and really the team every day in practice," Herro said. "Ever since the first game, we've been working on defense."
 
Herro's development on defense has followed a similar upward trajectory to his team's. A little over two months ago, as UK prepared for a matchup with North Carolina, the Cats' were ranked 53rd nationally in adjusted defensive efficiency according to kenpom.com. Breakdowns were frequent and opponents seemed to stay hot from 3-point range.
 
Since then, UK has shot up to 11th in adjusted defensive efficiency, defeating four teams currently ranked in both polls in the process. In three of those wins, the Cats have held their opponents to their fewest points per possession of the season, and they likely would have done the same to Kansas had it not been for a late 3-point barrage.
 
None of that is enough in the eyes of UK's coaching staff.
 
"We're not complacent as coaches with where we are defensively," Payne said. "And we've made a big jump. Look, guys, we have to be a swarming defensive team. We're playing really well defensively, but do we have another 30, 40 percent left in us? I think so."
 
That's not just idle talk either. Payne has specifics in mind.
 
"I think if we can get Keldon Johnson off the ball to be alert and reactive," Payne said. "If we can get Ashton Hagans off the ball to be better. If we get PJ (Washington) to be a little more consistent. There are lapses there defensively off the ball. If we can get five guys all in tune to guarding the ball and helping each other for 40 minutes, we've got a chance. We've got a real chance."
 
UK will look to take the next step toward a 40-minute defensive game Tuesday at 9 p.m. when the No. 7/6 Cats (16-3, 5-1 Southeastern Conference) travel to Nashville for a rematch with Vanderbilt (9-10, 0-6 SEC). The game might mark the end of Kentucky's three-game streak of facing ranked opponents, but the approach is no different.
 
"We know Vandy's a good team," Herro said. "They almost had Tennessee beat at home. It's going to be a tough game going into their place. Just gotta come ready as we did the last three games, with that same focus and energy come in and hopefully get a good victory tomorrow."
Washington, Travis Lead Kentucky Past Kansas in Top-10 Showdown
PJ Washington and No. 8/9 Kentucky hit the glass hard against No. 9/10 Kansas. It worked. Washington scored 14 of his 20 points in the second half, and the Wildcats beat the Jayhawks 71-63 on Saturday in the SEC-Big 12 Challenge.
Washington, Reid Travis and Keldon Johnson powered Kentucky to a 49-36 rebounding advantage. Washington grabbed 13 boards, Travis had 18 points and 12 rebounds, and Johnson also posted a double-double with 15 points and 10 rebounds in front of a national audience that included ESPN College GameDay earlier in the day.
"I just came out aggressive, and that just shows on the glass," Washington said after his team-leading fifth double-double this season and the first back-to-back 20-point games of his career. "I just tried to look for my shot, look for my teammates, just be aggressive."
The three double-doubles marked the first time three Wildcats had gone for double figures in two different categories since John Wall, DeMarcus Cousins and Patrick Patterson all had double-doubles vs. Mississippi State on Feb. 16, 2010.
Neither team reached 40 percent shooting, but the Wildcats (16-3) were much better in the second half and held the Jayhawks (16-4) in check down the stretch of the marquee matchup between college basketball's two winningest programs.
Kentucky dropped its three previous games against Kansas and trailed 33-30 at the break, but Johnson made three 3-pointers to help fuel the Wildcats' big second half.
"I knew my teammates would give me the right shots," said Johnson, who was 5 of 9 from the field. "I've worked very hard on my game, and I had confidence to come out and hit the big shots when I needed to."
Kentucky earned its sixth consecutive win, with the last three coming against Associated Press Top 25 teams. It's the first time UK has gone 3 for 3 vs. ranked opponents since the 2015 NCAA Tournament and the first time in the regular season since January 2004.
Dedric Lawson had 20 points and 15 rebounds for the Jayhawks, and Quentin Grimes added 13 points. It was Lawson's 14th double-double this season.
After trailing by 10 points midway through the first half, Kentucky's defense clamped down while Washington and Travis went to work on the interior. Kansas shot 36.5 percent (23 for 63) from the field in its second loss in three games.
• UK is now 3-3 in the SEC/Big 12 Challenge
• A season-high 24,387 fans were in attendance
• Kentucky held its fourth opponent in the last five games to less than 40-percent shooting. UK is 172-15 (.920) under Calipari when keeping the opponent at 40 percent or less, including 8-0 this season
• The Wildcats are now 163-7 under Calipari when keeping the opponent to 63 points or less, including 11-0 this season
• Kentucky improved to 4-1 vs. AP Top 25 teams this season
• UK won the rebounding battled 49-36 and points in the paint 38-2. According to ESPN Stats & Info, it's the fewest points Kansas has scored in the paint over the last two seasons
• Kentucky improved to 249-5 (.980) under Calipari when leading by at least 10 points at any point in the game
• UK has won 15 in a row in Rupp Arena, including 11-0 this season
• The Wildcats won their second game in a row when featured by College GameDay and improved to 7-10 overall
• UK grabbed 17 offensive rebounds, the 13th time Kentucky has grabbed double-digit offensive rebounds and the fourth time in the last five games
• It was Johnson's third double-double of the season and Travis' second
• Hagans followed his career-high nine-assist game vs. Mississippi State with eight vs. Kansas. He now has three or more in 13 straight games
• Travis hauled in double-digit rebounds for the fourth time this season. He's recorded 12 in all of those
• Nick Richards blocked a career-high five shots in nine minutes
Wildcats in the Middle of a Tough Stretch
 
Already tasked with playing one of the toughest schedules in the country, Kentucky just completed a three-game buzzsaw vs. No. 14/12 Auburn on the road and No. 22/22 Mississippi State and No. 9/10 Kansas at home.
It marked the first time since the 2015 NCAA Tournament UK faced three consecutive foes ranked inside the Associated Press Top 25 and the first time in the regular season since the final three games of the 2005-06 regular season.
UK's reward for getting through this particular three-game stretch? Back-to-back road games at Vanderbilt (Jan. 29) and Florida (Feb. 2).
As a matter of fact, Kentucky's schedule is shaping up to be one of the toughest in the country.
UK has already faced the likes of Duke (Nov. 6) in Indianapolis in the State Farm Champions Classic, Seton Hall (Dec. 8) in Madison Square Garden in the Citi Hoops Classic, Utah (Dec. 15) in Rupp Arena, North Carolina (Dec. 22) in Chicago in the CBS Sports Classic and concluded December with a road game at Louisville (Dec. 29).
Five of UK's nonconference opponents played in the NCAA Tournament last season. According to a survey among NCAA schools, that's tied for the third most in the country.
And that's just the nonconference slate.
The Southeastern Conference featured eight teams in the NCAA Tournament a season ago and UK will play three of those teams twice. The league appears to be every bit as good as last season with four teams ranked in the Associated Press Top 25 this week and two more receiving votes. Last week six teams were in the AP Top 25 for the first time since Jan. 21, 2003.
Looking at Kentucky's remaining schedule, of the 12 remaining regular-season games, four are against opponents currently ranked in the AP Top 25, plus UK has a home game vs. Auburn and a road date at Ole Miss, both of whom are receiving votes. Of the eight that are not ranked, four are on the road, so it won't get any easier for UK.
As the poll stands right now, Kentucky's 2018-19 scheduled features nine games vs. opponents in the AP Top 25.
Big-Game Cal, Cats
 
John Calipari's teams aren't just good against the best teams in the country, they're great. Not only does Kentucky have a 56-27 record (.675) vs. Associated Press Top 25 teams, UK is 5-4 when both teams are ranked in the AP top five under Calipari.
All-time, Calipari is 11-8 when both teams are ranked in the AP top five. When both teams are ranked in the AP Top 25, Calipari's all-time record is 79-50, including a 48-23 mark at Kentucky. When both are ranked in the top 10 he has a 25-16 record, including 14-9 at UK.
Dating back to last season's Southeastern Conference Tournament championship game, the Wildcats have won five of their last six matchups when both opponents are ranked.
In terms of this season alone, Kentucky has answered the bell of big-time showdowns after an early-season lesson vs. Duke. Since that season-opening loss to the Blue Devils, UK has won its last four games vs. AP Top 25 teams — its best streak since winning eight straight during the 2014-15 season — and three over the last three games.
The 3-for-3 run vs. ranked opponents Auburn, Mississippi State and Kansas is the first time that's happened since the 2015 NCAA Tournament and the first time in the regular season since January 2004.
Three players in particular have stepped up in the top-25 matchups. Below are their averages in UK's five games vs. AP Top 25 opponents:
• Keldon Johnson – 17.6 points per game, 5.0 rebounds per game, 56.4 FG pct., 50.0 3-point FG pct.
• Reid Travis – 16.5 ppg, 9.0 rpg, 55.3 FG pct.
• PJ Washington – 14.6 ppg, 7.6 rpg, 50.0 FG pct.