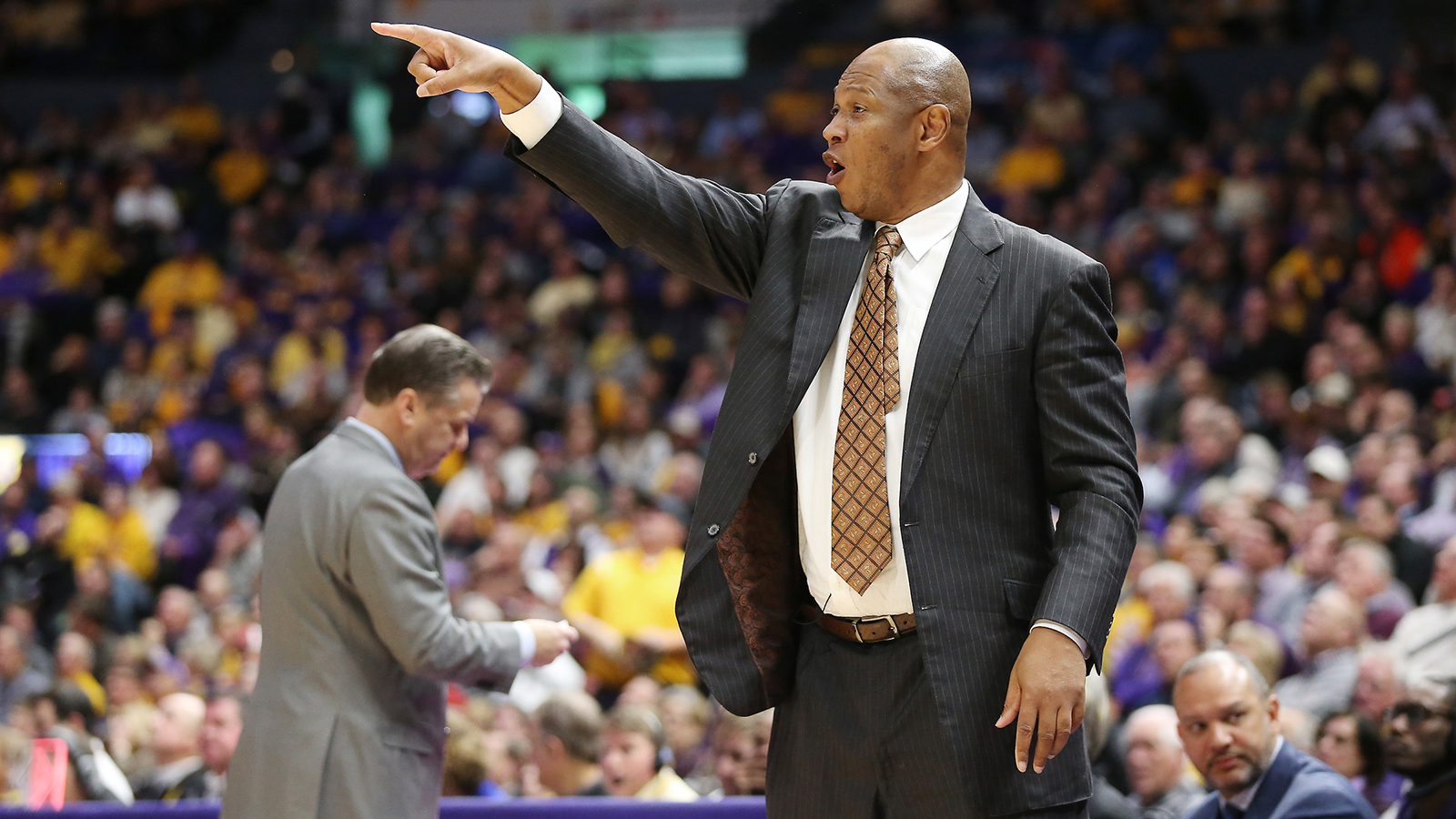 January 27, 2019 - 07:33 PM
Kentucky Basketball Previews Vanderbilt
UK ATHLETICS COMMUNICATIONS AND PUBLIC RELATIONS
MEN'S BASKETBALL
UK at VANDERBILT PREGAME MEDIA
JAN. 28, 2019
JOE CRAFT CENTER – LEXINGTON, KY.
 
Associate Head Coach Kenny Payne
 
On if he believes in trap games …
"I would like to say I do buy into the notion, but not at the University of Kentucky and not under John Calipari. Our players, they don't have the mindset. We don't allow them. Cal doesn't allow them to relax. That's one of the great things about what we do. Once a win is over, once a big win is over, it's over. We're on to the next. With this program, there are no trap games. We're going into a hostile environment where a team is very desperate, that is capable of beating us. Probably should've won that Tennessee game. We know."
 
On saying on to the next like Bill Belichick …
"Well, that's the reality of it is on to the next. I guess he's on to something."
 
On Vanderbilt's improvement …
"I just think they've had some unfortunate timing of bad plays that have happened, but I think that they are playing faster. (Aaron) Nesmith is really playing well for them. The (Saben) Lee kid is playing well for them. They're fighting. They're not laying down for any team. They're getting after it. They're capable of beating anybody in this league."
 
On outside shots not falling like Coach Cal expects them to …
"I don't know that I would say they haven't been falling as much as Cal expects. I think the start of the Kansas game, guys were pressing. It was a big game. National TV, (ESPN College) GameDay, a lot of hype, a lot of NBA personnel, guys that have played against two historic programs. It's a big game. Tyler Herro was pressing a little bit. Keldon (Johnson) was pressing a little bit. But as the game wore on, especially in the second half, you could see them come down a little bit and relax a little bit more. Which is a good sign. When you got freshmen and you're playing in marquee games, the emotions of the game, it's tough."
 
On if he could sense the pressure before the game started …
"Not really, but you could sense the, 'We've got to do this.'  You could sense the fire in their eyes. That's a delicate balance of figuring out, 'Yeah we want to win and yeah we're going to bring it, but we've also got to play at peace.' "
 
On if he likes his team wound up a little bit …
"No question. We won that game based on defense. I like being the fiery team opposed to the cool, calm, collected because sometimes that can be misconstrued into laziness, lackadaisical. I would want guys to be more amped to be more amped to play."
 
On Tyler Herro …
"I think that what is happening for Tyler Herro, right in front of our eyes, is non-basketball people are looking at him saying he's missing shots. Basketball people are looking at Tyler saying, 'Man, his energy. Man, he can pass. Man, he's defending. He does a little bit of everything. He can drive to the basket.' So, there's this people being so concerned with shooting that they're forgetting and not noticing exactly what he's bringing to the table."
 
On Tyler Herro's defense and being the second defensive stopper besides Ashton Hagans …
"He's been really good, really focused. In his words, 'KP, I'm a dog.' And, we love that because we need a team full of dogs."
 
On what the word "dog" means to him …
"In my dictionary, it means an alpha. That I will fight you for everything you get. I'm not just a white kid that can shoot. I can play. [Media laughs.]"
 
On Herro being an all-around player and that coming up in his recruiting process …
"That's one of the things that he takes pride in, one of the responsibilities of him walking into this program is, 'I'm coming here to show people that I'm not just a shooter. I'm going after people. I can play. I can put it on the floor. I've got wiggles. I've got swag. You name it, I got it.' "
 
On seeing Herro's potential early on …
"That's been who he is from day one, even in high school."
 
On Herro's confidence level …
"There was a play in the Bahamas where he drove to the basket, had the ball in his left hand, didn't touch it with his right hand, laid it off the glass and winked at me. [Media laughs.] I tried to ignore it and after the game the referee said, 'Kenny Payne, did you see what he did? He winked at you.' He has a confidence, a way about himself, that's pretty good."
 
On if Herro has responded to "getting punched in the mouth," as Coach Cal likes to say …
"Of course he has. One thing about – again – about this program is if the game doesn't punch you in the mouth, Coach Cal will punch you in the mouth, so you're not going through this program and just going through the motions. You're going to have adversity."
 
On why Calipari is still polarizing in the national media's eyes …
"I think he brings a fire to it that is unique. I think kids all over the country should look, especially basketball – and I'm really talking basketball families and players – all over the country should look at what we are doing here and how we're doing it. We're not sugarcoating it, we're not lying to families, and there's a success that happens here. And especially when things are rocky, people jump on and off the bandwagon. Well, that makes him a little more in tune to what is going on. He's just a unique coach. I say this all the time, there's not many coaches that can do what he is doing, if any in this program."
 
On PJ Washington and Keldon Johnson running the floor more …
"We do before practice, we do a warmup session and go straight into a minute-and-30-second sprint, end line to end line, and it shows who's who. These guys have embraced it and there's a fight. PJ has been winning it the last three or four days, and so, what happens is we watch film and see basically, three sprinters, Olympic-style sprinters, Keldon Johnson, Tyler Herro and PJ Washington. Well, if they can do that 15-20 times a game each, whether they get the layup or not, phew, you're making a statement about what we are as a team because there's nobody that can run like that. They have embraced running the floor and playing with an energy that has lifted up their confidence and way they approach the game."
 
On Nick Richards' defensive intensity …
"Again, I think, what did he play nine minutes, eight minutes? He had five blocks. Could have blocked two more. Got a little tired. Look, Nick Richards is a unique basketball player in a time where there's not many 7- footers that can change shots around the basket. We need that from him. He has a lot more than his size, a lot more. We're probably seeing 50 percent of him. We want 110 percent of him. So, it's a hard deal, but Nick, what he brings to us, even in those eight or nine minutes. Think about five blocks in eight minutes. That's ridiculous."
 
On developing Nick Richards' game … 
"Well, with Nick, look let's just say it like this: Nick Richards, we want him to be able to guard five positions. We want to be able to switch ball screens. We want him to be able to chase a 2-guard off a screen. We want him to be a great post defender. We're asking a lot from a 7-footer that's a sophomore in college, but with what his tools are athletically, why not? If he can figure it out, every NBA organization will want Nick Richards. He'll be playing this game for a long time. That's the goal. That's why you come here – to be put in situations that are hard. If you're at another program, they stick you under the basket and you never come out. We're trying to say, 'OK, you can block this shot and guard a point guard out on the perimeter.' "
On subbing Richards out for not getting rebounds …
"No question. I think Cal wants Nick to have Reid's intensity. So when you look at film, when you watch Reid Travis fight for rebounds, fight for offensive rebounds, play with a physicality to the game, and then you watch Nick, who at times does it, but at other times he gets fatigued and he lets go, well, then you're coming out. And he explains to him why you're coming out. Nick has some dog. We need him to embrace having more dog."
On if they're asking Reid Travis to do new things …
"Man, I wish that we could go back in time and watch some of the stuff in The Bahamas that Reid was doing and come back now and just see exactly the growth. The way he's moving. The way he moves his feet. Again, I talk about – before – I think last time I was here talked about his shot blocking. Reid has made a lot of adjustments. And there are times where he reverts back because, look, he's a fifth-year senior and he's done it a certain way for so long and been successful at it. We're only adding to what he is, and he's made the adjustments. Now we need him more consistent. We talk about catching the ball and getting it up to the basket quicker as opposed to being under the basket, taking a dribble, gathering, taking time to go up. He has shown flashes that he can do it."
On if Payne tells him to make adjustments in games when he is taking longer to put the ball up …
"With Reid, it's just making him aware. He's in tune. He's a very coachable, very intelligent. 'Reid, you went back and you brought it down,' 'You're right I got it.' It's that simple."
On Kentucky improving its team defense …
"It's funny you say that. We just had this coaches' meeting this morning and we talked about that. We're not complacent as coaches with where we are defensively. And we've made a big jump. Look, guys, we have to be a swarming defensive team. We're playing really well defensively, but do we have another 30, 40 percent left in us? I think so. I think if we can get Keldon Johnson off the ball to be alert and reactive. If we can get Ashton Hagans off the ball to be better. If we get PJ to be a little more consistent. There are lapses there defensively off the ball. If we can get five guys all in tune to guarding the ball and helping each other for 40 minutes, we've got a chance. We've got a real chance."
 
UK ATHLETICS COMMUNICATIONS AND PUBLIC RELATIONS
MEN'S BASKETBALL
UK at VANDERBILT PREGAME MEDIA
JAN. 28, 2019
JOE CRAFT CENTER – LEXINGTON, KY.
Kentucky Players
#14, Tyler Herro, Fr., G
On when he winked at Kenny Payne in the Bahamas …
"It was just, I thought I made a good play and me and KP have a good relationship so I kind of winked at him as a funny joke. I think it was towards the end of the game. I love KP. We have a great relationship, like I said. He's a great coach."
 
On the play that led him to wink …
"I think I drove left, did like a little hop step, made a left-hand layup and on the way back down on defense I winked at him."
 
On how Payne reacted to the wink …
"I think he just started laughing."
 
On contributing during the Kansas game outside of scoring …
"At the beginning of the season, I don't think I could have made the impact I did on that game. Just because I feel like I'm not the same player as I was. Credit to the coaches making me a better player. I feel like obviously I wanted to make shots, but it was good to be able to impact the game in a different way playing defense."
 
On how that change happened …
"Just the coaches pushing me personally and really the team every day in practice. Ever since the first game, we've been working on defense. I'm just putting my foot forward and working hard every day."
 
On Payne saying he wants to prove he's not just a white guy who can shoot …
"I guess you could say that. I guess I don't want to be labeled just 'cause I'm white that I'm a shooter.' If you don't look at my skin color and we just go play basketball, you're not going to say I'm a white kid that can just shoot."
 
On Vandy's zone …
"We worked on it a lot. We know Vandy's a good team. They almost had Tennessee beat at home. It's going to be a tough game going into their place. Just gotta come ready as we did the last three games, with that same focus and energy come in and hopefully get a good victory tomorrow."
 
On how much he has improved as a defender …
"I think you would say I'm 100 percent better, I guess. Still obviously there's room for improvement, but, like I said, ever since that first game, we all knew that's kind of where we needed to work on as a team and, a lot of us, that's what we had to work on individually. So I feel like coming in every day with the right mindset that we need to get better and I feel like we're making the right steps."
 
On avoiding a letdown …
"Just coming in with the same mindset as we were playing a top-25 team. Obviously, like I said before, they had Tennessee beat at home. If we don't come to play, they can do the same thing to us. They're capable of beating anybody, so just coming in with the right mindset and being ready to go."
 
On what it means to have a "dog" in him …
"I can do everything. I'm a competitor. I don't know. I just like saying I'm a dog. I got it from Keldon (Johnson)."
#5, Immanuel Quickley, Fr. G
On what he knows about Vanderbilt's arena …
"I know the coaches are on the opposite side in the first half. I heard the floor is elevated, too. But I also heard that we'll have a lot of people there, just because we're in Tennessee.
On if the team has done anything to prepare for Memorial Gym …
"Not really. We had a walk-through yesterday, some film. He might talk about it, might not, I don't know."
On why teams want to beat the team so badly …
"That's the target you have when you wear a Kentucky jersey. Everybody is going to give you their best shot. Like Cal (John Calipari) says, it's everybody's Super Bowl. We just have to come out ready to play each and every game."
On the team's defense the last few games and holding opponents to lower field goal percentages …
"That's what happens when you continue to play games. You build trust with each other. Bonds on and off the floor are helping us, especially on the floor. We're just getting better, trusting each other, helping each other."
On if trust is important on defense …
"Yeah, trust is definitely important, on defense in general because you know the guy behind you has your back, and the other guy has your back. So it's kind of like on a line, connected."
On the environment against Kansas …
"It was great, one of the best crowds I ever played in (front of)."
On how much hatred there is for the Kentucky program …
"Actually, I still don't really know how much people hate us, I thought people loved us, but I guess people do hate us, too. It comes with it, good and bad. Any team that you play, you want to go out and beat, but I guess especially Kentucky, with the rep that we have, everybody wants to come out and beat us, so you've just got to be ready to play every game."
On facing Vanderbilt …
"It's always tough. Every team wants to beat you. We've just got to come out ready to play, play hard, play together, play smart. Vandy is going to come out, they're going to be firing on all cylinders. As you saw last week, they almost got Tennessee. So, we've just got to be ready to come out and play hard."
On the team having no bench points over the weekend …
"I think it's motivating every game, just to come out and play your best. Some games, it's your game, some games, it's not. But you have to stay ready at all times, and that's basically what I try to do."
On if playing at Auburn can prepare the team for Vanderbilt …
"I think we're well-prepared to play anywhere, honestly. Auburn is probably as hostile as it gets. Georgia was a hostile environment, we came away with two 'W's' there, so think we're well-prepared to go to war with anybody on anybody's home court."