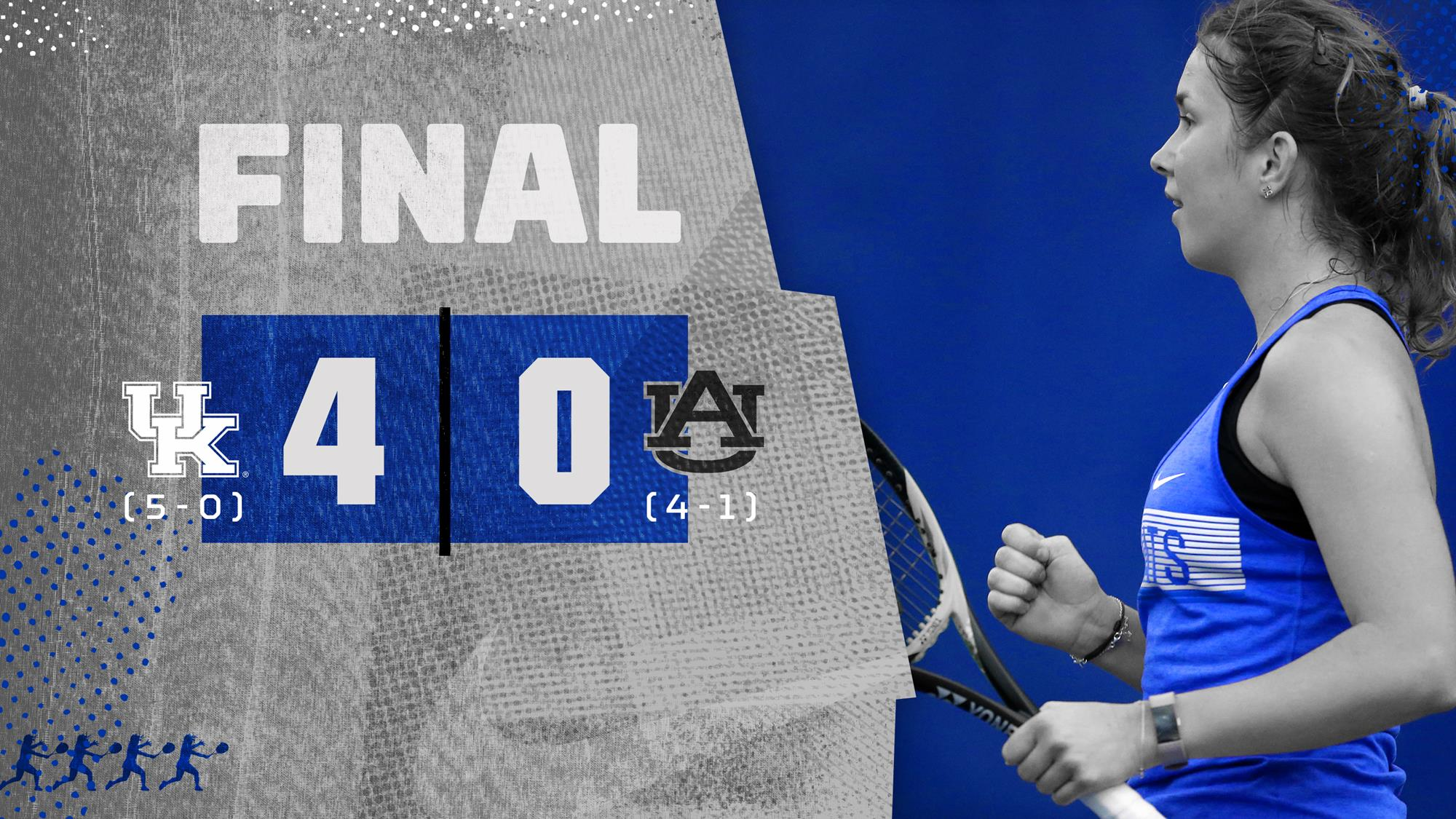 January 26, 2019 - 11:02 PM
No. 25 Kentucky Advances to the Championship Match
ATLANTA – Kentucky took one step forward in the ITA Kick-Off Weekend Saturday, shutting out Auburn in the first round on a clean decision. It will mark the fourth-straight dual tournament that the women's tennis program has not dropped a match.
 
The Wildcats join Auburn, hosts No. 13 Georgia Tech and Ohio State in Atlanta for one of 15 regional tournaments hosted around the country that makeup the ITA Kick-Off Weekend. Each regional site is hosting a single-elimination tournament, with the winner of each regional earning a bid to the ITA National Team Indoors in Washington, Feb. 8-11.
 
UK defeated Auburn Saturday on a 4-0 outcome. The Wildcats will advance to the Championship Match Sunday at 1 p.m. for a dual with Ohio State. The Buckeyes earned their way bypassing 13th-ranked Georgia Tech, also on a 4-0 decision.
 
UK clinched the doubles point to start the day. The veteran duo in senior Akvile Paražinskaite and senior Justina Mikulskyte took care of the 14th-ranked doubles team in the nation in Sophia Graver and Taylor Russo with a 7-5 result. Before that, junior Anastasia Tkachenko and sophomore Alexis Merrill grabbed a win on court three with a 6-2 mark.
 
Auburn found more trouble in singles, as the Wildcats collected three-straight wins to secure a victory.
 
Paražinskaite finished first, drafting a 6-4, 6-2 win on court two. The freshman who has already posted head-turning scores in her young career, Tiphanie Fiquet added the second singles point on court four with her 6-3, 6-2 run. Sealing the deal for UK was junior Diana Tkachenko on court five, clinching the match, 6-2, 6-2.
 
The Wildcats are now 25-13 in all-time meetings with Auburn. The dual is considered a regular-season match and will not count towards Kentucky's conference mark.
 
The Championship Match will take place Sunday at 1 p.m. Live scoring can be accessed at StatBroadcast.
 
The winning team of Sunday's match will advance to the National Team Indoors in Washington. While Washington will receive an automatic bid as the host, the remaining 15 teams must be the last team standing in their ITA Kick-Off Weekend regional.
 
Ohio State is 1-0 after defeating Georgia Tech Saturday. The Wildcats will bring a lengthier record to the dual owning a 5-0 mark on the season with wins over Marshall, Kennesaw State, Miami (OH), WKU and Auburn. UK boasts a 13-4 all-time record over OSU.
 
If the women's tennis program does not defeat Ohio State Sunday, Kentucky will host the Buckeyes for a dual on Feb. 8 or Feb. 10 at the Boone Tennis Center. More details on the schedule addition will be available soon.
For more on Kentucky women's tennis, follow @UKWomensTennis on Twitter and Instagram, Kentucky Women's Tennis on Facebook, or on the web at UKathletics.com.