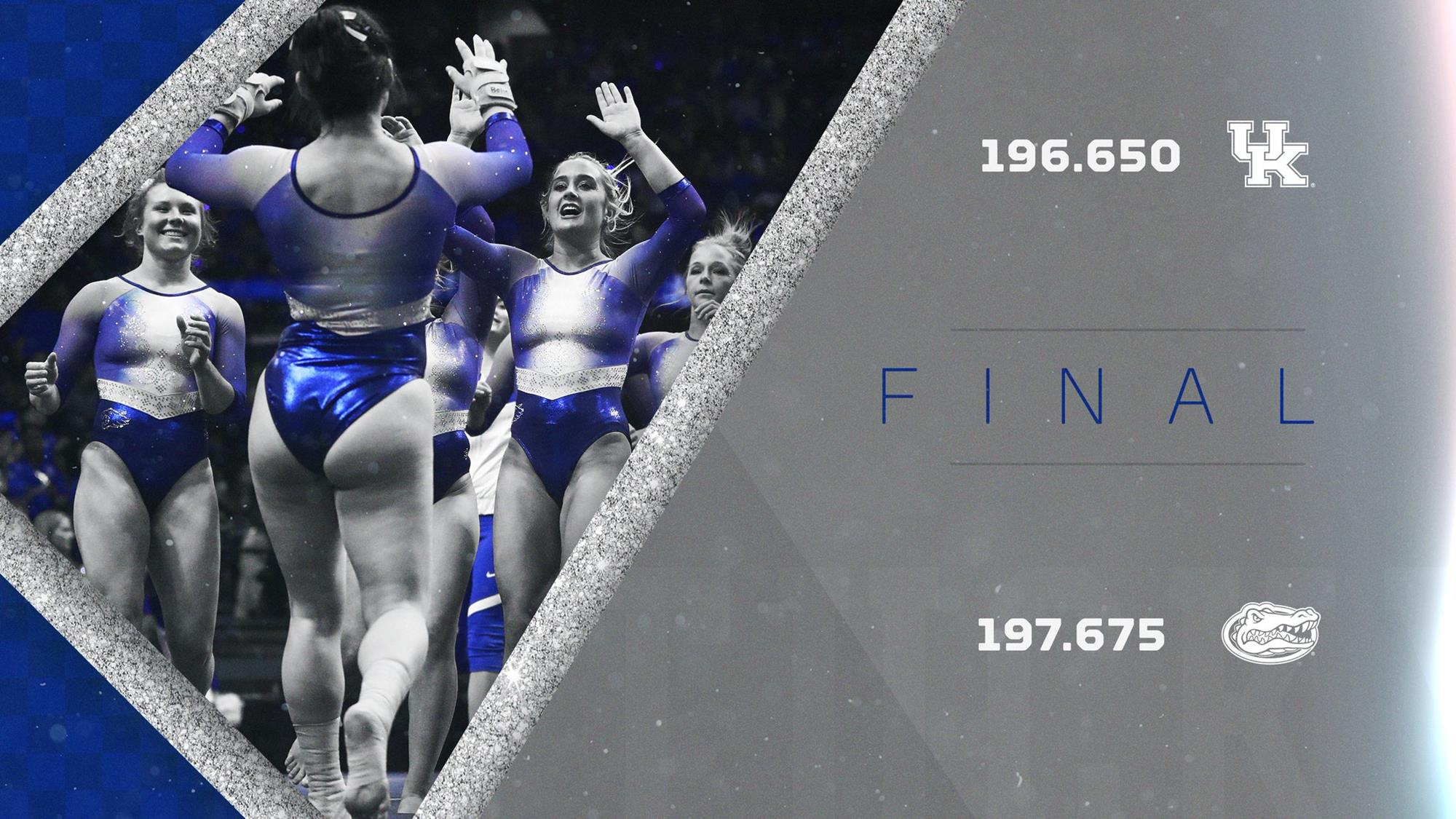 January 26, 2019 - 02:39 AM
Gymnastics Records Highest Score of Season at No. 3 Florida
GAINESVILLE, Fla. – No. 17 Kentucky withstood its first Southeastern Conference road assessment with its highest scoring output of 2019 on Saturday night in front of 8,615 boisterous fans at Exactech Arena at Stephen C. O'Connell Center. The Wildcats fell to No. 3 Florida by a 197.675-196.650 final, but improved upon their season standings with the 15th-best all-around score in school history.
 
"There are many positives to take from this meet," said head coach Tim Garrison. "It was not a mistake-free night, but each time a mistake was made another athlete erased it with a solid performance. We needed a solid road meet and score. We accomplished both tonight."
 
Kentucky began its night with a sturdy bars rotation, led by a season-high 9.900 from freshman Cally Nixon. The Cats' scorecard of 49.225 was their best bars total through the first four meets of the year, as well as the 15th-highest in program history.
 
Next, Kentucky produced its lowest event score of the night with a 49.075 on vault, despite senior Katie Stuart taking home her sixth career bars win by earning a career-high 9.900 for the fifth time.
 
Junior Mollie Korth joined Stuart with an individual win of her own via a season-high 9.925 floor routine, tying with Florida's Alicia Boren and Trinity Thomas. Fellow senior Aubree Rosa logged a career-high 9.875, helping to elevate UK's floor rotation to 49.250.
 
Kentucky ended the night on beam, where sophomore Mackenzie Harman made her career debut to the tune of a 9.775 from the judges. Senior Alex Hyland closed the meet with a team-high 9.875, joining Stuart, Korth, and senior Sidney Dukes as one of four Cats to participate as all-around competitors.
 
"We had new people in lineups and they handled the pressure of this intense competition like pros," Garrison said. "We were also able to add another 10.0 start value to our vault lineup with (Stuart's) Yurchenko 1.5."
 
Having thrived among the 10th-largest home crowd in Florida history, UK returns home next week for the season's first contest at Memorial Coliseum. Kentucky hosts No. 13 Auburn next Friday at 7 p.m. ET.
 
For the latest on the Kentucky gymnastics team, follow @UKGymnastics on Twitter, Facebook, and Instagram, as well as on the web at UKAthletics.com.