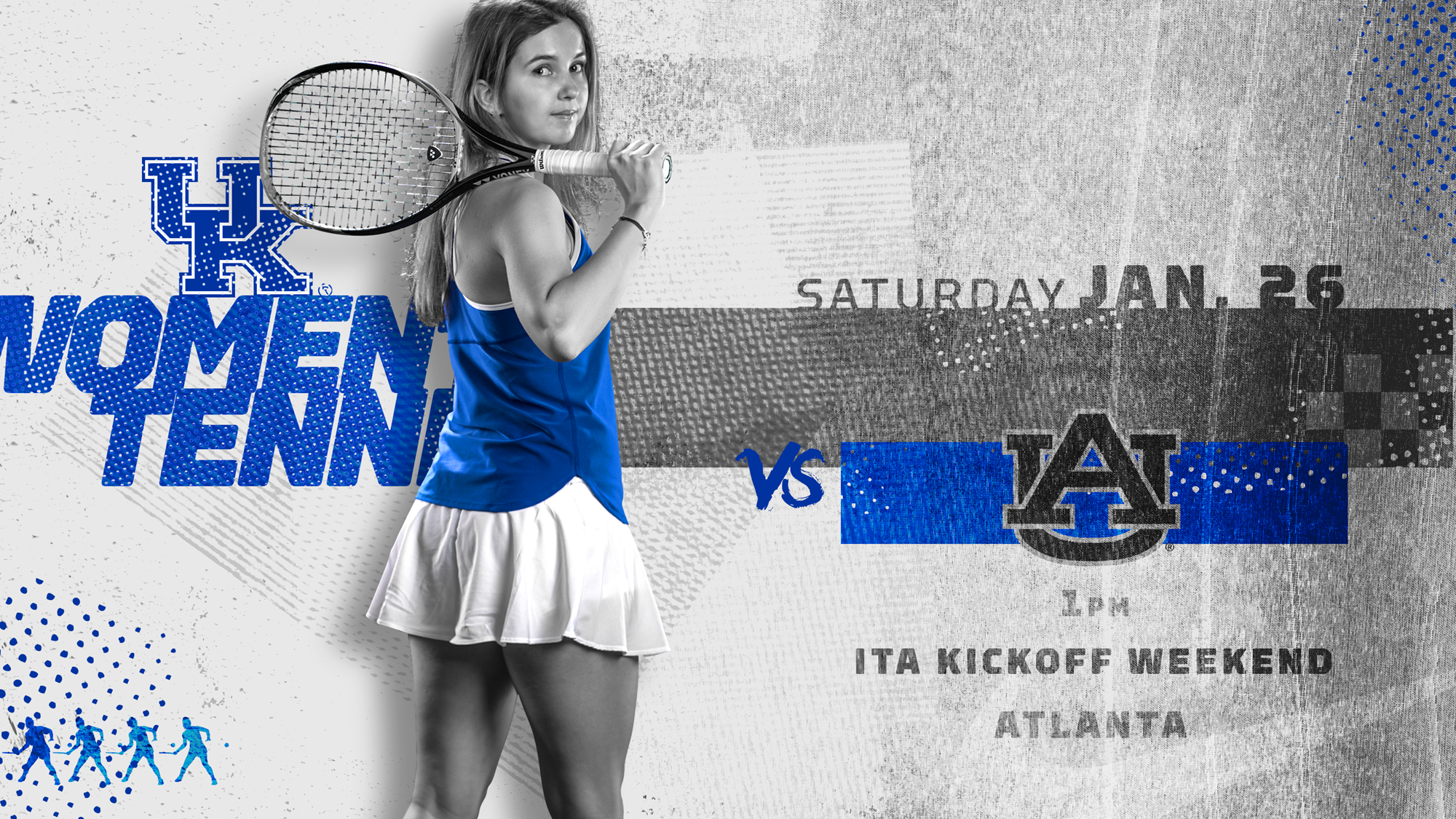 January 25, 2019 - 04:15 PM
Women's Tennis Will Compete for a Bid to National Team Indoors
LEXINGTON, Ky. – Kentucky women's tennis will compete in the 11th annual ITA Kick-Off Weekend Saturday and Sunday, for a chance to receive a bid to the ITA Division I National Team Indoor Championships in February.
 
No. 13 Georgia Tech will host No. 25 Kentucky, Auburn and Ohio State in one of the 15 regional tournaments contested around the country. Four teams will compete in each region in a single-elimination format, with the winning team advancing to the National Team Indoors Feb. 8-11, hosted by Washington.
 
Georgia Tech and Ohio State will play at 10 a.m. Saturday, followed by Kentucky and Auburn at 1 p.m. A consolation match is slated for 10 a.m. Sunday, and the championship match will follow at 1 p.m.
 
Live scoring can be accessed through RamblinWreck.com.
 
UK enters the tournament with a 4-0 mark on the regular season, one of only three Southeastern Conference teams with as good of a record to start the season.
 
After doubleheader victories over Marshall, Kennesaw State, Miami (OH) and Western Kentucky and with three of the four duals ending in clean-sweep fashion, the Wildcats received an early season rank becoming No. 25, announced by ITA Tuesday.
 
While Kentucky advanced into the top 25, Auburn was booted out. The Tigers previously held the 25th spot. Auburn is one of the three conference teams to boast a 4-0 record, though they have dropped a combined three matches in four dual competitions. Kentucky has only dropped one, a 6-1 outcome versus Marshall in the Wildcats' season opener.
 
UK leads Auburn in all-time meets, hoisting a 24-13 record. Although, the Tigers slid by with a win over the Wildcats last season, a 4-3 decision on Auburn courts.
 
Kentucky is projected to finish seventh in the Southeastern Conference, announced by the league office Wednesday. Georgia was picked as the overall league champions, after compiling an 18-7 record last season. The 2018 national runner up in Vanderbilt is forecasted to finish second in the conference.
 
Last year, Kentucky lost in the first dual of the ITA Kick-Off Weekend to Northwestern on a sweeping decision (4-0), but won in the consolation dual to North Carolina State (4-2).
 
If Kentucky does not advance to the National Team Indoors, the program is expected to add Ohio State to its schedule, a home match that would contest Feb. 8 or Feb. 10 at the Boone Tennis Center. More details will be available soon.
For more on Kentucky women's tennis, follow @UKWomensTennis on Twitter and Instagram, Kentucky Women's Tennis on Facebook, or on the web at UKathletics.com.