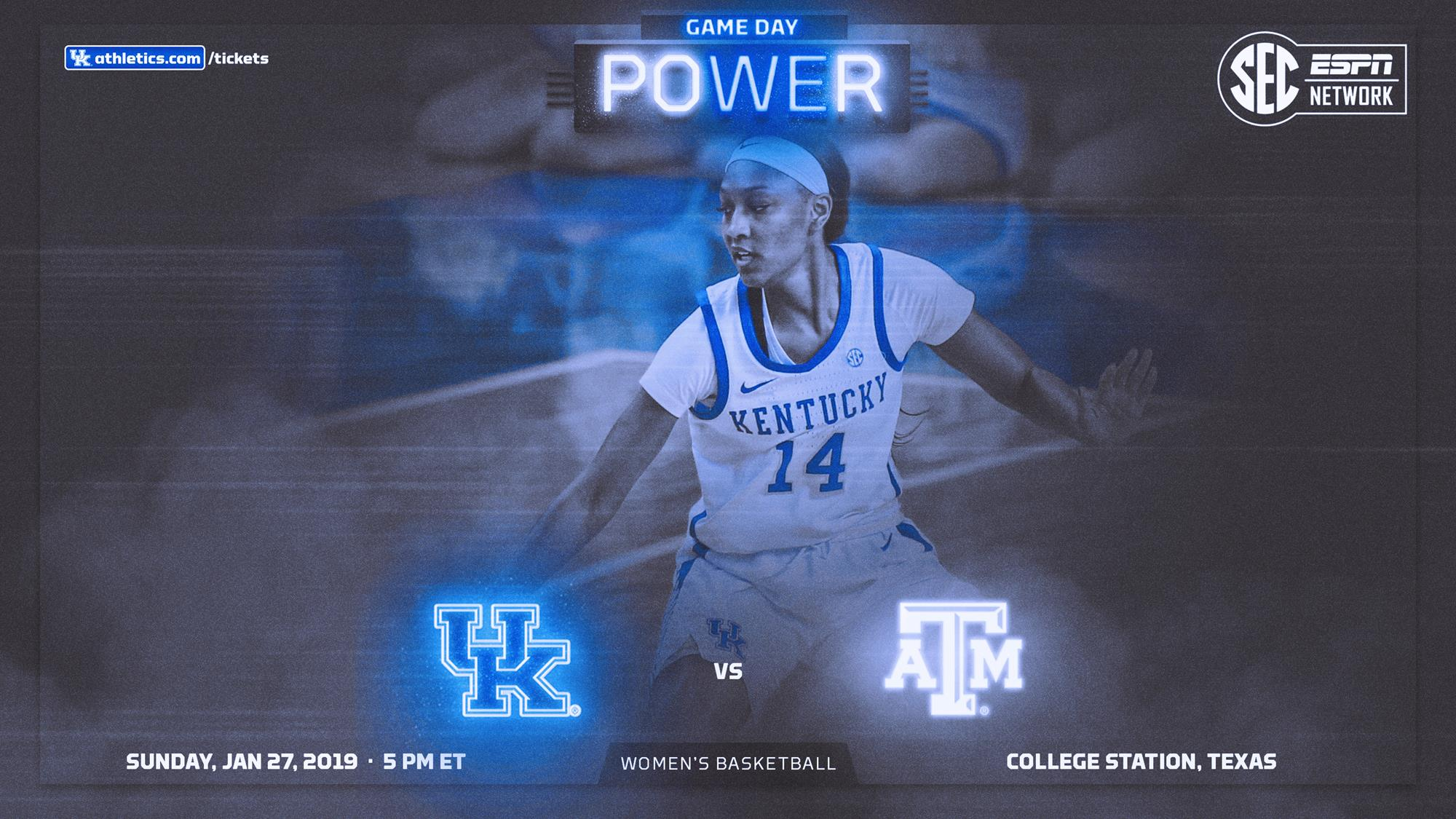 January 25, 2019 - 04:03 PM
No. 15 Kentucky Travels to No. 24 Texas A&M on Sunday
LEXINGTON, Ky. – Continuing its stretch of three straight games against ranked opponents, the No. 15 University of Kentucky women's basketball team travels to face No. 24 Texas A&M on Sunday at 5 p.m. ET inside Reed Arena in College Station, Texas.
 
The game will be televised on the SEC Network with Paul Sunderland and Nell Fortner on the call. The action can also be seen through WatchESPN on computers, smartphones or tablets. Darren Headrick will have the call on the UK Sports Network on 630 AM in Lexington. Live stats and free live audio will be available online at UKathletics.com.
 
Kentucky (17-3, 4-2 Southeastern Conference) is coming off a 52-41 come-from-behind victory Thursday against No. 25 Missouri, getting a game-high 21 points from senior guard Taylor Murray, including 19 points in the second half. Murray scored the first six points of the second half to give UK its first lead of the game, which the Wildcats would not relinquish. Sophomore forward Tatyana Wyatt scored 11 points with six rebounds. The win was Kentucky's third this season against a ranked foe and the first at home.
 
UK has been led this season by senior guard Maci Morris, who is averaging 16.3 points per game with a team-best 49 3-pointers made. Murray leads the team with 70 assists and 68 steals and is adding 12.7 points and 3.3 rebounds per game. Freshman guard Rhyne Howard is averaging 16.2 points per game with a team-best 7.2 rebounds per game. Howard has hit 44 3-pointers and has 51 assists, 42 steals and 16 blocks.
 
Texas A&M enters the weekend with a 15-4 record, including a 4-2 mark in conference play and 8-2 record inside Reed Arena. After starting the league slate with back-to-back losses to South Carolina and LSU, the Aggies have won four straight over Vanderbilt, Alabama, Georgia and most recently Auburn. On Thursday, TAMU won at Auburn, 69-67, on a last-second shot by sophomore guard Chennedy Carter.
 
As a team, the Aggies are scoring 69.8 points per game behind a 43.0 field-goal percentage and 34.0 clip from long range. Texas A&M crashes the boards with a +9.3 rebounding margin and defensively has played well limiting teams to 56.6 points per game and a 35.9 field-goal percentage. TAMU has made just 70 3-pointers this season, averaging 3.7 makes per game.
 
Carter leads the team and the SEC in scoring with 21.6 points per game, adding 4.8 rebounds per game. She also leads the team with 58 assists and 27 steals. Sophomore guard Aaliyah Wilson is averaging 13.8 points per game with 4.1 rebounds per game while sophomore guard Kayla Wells is earning 13.4 points per game with 43 assists and 15 steals. Sophomore forward N'dea Jones leads the team with 11.5 rebounds per game while sophomore center Ciera Johnson averages 11.6 points per game and 8.3 rebounds per game.
 
The all-time series in games played between Kentucky and Texas A&M is tied 4-4, but Kentucky leads the series in games played in College Station, 3-1. UK's lone loss in College Station came last season when the Aggies claimed a 74-70 victory over the Wildcats. The road team in the game has won five of the last six meetings in the series. Texas A&M returns a trip to Lexington in February.
 
For more information on the Kentucky women's basketball team, visit UKathletics.com or follow @KentuckyWBB on Twitter, Instagram and Snapchat, or Kentucky Women's Basketball on Facebook.
 
UK ATHLETICS COMMUNICATIONS AND PUBLIC RELATIONS
KENTUCKY WBB PRE-TEXAS A&M NEWS CONFERENCE
FRIDAY, JANUARY 25, 2019
JOE CRAFT CENTER – LEXINGTON, KY.
Head Coach Matthew Mitchell
Opening Statement …
"Well, there is no letup in the SEC, and we have another really tough matchup we have to prepare for versus Texas A&M. They're on a roll and have won four-straight in the league. They're playing very well together. Just an explosive offensive team, especially at home. They've had some really great performances there. It's a tough team to guard and a tough team to prepare for. Of particular concern is their ability to offensively rebound. That's something our team has been working really hard on. We had a good result on that last night and are making some progress there. But, we will have to practice very hard over the next two days to try to see if we can go down to College Station, which is a very difficult place to play and to earn a victory. So, I know our team is excited about another opportunity to try and get a road win in the SEC."
 
On playing a style that isn't seen often today and thoughts on Taylor Murray…
"Well, proud of our team for being able to win ball games in a variety of ways this year. I think that is a real credit to the kind of players we have and the character we have. Last night was a very difficult first half. Everyone was frustrated because of Missouri's very good defense and tough play, and points were hard to come by. And, I credit everyone on the team – players, coaches, everyone stayed really positive at halftime and we were able to generate some offense with our defense and that was critical in that game because if you let Missouri get their defense set, it was very tough for us. So, Taylor sparked us with some outstanding defensive plays that were up high on the court where we could get out and run and make some plays. And then, I thought that really fueled our confidence and settled our players in a bit so we could start to drive their defense some instead of settling for some outside jumpers. So, it was a really great performance by the team and one we needed and I continue to be impressed with our players and how they're playing and competing right now."
 
On the roll that Jaida (Roper), KeKe (McKinney) and Tatyana (Wyatt) are playing on this team…
"Well, it's something we talked about probably the first time we got together trying to describe this team this year. While the people who score points or average the most points so many times get a lot of the attention or accolades, it's been so important for us throughout the season to have a great team effort. That was one thing, you know, with Rhyne Howard last night, she didn't shoot the ball well, didn't score a lot, but I was so proud of her rebounding and her commitment to defense. So, you cannot be a successful team, we cannot be a successful team this year if we're caught up in scoring and who scored points and how that is going on. You know, Maci (Morris) didn't score last night and the team won. So, I think something that really helps us is the character of these kids. The ones that are averaging the most points aren't walking around advertising that. And, we always try to value everyone's contribution. I'll say this, Blair Green last night… she battled her tail off last night on the defensive end and really made some plays that won't show up in that stat sheet. And, that's the kind of team that we have to be. I think our players have embraced that. It's a fun atmosphere when we get together and it's a hard working atmosphere, and I give the players a lot of credit for having that kind of character."
 
On if he suspected at the beginning of the year that we'd only have three loses at this point…
"You know, I try the best that I can to not project a whole lot at the beginning of the season, and then you'll go through and try to play that game with how many you'll win and how many you'll lose. I always try to stop as soon as I can on that and stay in the present and try to figure out how we can become our best, because it is really hard. With the schedule that we play and this league, games are so close. That was a really close game last night. So, I honestly can't remember at the beginning of the season what I thought as far as wins or losses. We really were trying to stay focused on getting the best that we could out of this team. We desperately would love to get back to the NCAA Tournament after a year of absence last year. I know the team is really hungry for that. You know, we're trying to bring the team into the best situation where we can be successful, that's really what was on my mind. But, I'm really happy to be 17-3 and I wish we were 20—0, but 17-3 is a good start to the season. Unfortunately, we have to play all of the rest of these games, so you really don't get to stop and enjoy 17-3 so, it doesn't mean a whole lot right now. But, excited for the team. We have opportunities in this game Sunday to win. And, it's a credit to our players to put themselves in positions since June to work hard enough to now be in these games and have a chance to win."
 
On what the team has learned following injuries and a loss to Ole Miss…
"Yeah, I think the biggest thing is the value of resilience. It's something that we talk to our players a lot about, as far as us trying to develop them as people and their time at UK is going to be awesome. There is so many awesome opportunities. But, you know when they walk out that door we want them to have experiences they can draw from, and one of the things we talked a lot about is being resilient. Life is going to throw you a few bad hands and you're going to have some tough moments and challenges. The real skill that we can all develop is being able to get up and get back at it again and be resilient. That was a low point for us. We were not in a good spot physically or mentally that day, emotionally we were really flat and we did not have what it took to win that game that day. But, that next Tuesday morning at 6:30 a.m., we were able to bounce back and came back with a great practice. So, you don't stay in that bad spot or bad circumstance. You start to work your way out of it, and that starts with your attitude and your energy and your effort. I think that was a great lesson for us to learn and the ability to bounce back from hard-fought wins."
 
On how to contain Chennedy Carter…
"Well, you have to work really hard. She is an explosive guard, she plays with incredible pace on offense. She has an explosive first step. She could be standing still and she can make a move to get open, or she could be in standstill and take one step with the ball and get by you. She is really difficult to defend and an explosive scorer. We'll have to do it as a team. Last night we had to do it as a team. Every time. I don't know how you function in this league not doing it as a team. So, this is another incredible challenge for us and she scores a lot of points. But, I'll tell you. They are a monster offensive rebounding team. They are flying those boards, it is a difficult game. So, we've invested a lot of time in our defense this year obviously, and we've invested a lot of time trying to improve as a rebounding team. We're going to have to use everything we can to try to do a great job on Carter and her teammates on the first shot, and then at second shot is a real challenge there. So, big challenge awaits us. I'm looking forward to getting on the practice floor and starting to prepare today."
 
On one thing that is a catalyst for Kentucky's success on the road…
"Well, I think the biggest thing is our team really wants to win for each other. We want to have success, so you have a room full of players that have great desire and want to win. That may sound real obvious, but they have a real deep desire to go out there and earn victory and you know you're going to have to work hard to get that done. And then, we have really enjoyed being around each other. It started with our preparation of making sure that we took advantage of the immense opportunity we had to tour Italy for 10 days. We spent a lot of work on being in close quarters for 10 days and we had to make sure were prepared and took advantage of that. So, I thought we grew closer with that. And, we just learned how to have a lot of fun together, players and coaches, too. This has not been a team that has cliques and that are divided in different parts of the room. So, I think it creates an atmosphere for us on the road. We look forward to getting to a pregame meal, we look forward to getting to a meeting, we look forward to game day practice and I believe that has had some effect there. But, we certainly have won some tough road games and some tough games away from home this year."