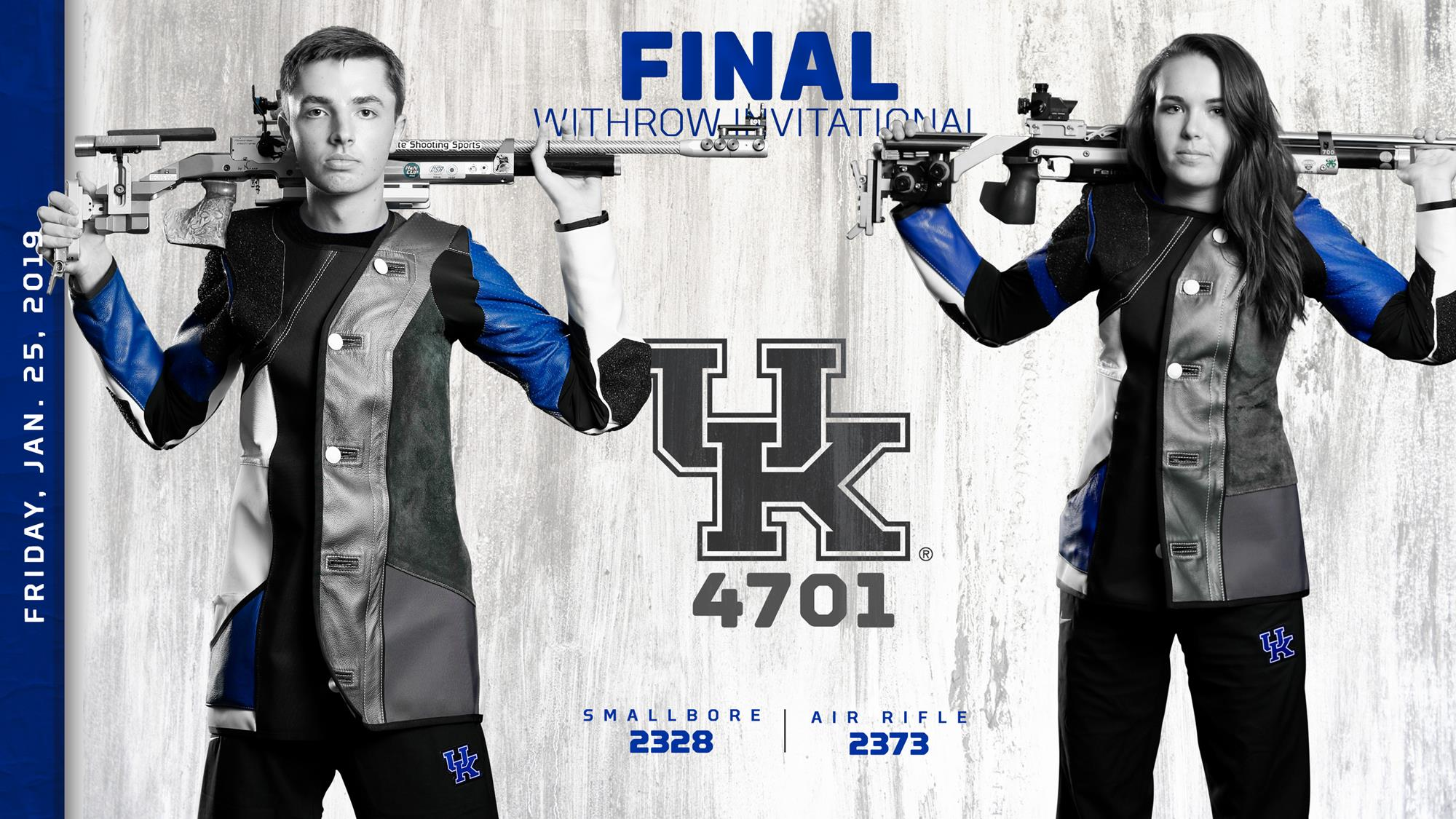 MURRAY, Ky. –  The Kentucky rifle team fired its best road score of the season, its second straight total better than the 4700-threshold and its third best of the 2018-19 season, totaling 4701 on the Withrow Invitational held at Murray State University.
 
The Withrow Invitational will continue throughout the weekend with UAB, Jacksonville State, Memphis, Murray State, North Georgia and UT Martin all still to shoot on Saturday and Sunday.
 
"We broke 4700 on the road for the first time this season after doing it on the road a couple of times," UK head coach Harry Mullins said. "I think we're definitely moving in the right direction. Will (Shaner) had another good day. The performance from Hailee (Sigmon) in air gun, 596, she did a really good job. Ruby (Gomes) shot 591 in air file.
 
"Now a great part about it is we don't have to wait another week or two to show our progression to ourselves. We have another opportunity within the next 48 hours.
 
Freshman Will Shaner was top aggregate individual with a score of 1181, his third best performance of the year. His 597 in air rifle was tied for his second best score of the year.
 
Hailee Sigmon was second in the aggregate standings with 1174 – highlighted by a season best 596 in air rifle. Cathryn Papasodora was third firing an aggregate score of 1172.
 
"This was a great experience having a short trip to be able to put ourselves through the test after what we saw last week," Mullins said. "In general, it was good. We can be happy with our performance, but I think the team itself feels we have a lot more left in us. We had multiple in the 580s in smallbore – no huge numbers. And we had a few in the 590s in air rifle, but we have an even deeper air gun team than that and I think the team is getting ready to hopefully show that to themselves."
 
Smallbore report
Kentucky opened up the match with a 2328 smallbore showing.
Shaner led the UK squad a 584, which Richard Clark matched while not on the scoring squad.
 
Papasodora and Spaude followed with a pair of 583s.
Hailee Sigmon totaled a 578, and Carr earned a 573.
 
Air rifle report
The Wildcats closed the match with 2373 in air rifle.
Shaner came within one of his season best AR total 597. Two more Wildcats bettered 590 with Sigmon turning in a 596, Gomes totaling 591. Papasodora was closely behind firing a shot of 589.
 
Richard Clark scored 582, while Ian Foos earned an unscored 585.
 
Notes
Kentucky is ranked No. 4 with a score of 4692 in the current NCAA collegiate rifle rankings.
 
UK will have two more matches this spring before the start of postseason with the NCAA Qualifier Feb. 16-17. The Great American Rifle Conference Championships will be Feb 22-24, and the NCAA Championships will be March 8-10.
 
UK's season-high 4718 at the aforementioned KLRM on Oct. 13 was the second best score a team has turned in in the nation this season.
 
The Wildcats will travel to Ohio State University Jan. 27 and will be back in Lexington to face West Virginia University on Feb. 9.
                                                                                                                                                                                                                                                                                
 —
For the latest on the Kentucky rifle team, follow @UKrifle on Twitter, Instagram and Facebook, as well as on the web at UKathletics.com.