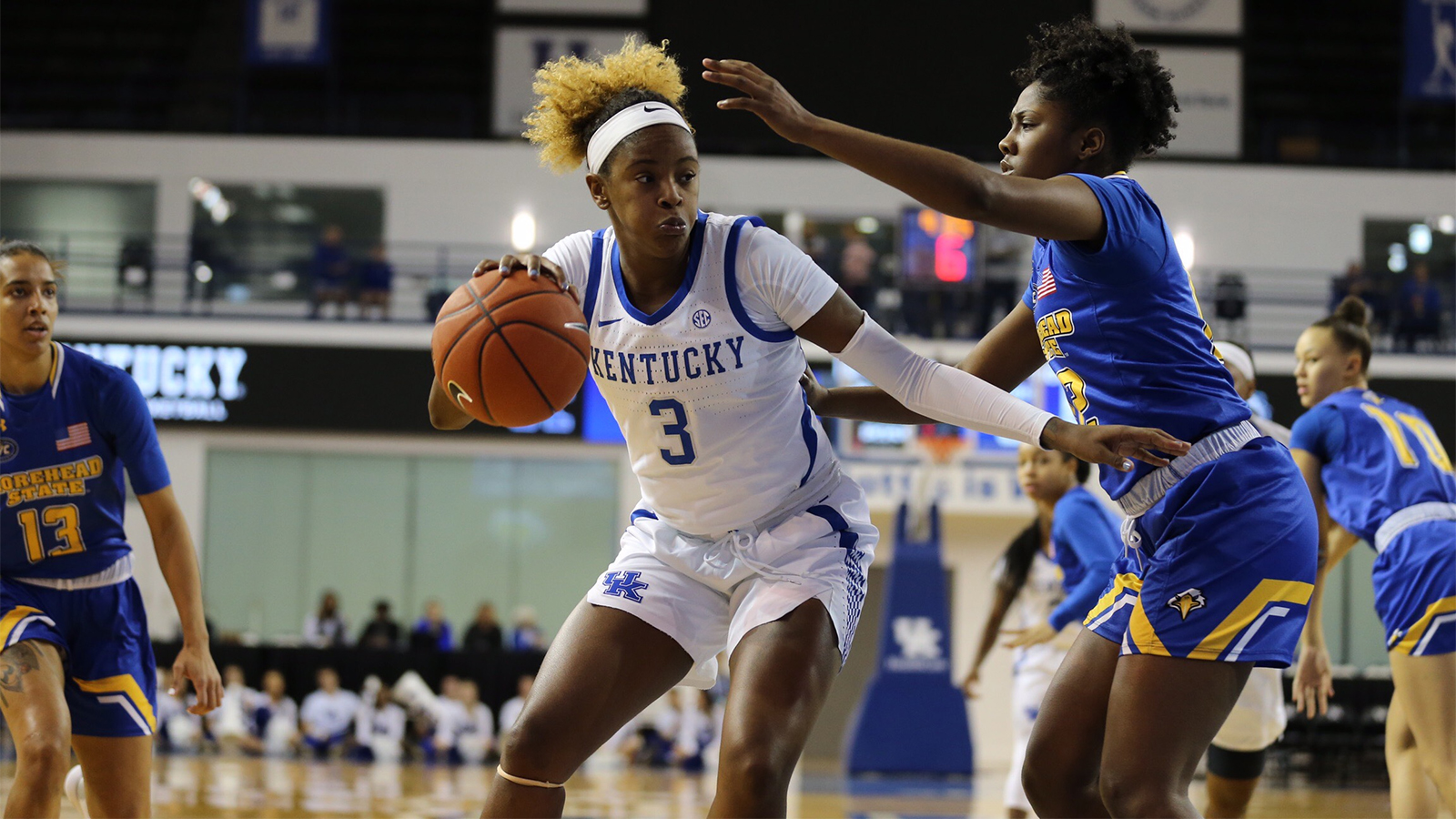 January 25, 2019 - 11:10 PM
Role Players Making Huge Contributions for UK Women
The 15th-ranked Kentucky women's basketball team has been led all season by its three standouts. Seniors Maci Morris and Taylor Murray, along with freshman Rhyne Howard, all average double figures in scoring. One of those three have led the Cats in scoring in each of the team's 20 games this season. All three are among the Top 25 scorers in the SEC.
While those three players have carried the Cats to a 17-3 record, including a 3-2 mark in league play, Kentucky might not have such a record if it weren't for some of the so-called role players on the team.  
Head coach Matthew Mitchell likes that his squad takes a team-first approach.
"While the people who score points or average the most points so many times get a lot of the attention or accolades, it's been so important for us throughout the season to have a great team effort," Mitchell said. "You cannot be a successful team, we cannot be a successful team this year if we're caught up in scoring and who scored points and how that is going on."
Kentucky's last three victories illustrate that point vividly. On Thursday night, with both Kentucky and Missouri struggling to score, the Cats got an 11-point, six-rebound effort from sophomore Tatyana Wyatt. Those 11 points accounted for 21 percent of Kentucky's scoring in the game, which the Cats won by exactly 11 points, 52-41.
In Kentucky's 64-60 win at LSU last week, it was sophomore KeKe McKinney who nailed a three-pointer from the corner with 20 seconds left in the game to break a 60-60 tie and lift the Cats to victory. The Cats played that game without Howard and Murray, and with Morris playing on an injured knee.
At Tennessee, after Howard and Morris had fouled out, and Murray went down with a knee injury, Jaida Roper hit a huge shot from behind the arc late in the game with the shot clock winding down to preserve Kentucky's fourth win ever in Knoxville, a 73-71 triumph at Thompson-Boling Arena.
Mitchell knows that those players, and others, have made significant contributions to the team, even if they don't have big numbers in the box score.
"I'll say this, Blair Green (against Missouri), she battled her tail off on the defensive end and really made some plays that won't show up in that stat sheet," Mitchell said. "And, that's the kind of team that we have to be. I think our players have embraced that. It's a fun atmosphere when we get together and it's a hard-working atmosphere, and I give the players a lot of credit for having that kind of character."
The Wildcats will likely need the same type of contributions as they visit Texas A&M on Sunday (5 p.m. ET, SEC Network). The Aggies are 15-4 overall and winners of their last four games. Kentucky and Texas A&M, along with Arkansas, are all part of a three-way tie for third place in the current SEC standings. A&M is 8-2 at home this season and Mitchell knows that the Aggies present a tough challenge for his team.
"Well, there is no letup in the SEC, and we have another really tough matchup we have to prepare for versus Texas A&M," Mitchell said. "They're on a roll and have won four-straight in the league. They're playing very well together. Just an explosive offensive team, especially at home. They've had some really great performances there. It's a tough team to guard and a tough team to prepare for."
If the Wildcats are to continue to contend for an SEC title and a high seed in the NCAA Tournament, they will need similar contributions from players who may not always get the headlines.