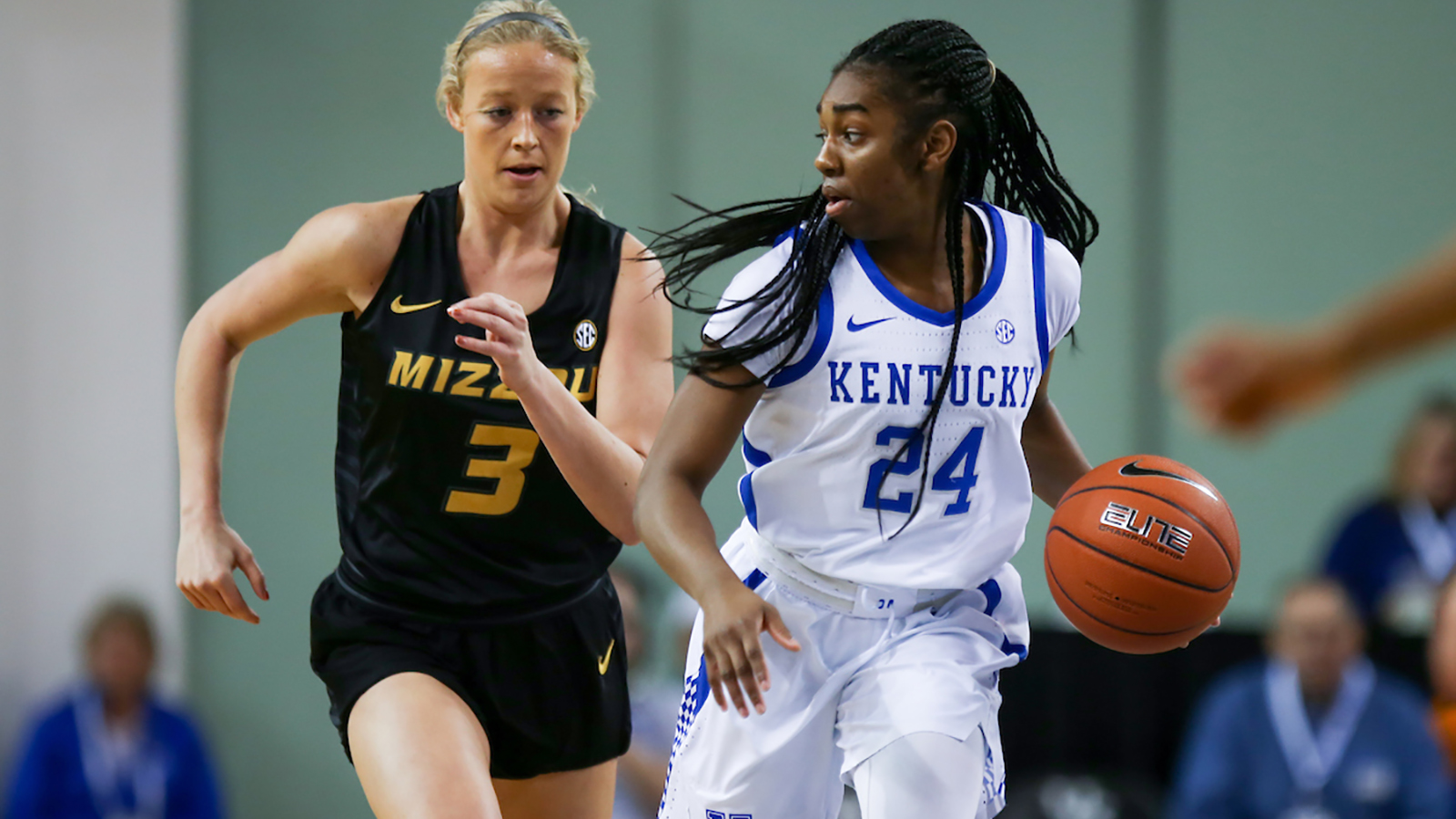 January 24, 2019 - 11:35 PM
Healthy Murray Carries Offensive Load for Cats on Thursday
To say that the Kentucky women's basketball team was struggling offensively on Thursday night against Missouri would be quite the understatement. The Wildcats made only seven of 25 (28 percent) of their field goals in the first half, en route to 18 points in the game's first 20 minutes.
But in the third quarter, senior Taylor Murray came to the rescue. Murray made five shots in a row, scored 13 points in the period and helped the Cats turn a three-point halftime deficit into an eight-point advantage after three periods.
Murray finished with 21 points in the game, two short of her season high, as the 15th-ranked Wildcats topped No 25 Missouri 52-41. Murray added four rebounds, four steals and two assists as the Cats moved to 17-3 overall and 3-2 in the SEC.
For Murray, it was the first time since she injured her knee at Tennessee two weeks ago that the speedster looked, and felt, like her old self.
"You know, she's been struggling with her knee and I just thought she just started rounding into some form that you all have seen from her this season," said UK head coach Matthew Mitchell. "It was an outstanding performance and she really was a catalyst that sparked the entire team, so a great performance by Taylor."
Murray admitted that Thursday's game was the first time she had felt like herself since the injury at Tennessee.
"Yes, I do feel like myself," the senior said. "I have new legs. I'm able to give whatever my team needs. Whether it's on the defensive end or offensive end."
Murray's contributions on this night were especially significant for a pair of reasons. First, the two teams struggled to score for most of the night. And second, the Cats' two leading scorers, Rhyne Howard and Maci Morris, combined for a total of eight points in the game, 24 below their combined season average. Kentucky needed Murray, the team's third-leading scorer, to help carry the offensive load in the game.
Missouri head coach Robin Pingeton was impressed with Murray on Thursday.
"She's just so quick isn't she?," Pingeton said. "She is quick, quick hands, high basketball IQ, relentless, pursues the ball so well, she doesn't seem to get fatigued too much. She is just a great experienced player and she makes it a long night for anyone and is able to wear on them throughout the game. Everybody in the league has a ton of respect for Taylor. We all understand what a great player she is, she is really good at her craft and she just makes it hard night in and night out."
With her big effort on Thursday, Murray moved into 21st place on UK's career scoring list. She now has 1,203 points in her career in Lexington.
In Kentucky's previous two games, Murray either struggled (two points in a loss to Ole Miss) or missed the game altogether (against LSU) while battling the knee injury. And while the offense still struggled on Thursday night, Murray provided another option, which turned out to be just the one that the Cats needed.
Murray appears to be healthy once again, which could help get the Wildcats' offensive attack back on track as conference play continues.