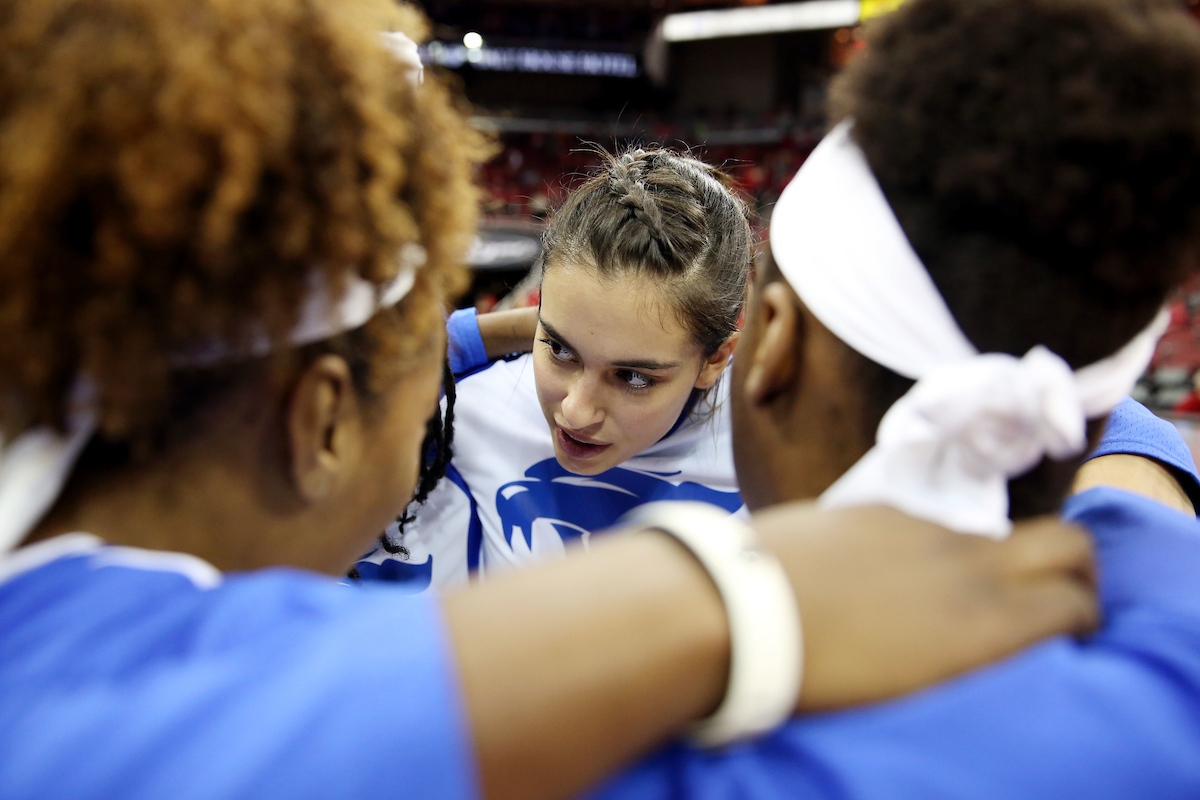 January 23, 2019 - 10:02 AM
Morris Chosen for WBCA's So You Want To Be A Coach Program
LEXINGTON, Ky. – University of Kentucky senior guard Maci Morris has been selected for the Women's Basketball Coaches Association's prestigious So You Want To Be A Coach program. Morris along with several other WBCA sponsored student-athletes will participate in a three-day workshop with speakers provided by WeCOACH on April 3-5 in conjunction with the WBCA Convention in Tampa Bay, Fla.
 
The objectives of the program are to increase the understanding and application of skills necessary to secure coaching positions in women's basketball, increase the understanding and awareness of competencies necessary for success in coaching, introduce female basketball players to coaches and administrators, and raise awareness of the existing talent pool of female basketball players who have a passion and interest in coaching the game of women's basketball.
 
"So You Want To Be A Coach is the longest-running education program the WBCA offers, and it remains as popular with member coaches and student-athletes today as it was when it began 16 years ago," said WBCA Executive Director Danielle Donehew. "The program is the entry point for women's basketball players who want to coach. Because of their participation in it, more than 400 former college women's basketball players are currently working as coaches or in some role in our sport.  Our partnership with WeCoach enables us to make this program even better."
 
Morris was one of 36 NCAA Division I players selected for the program and just one of three from the Southeastern Conference. The native of Bell County, Kentucky, is majoring in kinesiology with coaching aspirations. Maci's father, Lewis, is currently the boy's head coach at Middlesboro High School.
 
Morris is having a great senior season averaging a team-high 17.0 points per game while hitting a team-best 49 3-pointers. The guard has scored in double figures in 16 games, including six games of 20 or more. Morris' best game came at Tennessee where she played 31 minutes before fouling out and scored 27 points with four 3s, three rebounds and three steals. The guard scored 25 first-half points against Morehead State which is the most in the first half by any UK player since at least 1982-83 (prior halftime statistics are incomplete before that).
 
Morris ranks high in the league in several categories this season, including sixth in the league in field-goal attempts, sixth in field-goals made, fourth in points, sixth in points per game, third in 3s made, third in 3s made per game and second in 3PFG percentage.
 
In her four-year career, she has 1,545 career points to rank ninth all-time, while her 226 career 3-pointers made ranks second all-time. Morris has a career 3-point field-goal percentage of 41.1 percent which is first in program history and her career free-throw percentage of 85.5 percent is second in program history.
 
For more information on the Kentucky women's basketball team, visit UKathletics.com or follow @KentuckyWBB on Twitter, Instagram and Snapchat, or Kentucky Women's Basketball on Facebook.