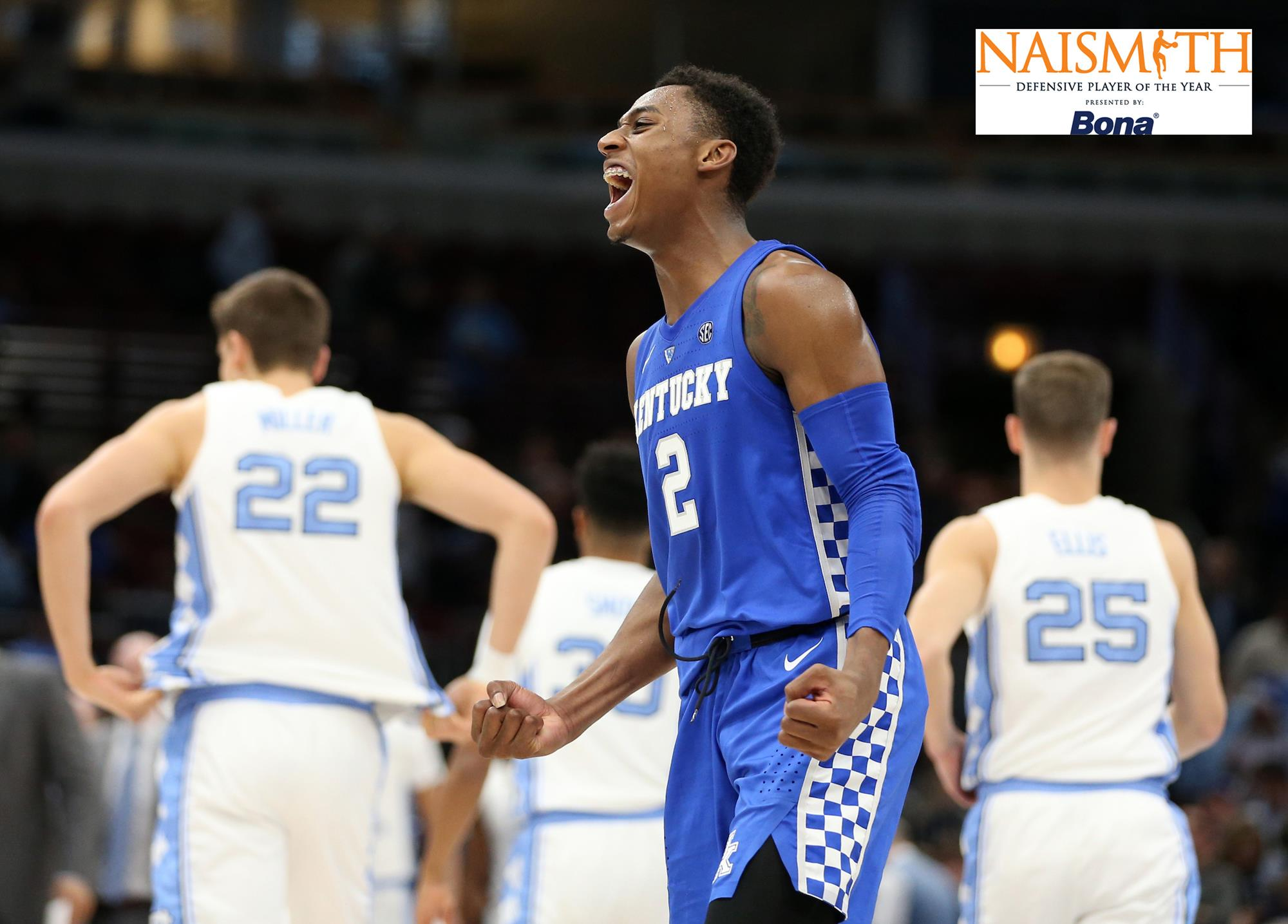 January 22, 2019 - 12:00 PM
Hagans Tabbed Naismith Defensive Player of the Year Candidate
ATLANTA – Ashton Hagans' meteoric rise over the last month that began on the defensive end has lofted him into the conversation for the Naismith Defensive Player of the Year award.
 
Hagans was one of 15 players to appear on the Atlanta Tipoff Club's midseason watch list on Tuesday. The list includes players whose defensive efforts on the court have set them apart from the pack.
 
The 6-foot-3 guard out of Cartersville, Georgia, is one of just two freshmen (Zion Williamson, Duke) on the midseason watch list and one of only two players from the Southeastern Conference (Grant Williams, Tennessee).
 
Players not on the midseason watch list are still eligible to be selected as award semifinalists, which will be announced in February.
 
Hagans has emerged as one of the nation's best lockdown defenders. He's averaging 2.3 steals per game, which ranks second in the SEC and third nationally among all freshmen. He's first in the country in steals per game among freshmen who are averaging 25.0 minutes or less per game.
 
His steal rate per 40 minutes is 3.7 for the season, and over his last seven games that number has risen to 5.3 steals per outing.
 
The two-time SEC Freshman of the Week has been Kentucky's best on-ball defender from the start of the season, but he really emerged in a blueblood matchup vs. North Carolina in the CBS Sports Classic in Chicago. Hagans gave UNC's backcourt fits while tying a school record with eight steals (previously set by Wayne Turner on Nov. 24, 1997, vs. George Washington and Rajon Rondo on Feb. 19, 2005, vs. Mississippi State).
               
North Carolina head coach and Hall of Famer Roy Williams said it best: "Ashton Hagans is 2 for 6, seven points, and I thought in some ways he was more dominating in the game than anybody."
 
Beginning with that UNC game, Hagans has corralled at least three steals over the last seven games. He's believed to be the only player in school history with such a streak (since steals became an official NCAA statistic in 1985-86). According to STATS, he's the first major-conference freshman with three or more steals in seven or more straight games since Wake Forest's Chris Paul did it 10 straight games in the 2003-04 season.
 
It's still early in the season but Hagans has entered himself in the conversation for the most steals in single-season school history. Rondo owns the record with 87 steals in 2004-05. Through 17 games that season, Rondo had 44 steals. Hagans has 39 to this point, but Rondo only played in 34 games that season.
 
And it's worth nothing that as Hagans' defensive stock has been on the rise, his offensive numbers have followed. He's scored seven or more points in eight of the last 11 games, including back-to-back-to-back career-high scoring days vs. Louisville (11), Alabama (12) and Texas A&M (18), followed by a 15-point effort vs. Vanderbilt. Hagans then topped it with a career-high 23-point effort in his homecoming on the road at Georgia.
 
In addition to his scoring out put, he's also dished out three or more assists in all 11.
 
The Wildcats return to action Tuesday at 7 p.m. UK will take on Mississippi State in what's expected to be the second in a three-game span of playing ranked opponents. ESPN will televise the Super Tuesday matchup.
 
For the latest on the Kentucky men's basketball team, follow @KentuckyMBB on Twitter, Facebook and Instagram, and on the web at UKathletics.com.