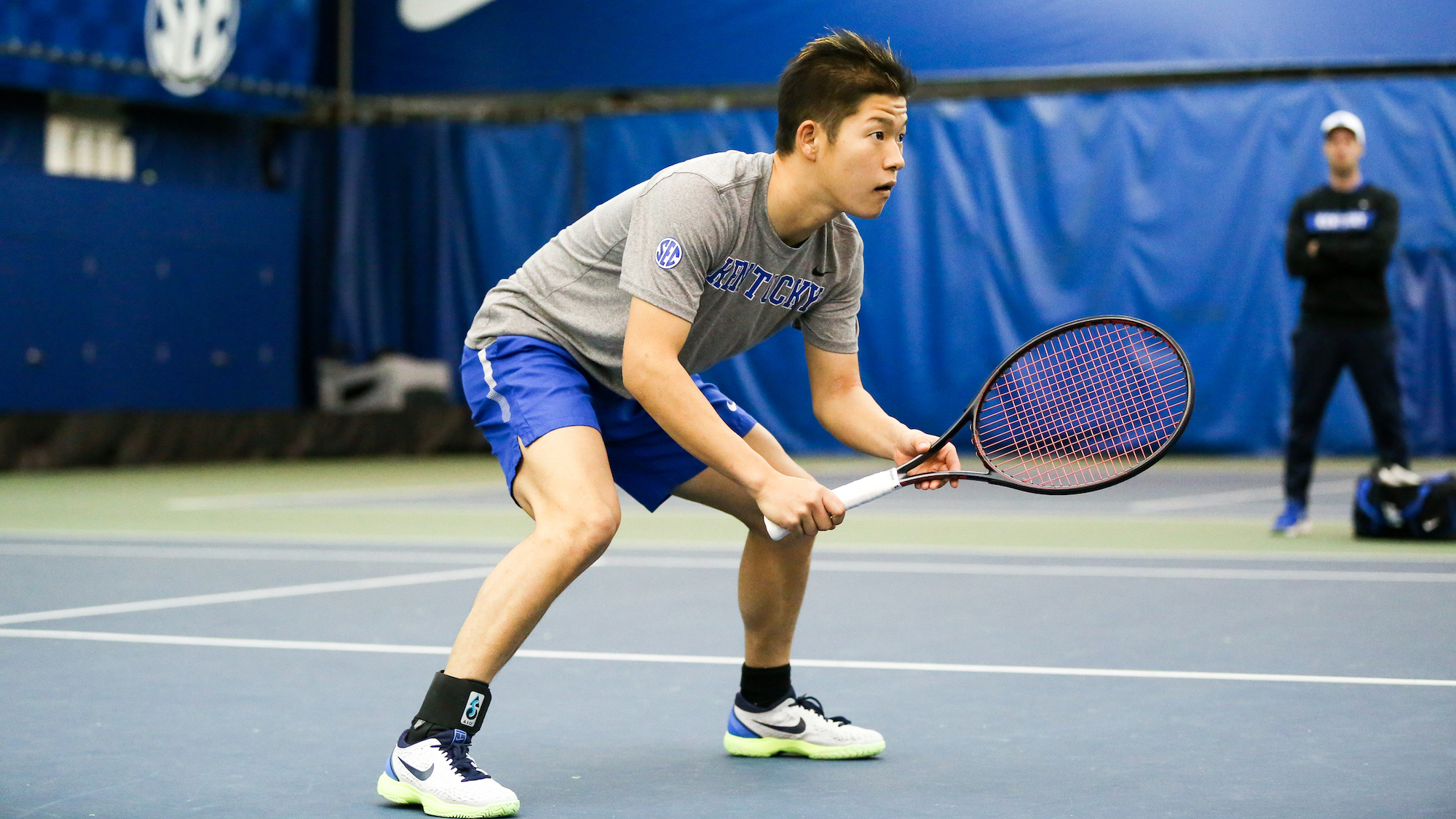 January 21, 2019 - 06:27 PM
Strong Singles Play Guides Kentucky to 4-1 Victory Over Duke
LEXINGTON, Ky. – On the heels of its first loss of the season last Saturday versus No. 18 Notre Dame, Kentucky bounced back against the next Atlantic Coast Conference foe on its schedule with a 4-1 win over Duke on Monday at Boone Tennis Center.
 
"We're really happy," said junior Cesar Bourgois. "It was a great win for the team that we can build on. It was a tough loss against Notre Dame that really came down to a couple details. We're going to keep working like this in the future because it paid off today."
 
Once Duke claimed the doubles point to open the match, momentum never wavered from Kentucky during singles play. Bourgois was the first Wildcat to put away his Blue Devil opponent, beating Catalin Mateas 6-1, 6-3.
 
Senior Ryo Matsumura followed in Bourgois' footsteps, defeating Duke's Nick Stachowiak 6-4, 6-2 in the match's top singles bout. The Fukui, Japan native picked up his third win of the spring season after a 6-2, 6-3 loss to No. 16 Alex Lebedev of Notre Dame last Saturday.
 
"I knew I was going to play better than in my last match," Matsumura said. "I think I can build confidence from this week. That was a great team effort that could have been 6-1 instead."
 
After Matsumura's win, Kentucky senior Enzo Wallart sealed a second consecutive singles victory for himself with a 7-6 (7-3), 6-0 decision over Spencer Furman. By the time Wallart's competition concluded on court two, the three remaining Wildcats were in prime position to complete the singles sweep as a unit.
 
However, once sophomore Kento Yamada beat Duke's Jason Lapidus 6-2, 6-2, the match swiftly came to a halt. Theo McDonald's third-set tiebreak opportunity and Kevin Huempfner's one-set lead produced no official result.
 
Delivering Duke its first defeat of 2019 and its third loss to Kentucky in four seasons, the Cats travel to New York City for the ITA Kick-Off Weekend on Saturday and Sunday.
 
For the latest on Kentucky men's tennis, follow @UKMensTennis on Twitter and @KentuckyMensTennis on Instagram, and follow the team on the web at UKAthletics.com.