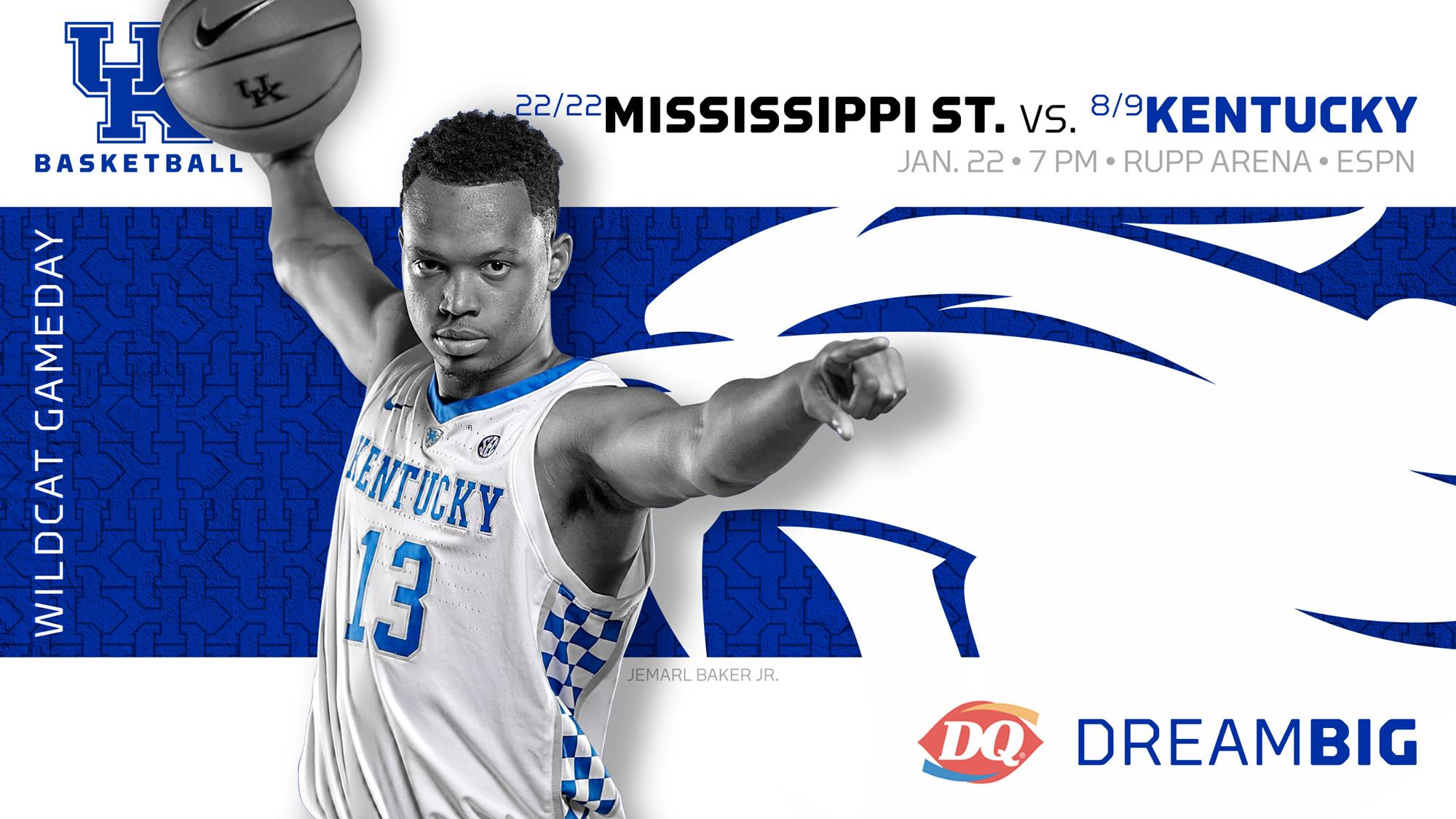 January 21, 2019 - 06:07 PM
Big Games Bringing the Best out of Kentucky
Kentucky has turned in its best performances over the last month when the lights have been brightest. Wins over North Carolina, Louisville and most recently Auburn are proof of that.
 
PJ Washington doesn't think that's any coincidence.
 
"We want to go out and play tougher opponents," Washington said. "I feel like everybody's more excited when we play better teams. We like playing good people."
 
Well then it's a good week to be a Wildcat.
 
UK is in the midst of a stretch of three games in a row against ranked opponents, the first such regular-season stretch since 2005-06. The Cats passed the first test in taking down No. 12/14 Auburn over the weekend. Now No. 8/9 UK (14-3, 4-1 Southeastern Conference) will host No. 22/22 Mississippi State Tuesday at 7 p.m.
 
Kentucky vs. Mississippi State

Tue., Jan. 22 – 7 p.m. ET
Rupp Arena
Lexington, Ky.
Game Notes: UK | MSU
UK Athletics App Digital Guide

Coverage

TV: ESPN
Radio: UK Sports Network
Watch
Listen
Live Stats

UK
2018-19 Stats
MSU
80.2
PPG
79.0
68.2
Opp PPG
68.1
.489
FG%
.480
.421
Opp FG%
.425
38.0
RPG
36.8
.349
3PT FG%
.383
.369
Opp 3PT FG%
.338
.752
FT%
.747
14.3
APG
16.0
6.9
SPG
7.6
5.1
BPG
5.1

"It's always great going against competitive teams," Washington said. "You get to see where you're at on both ends of the floor, all 40 minutes. You gotta go out there and fight. It's great having a group of young guys that's willing to do that. It's always fun trying to play against somebody that can beat you."
 
Under most circumstances, the matchup with a Bulldogs would be considered a trap game. The Cats, after all, are coming off an emotional win in a raucous SEC road environment and will soon face Kansas in a battle of the two winningest programs in college basketball with ESPN College GameDay in town.
 
The quality of Ben Howland's team erases all such notions.
 
"They're as good as any team in our league," assistant coach Tony Barbee said. "Their depth. Their experience. They've got size. They've got guard play. They're not deficient in any one area. So, for that reason, no. Not a trap game at all. These guys got our full attention."
 
Mississippi State was ranked in the preseason and has done nothing to dissuade voters from keeping them in the polls all year. The Bulldogs boast quality wins over the likes of St. Mary's, Cincinnati, Florida, Clemson and Wofford and their three losses have come by a combined 14 points, one in overtime.
 
"We're obviously just focused on Mississippi State and what they do on offense and defense," Washington said. "That's what we've been working on (Sunday) and then (Monday) too. I don't think we're looking past them at all. We know they're a good team and we know they're capable of beating us. We just gotta come out and play our game."
 
Last week, the Bulldogs bounced back from a two-game losing streak with victories over Florida and Vanderbilt. That kind of response should come as no surprise from a team that has two seniors and two juniors among its top five scorers.
 
Leading the way for State is senior guard Quinndary Weatherspoon at 16.6 ppg and 5.8 rpg, but the most unique challenge is posed by Aric Holman. The 6-foot-10 senior forward and Owensboro, Kentucky, native is not only the Bulldogs' leading rebounder, but also a potent outside shooting threat who has made 31 of 70 (44.3 percent) of his 3s on the season.
 
"He's really grown over his time at State," Barbee said. "He's added weight to his body. He's strong. He's confident in what he's doing, and he's shooting the ball as good as anybody in our league, guard or big or in between. I think in league play right now he's over 50 percent from the 3 and taking a lot of them. I think he's making three per game, in their last five games, making three, not taking three, he's making three 3s per game.
 
"I like what I see out of him. He's gotten better over these years and that's what happens when you stay some place for three or four years. You're going to become better."
 
The magnitude of the challenge posed by Holman and Mississippi State is similar to what UK faced against Auburn, but the styles of the two teams are "night and day" according to Barbee. While the Tigers were aggressive taking shots early in the shot clock, the Bulldogs prefer to test opposing defenses with long possessions.
 
"It just seems like those guys have been there forever, so they play with their pace," Barbee said. "They don't get rushed and they get the shots that they want to get every time down. We're going to have to be as good as we were defensively at Auburn at home (Tuesday)."
 
It won't be easy, but the Cats are more prepared for these kinds of challenges with each passing day.
 
"It's come with the experience our guys have gained," Barbee said. "We expect, like (John Calipari) says, the clock for our guys is sped up a little bit here. Their learning curves got to be faster. You can't stay over four years. You're going to get it because most of the guys don't stay that long. That being said, this team is starting to get it through the maturity, through the experience, through the different type of games and styles they've seen now."
Kentucky Holds Off Auburn in SEC Top-15 Showdown
AUBURN, Ala. – Tyler Herro and the Kentucky Wildcats didn't flinch when their seemingly comfortable lead was wiped out.
Faced with a hostile crowd and No. 14 Auburn's red-hot Bryce Brown, the 12th-ranked Wildcats survived a big comeback attempt in an 82-80 win on Saturday.
Herro scored 10 points in the final 5:23 and made two free throws with 24 seconds left, then Immanuel Quickley added another.
"This is so hard for these kids," Kentucky coach John Calipari said. "What I'm proud of is we're playing a veteran team that's been through wars, that has been through games like this, that made shots. They were down 17 and they never stopped. And guess what? Neither did we."
It made for a dramatic finish for two teams who meet again Feb. 23 in Lexington.
The Wildcats (14-3, 4-1 Southeastern Conference) rebounded after losing a 17-point second-half lead to finish off a showdown between two of the league's top teams.
Auburn (13-4, 2-2) took an 80-79 lead on Jared Harper's contested 3-pointer over Ashton Hagans with 32 seconds left. Herro grabbed the lead back from the line, then Harper held onto the ball for what he hoped would be a game-winner.
The Tigers' 6-foot point guard drove and launched a shot that hit the backboard and bounced off the rim a couple of times but rattled out.
"I knew when I was able to get by him, that I had the angle," Harper said. "I feel like when I shot it, I put it in the right place on the backboard and it just didn't go in."
And the Wildcats breathed a sigh of relief.
"We're lucky to get out of here alive," Calipari said. "We're lucky he missed that little shot."
Quickley grabbed the rebound and was fouled. He made the first of two free throws with 3 seconds left and Samir Doughty's long 3-point heave missed at the buzzer.
Herro and Keldon Johnson both scored 20 points for the Wildcats. Reid Travis had 17 points and seven rebounds as the Tigers played without injured center Austin Wiley. PJ Washington scored 13 and grabbed seven boards. Ashton Hagans had a solid all-around game with six points, six assists, seven rebounds and three steals.
Brown had 25 of his 28 points in the second half and was 6 of 7 from 3-point range. Harper had 17 points and six assists.
Kentucky built its 17-point cushion on the back of a huge run to end the first half and start the second half. With Johnson leading the way, UK went on a 19-2 run to take a 48-31 advantage with 17:01 left in the game
• Saturday marked UK's first victory vs. a top-15 SEC opponent on the road since March 1, 2006
• UK improved to 7-1 vs. Auburn when both opponents are ranked inside the Associated Press Top 25
• Kentucky is now 2-1 vs. AP Top 25 foes this season and 54-27 under Calipari
• Saturday was UK's best shooting performance in a road game against an AP Top 25 team in the John Calipari era (54.2 percent)
• The Wildcats moved to 44-25 overall when both opponents are ranked inside the AP Top 25 under Calipari and 6-1 when both SEC opponents are ranked in the top 15
• UK is now 247-5 when leading by at least 10 points at any time in the contest. The Wildcats have led by 10 points or more in a whopping 85.5 percent of John Calipari's 289 wins at Kentucky
• Kentucky took full advantage of Wiley missing the game and outscored Auburn 38-24 in the paint to improve to 12-2 this season when winning the battle in the lane
• The Wildcats also outrebounded Auburn 33-26 to move to 12-2 when outrebounding the competition
• Hagans extended his school-record streak of three or more steals in a game to seven with three thefts vs. the Tigers. He's the first freshman with such a streak since Wake Forest's Chris Paul did it 10 times during the 2003-04 season
• Auburn hit 13 3-pointers, including eight in the second half. It's the sixth time UK has allowed 10 or more 3-pointers in a game this season
• Johnson led UK in scoring for a team-leading seventh time this season and it's the fifth time he's scored 20 or more
• Hagans has dished out three or more assists in 11 straight games
Mississippi State-Kentucky Meet for Ninth Time as Ranked Foes
Tuesday's matchup between No. 8/9 Kentucky and No. 22/22 Mississippi State will mark the ninth time in the series' history the teams will meet while both are ranked in the Associated Press Top 25 and the first since Jan. 13, 2004, when No. 5 UK defeated No. 20 Mississippi State 67-77.
Kentucky owns a 95-20 all-time record in the series, including a 48-5 advantage when the game is played in Lexington. However, the series is deadlocked at 4-4 when both opponents are ranked.
No. 5 Kentucky 67, No. 20 MSU 66 (Jan. 13, 2004 | Starkville, Miss.) No. 23 MSU 76, No. 4 Kentucky 71 (Feb. 14, 1995 | Lexington, Ky.)
No. 2 Kentucky 70, No. 19 MSU 62 (Feb. 23, 2003 | Lexington, Ky.) No. 9 MSU 49, No. 2 Kentucky 44 (Feb. 12, 1962 | Lexington, Ky.)
No. 25 MSU 84, No. 1 Kentucky 73 (March 10, 1996 | SEC Tournament) No. 11 MSU 66, No. 1 Kentucky 58 (Feb. 9, 1959 | Starkville, Miss.)
No. 2 Kentucky 74, No. 12 MSU 56 (Jan. 9, 1996 | Starkville, Miss.) No. 12 Kentucky 72, No. 17 MSU 62 (Feb. 10, 1958 | Lexington, Ky.)
Wildcats in the Middle of a Tough Stretch
 
Already tasked with playing one of the toughest schedules in the country, Kentucky is in the middle of a three-game buzzsaw. Having just played No. 14/12 Auburn on the road, UK will play two more ranked opponents this week in No. 22/22 Mississippi State (Tuesday) and No. 9/10 Kansas (Saturday).
It will mark the first time since the 2015 NCAA Tournament UK will face three consecutive foes ranked inside the Associated Press Top 25 and the first time in the regular season since the final three games of the 2005-06 regular season.
UK's reward for getting through this particular three-game stretch? Back-to-back road games at Vanderbilt (Jan. 29) and Florida (Feb. 2).
Coaches vs. Cancer Game
Kentucky coaches and staff will be wearing sneakers on Tuesday vs. Mississippi State as a part of the annual Coaches vs. Cancer Suits and Sneakers Week.
Coaches vs. Cancer Suits And Sneakers Week is a nationwide event when basketball coaches across the country unite for a common cause – saving lives from cancer. Coaches and their staff across the nation wear sneakers with their suits during games to raise awareness and help save lives from cancer by raising funds and encouraging people to educate themselves about cancer prevention, screening and early detection.
The Coaches vs. Cancer program is a nationwide collaboration between the American Cancer Society and the National Association of Basketball Coaches. This initiative leverages the personal experiences, community leadership, and professional excellence of coaches nationwide to increase cancer awareness and promote healthy living through year-round awareness efforts, fundraising activities, and advocacy programs. Since 1993, coaches have raised more than $100 million for the American Cancer Society.