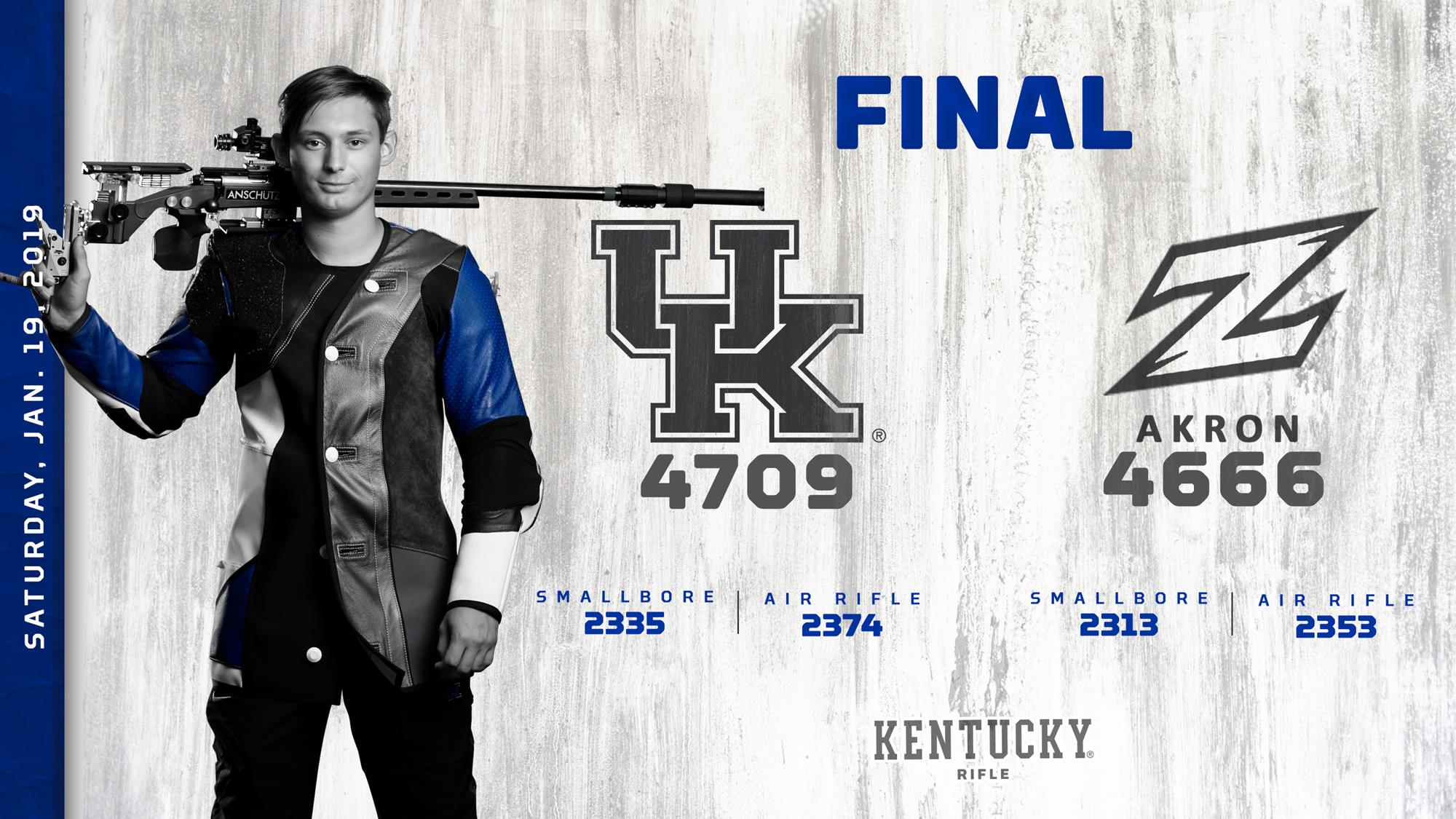 LEXINGTON, Ky. – The Kentucky rifle team began the spring portion of the season with its second best score of the season to defeat Akron 4709-4666 on Saturday at the UK range.
 
Freshman Will Shaner was top aggregate individual with a season best of 1184.
 
Richard Clark had a career day firing an 1181, 587 to win individual smallbore and 594 in air rifle.
 
Hailee Sigmon was third in the aggregate standings – second among squad shooters – with 1179.
Cathryn Papasodora was one point off her aggregate season best firing 1174, third overall.
 
"Overall, I was real happy to see the performance of today" UK head coach Harry Mullins said. "Richard a personal best with a 587 smallbore and Will shot a solid 598 air rifle. Wills 1184 total was a very solid performance. He has been working hard on his entire game and it is starting to show some results.
 
"As a whole, the team performed well today in staying focused. I am looking forward to hitting the road and testing ourselves on different ranges."
 
Smallbore report
The Wildcats opened up a 2335-2313 lead after smallbore.
Shaner and Sigmon led the way for the UK squad with a pair of 586 scores, followed by Papasodora with a 583.
Jason Spaude fired a 580, Ruby Gomes shot 578 and Hanna Carr turned in a 577.
 
Air rifle report
The Wildcats topped the Zips 2374-2353 in air rifle.
Shaner tied his season best AR total with a 598. Three more Wildcats bettered 590 with Sigmon turning in a 593, Gomes totaling 592 and Papasodora producing a 591. Carr shot 589.
Notes
Kentucky is ranked No. 3 and Akron is ranked No. 14 in the early-January edition of the College Rifle Coaches Association Top-20.
 
UK will have three more matches this spring before the start of postseason with the NCAA Qualifier Feb. 16-17. The Great American Rifle Conference Championships will be Feb 22-24, and the NCAA Championships will be March 8-10.
 
The Wildcats have emerged victorious from each of their eight matches this season, including the three-team Kentucky Long Rifle Match on Oct. 13.
 
UK's season-high 4718 at the aforementioned KLRM on Oct. 13 was the second best score a team has turned in in the nation this season.
                                                                                                                                                                                                                                                                                
 —
For the latest on the Kentucky rifle team, follow @UKrifle on Twitter, Instagram and Facebook, as well as on the web at UKathletics.com.