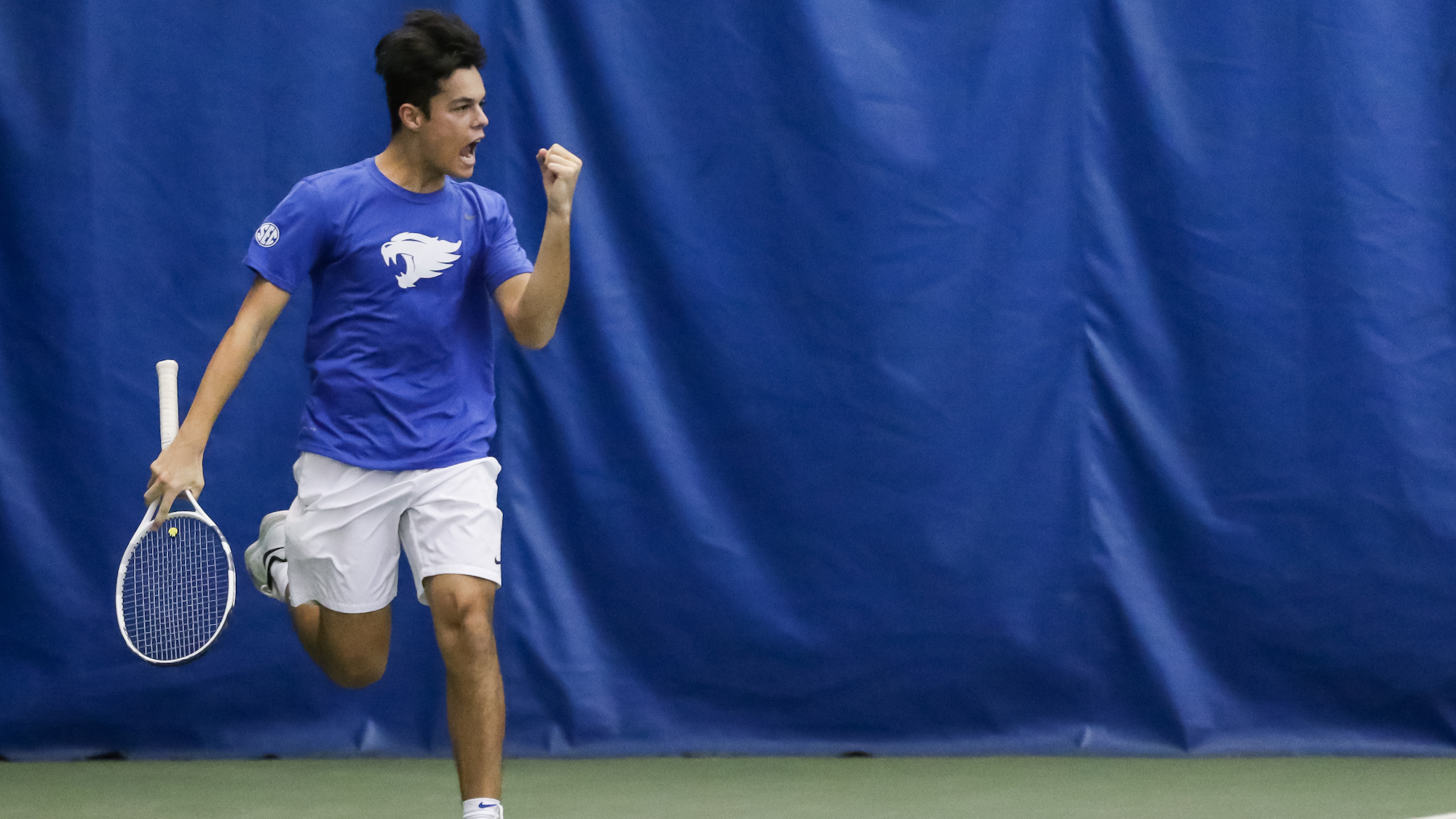 January 19, 2019 - 07:38 PM
Men's Tennis Falls Short of No. 18 Notre Dame
LEXINGTON, Ky. – Kentucky clawed its way back after falling into a 2-0 deficit, but the No. 18 Notre Dame Fighting Irish (1-0) ultimately pulled away for a 5-2 victory on Saturday afternoon at Boone Tennis Center. The Wildcats' first loss of the spring season brings their record to 2-1 overall.
 
"Today was a tough match against an experienced Notre Dame team," said UK assistant coach Matthew Gordon. "I thought our boys competed well and it could have very easily been a different score. There was a point in the match where we felt the momentum was with us and we must learn to capitalize on it in the future."
 
Notre Dame gobbled up two quick decisions in the match's opening doubles competition, followed by a 6-2, 6-3 win for Alex Lebedev over UK's Ryo Matsumura in the top singles bout. However, Kentucky senior co-captain Enzo Wallart would go on to earn the Wildcats' first point of the day with a 6-4, 6-2 victory over Richard Ciamarra.
 
Energy began to further shift in Kentucky's favor when courts three and four were forced into third-set verdicts. Freshman Theo McDonald claimed his first set in 7-5 fashion, but eventually fell to the Irish's Tristan McCormick by a 5-7, 6-1, 6-4 final. Junior Cesar Bourgois survived all the way into a third-set tiebreaker in the midst of McDonald's close defeat, but wound up just short of Axel Nefve in a 6-4, 4-6, 7-6 (7-3) loss.
 
Freshman Kevin Huempfner completed his matchup with a 6-4, 6-1 loss to Notre Dame's Guillermo Cabrera, while fellow first-year player Kento Yamada closed Kentucky's day with a 6-3, 6-3 win over William Howells.
 
"It's never nice to lose, but it's a long season," Gordon said. "We will be motivated and ready to compete against Duke on Monday."
 
Kentucky looks to bounce back against its second straight foe from the Atlantic Coast Conference, taking on the Blue Devils (2-0) on Monday at noon ET.
 
For the latest on Kentucky men's tennis, follow @UKMensTennis on Twitter and @KentuckyMensTennis on Instagram, and follow the team on the web at UKAthletics.com.