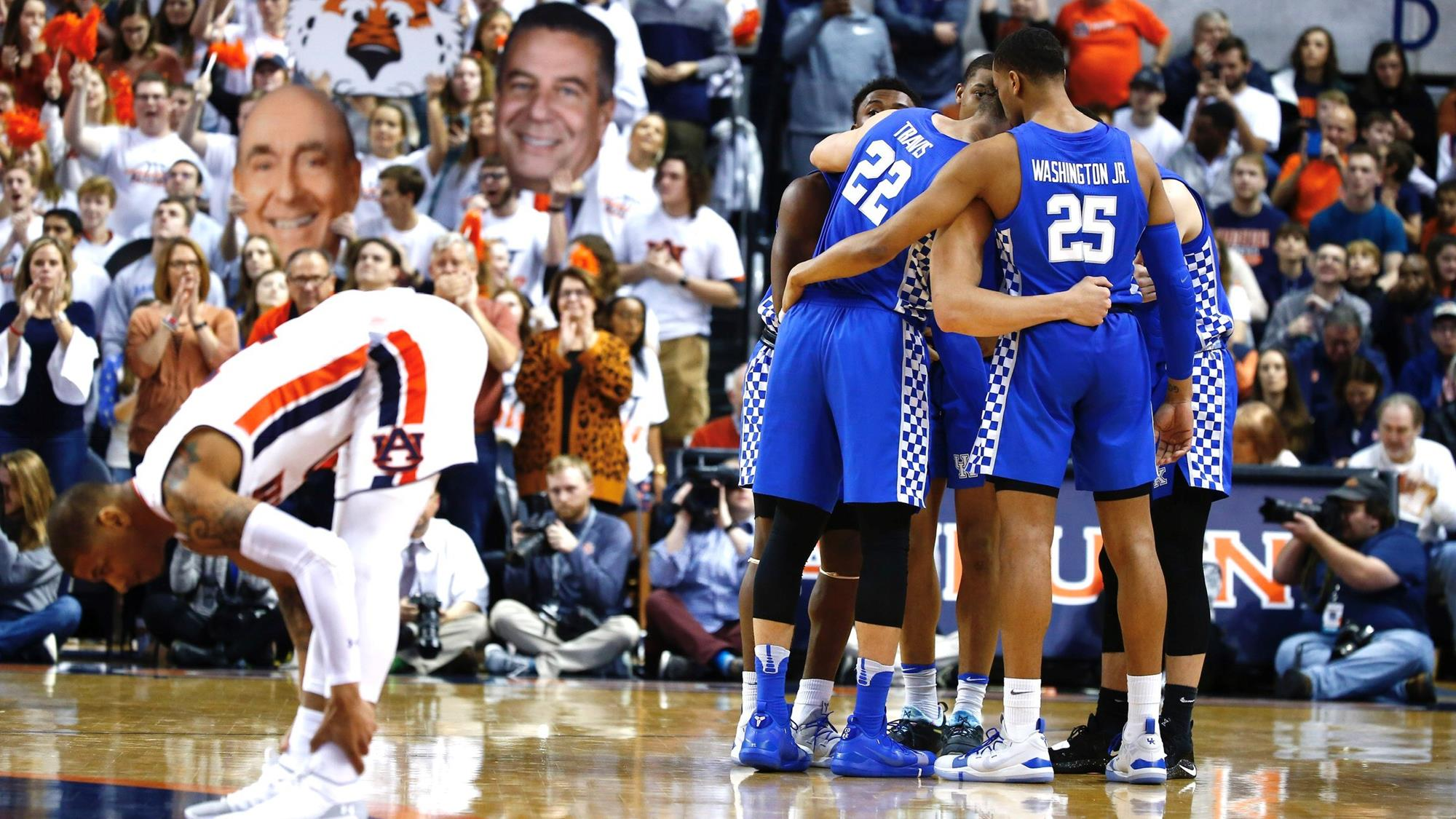 January 19, 2019 - 07:34 PM
Cats Have Every Answer in Huge Road Win
When Kentucky built a 17-point lead, the Wildcats knew Auburn would make a run or two.
What they couldn't have expected was exactly how many the Tigers would make.
"This is so hard for these kids," John Calipari said. "Let me tell you again, what I'm proud of is that we're playing a veteran team that's been through wars, that has been through games like this, that made shots. They were down 17 and they never stopped. And guess what. Neither did we."
Auburn was unrelenting and the crowd at Auburn Arena more raucous with each successive big play often 3-pointers, but UK mustered an answer each time. In so doing, the No. 12/14 Cats (14-3, 4-1 Southeastern Conference) pulled off an 82-80 victory over the No. 14/12 Tigers (13-4, 2-2 SEC) in a battle befitting of a top-15 matchup of conference foes.
"This is a work in progress," Calipari said. "This is a new team. They've never played together. It's the disadvantage we have, but sometimes they don't know what they don't know. Like they don't know they're not supposed to come in here and win. They don't know they're not supposed to come in here and be up 17. They're just playing. They problem is as the game gets going they'll revert and think it is a high school game."
UK might have reverted on occasion to let Auburn get back into the game, but the Cats also didn't wilt when it really counted. Kentucky's four leading scorers Saturday – Tyler Herro, Keldon Johnson, Reid Travis and PJ Washington – all had big scores down the stretch, while Ashton Hagans and Immanuel Quickley made important plays of their own.
"A lot of us had it going, I would say," said Johnson, who scored 20. "Tyler had it going at one point. I had it going at one point. PJ had it going at one point. Reid had it going at one point. It just all depends on who we need and what's going on."
Herro was the last to take a turn at getting it going. The freshman scored 10 of his 20 points in the final 5:23, including a huge 3 with 3:47 left that gave UK a seven-point lead and likely would have been a knockout blow against a lesser team.
"I like hitting a big shot in front of people who don't like us," Herro said.
Calipari awoke one night this week thinking about the fact that UK would need its two star swingmen to deliver to win on the road. Since Johnson was fresh off the only scoreless game of his college career and Herro had managed only 16 points combined in his last two, that was no guarantee. That they both delivered is quite the positive development. The fact that they did so eagerly only adds to that effect.
"And (Herro) wanted the ball," Calipari said. "He was telling me, 'Come back to me. Let me do this.' I like the fact that Keldon was telling me, 'Come to me.' "
Of course, the Tigers had a counterpunch for every score and even took an 80-79 lead when Jared Harper's 3-pointer went through with 32 seconds left. The 3 was Auburn's eighth in 14 tries after halftime – with Bryce Brown making all five of his – and UK would seemingly need a dramatic answer. Instead, Herro delivered a calm one.
Seeing an opportunity to drive early in the possession, he did. Herro was promptly fouled. With UK in the double bonus, two free throws awaited him. That he smiled before taking them and made both surprised none of his teammates.
"This what we're here for: crunch time," Johnson said. "We came together. We all hit free throws."
Finally, after Herro's free throws, Auburn didn't have an answer. Harper's short bank shot rimmed out, Quickley split a pair of free throws and UK returned home with arguably its best win to date when a desperation heave came up empty. 
With more games against ranked opponents awaiting UK next week, there won't be much time to rest on laurels. That's fine though. The Cats are eager to face down their next test.
"We'll enjoy this and figure out what we're doing next," Calipari said.