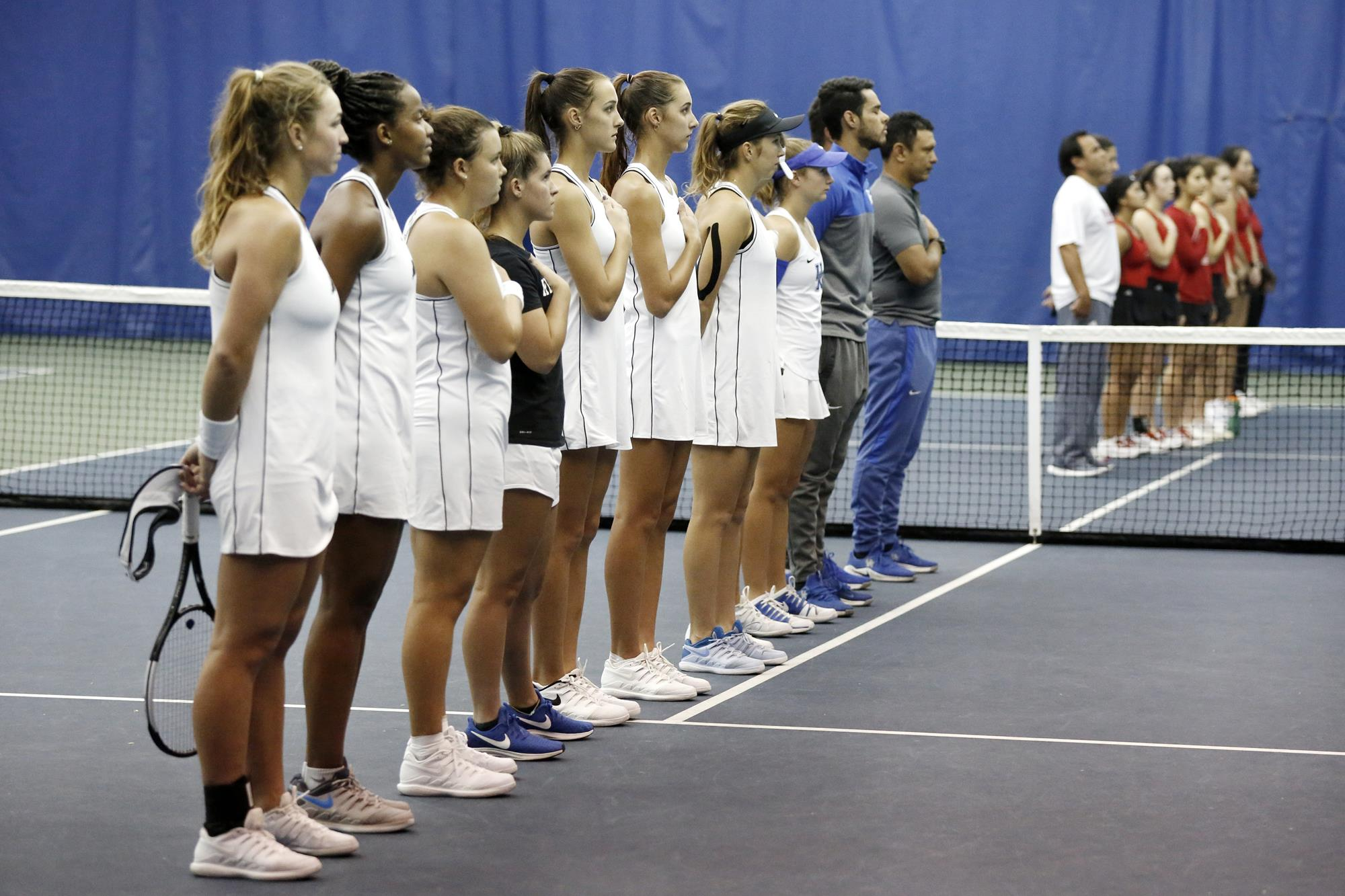 January 18, 2019 - 06:10 PM
Kentucky Doesn't Drop a Match in Doubleheader Friday
LEXINGTON, Ky. – Kentucky put together a perfect series of matches in the opening week of the regular season, after the women's tennis program snagged straight wins over Miami (OH) and Western Kentucky in a doubleheader at the Hilary J. Boone Tennis Center Friday.
 
After defeating Marshall (6-1) and Kennesaw State (7-0) Wednesday to inaugurate the season, the Wildcats tested their resilience Friday in their second doubleheader in three days.
 
The nine-team Kentucky roster, which consists of two seniors, three juniors, two sophomores and two freshmen, fashioned a 7-0 sweep over Miami (OH) to start the day. It begun with a pair of doubles wins by duo Justina Mikulskyte and Akvile Paražinskaite and Lesedi Jacobs and Tiphanie Fiquet.
 
Junior Jacobs and freshman Fiquet were the first to finish in the morning bout, boasting a 6-1 victory on court two. The senior duo in Mikulskyte and Paražinskaite followed, crafting a 6-2 winning mark to secure the doubles point.
 
With the doubles slate behind them, the Wildcats jumped to a 1-0 lead ahead of singles. The singles lineup, which starting at court one included Mikulskyte  Paražinskaite, Jacobs, Fiquet, Diana Tkachenko and Anastiasia Tkachenko, went undefeated in singles punching a 7-0 final score over Miami (OH). It was the 23rd time Kentucky defeated the RedHawks.
 
With only an hour to regain focus and energy, the women's tennis program hosted Western Kentucky for its second match of the day. The Hilltoppers competed only five players, which meant Kentucky automatically won one doubles match and only two of the usual three matches were contested. If Kentucky won just one of the two matches, the Wildcats would automatically swipe the doubles point, which is what happened.
 
Sophomore Alexis Merrill and junior Anastasia Tkachenko lifted the Wildcats to a 1-0 mark over WKU, earning a 6-2 doubles outcome on court two. Though their win sealed the doubles point for UK, Fiquet and Paražinskaite finished their match posting a 6-2 finish.
 
In previous fashion, the singles lineup took full control over the match. With Paražinskaite on court No. 1, the remaining lineup included Fiquet, A. Tkachenko, Merrill and Brianna Tulloch. The Wildcats went undefeated in singles for the second-straight match. Kentucky finished with a 6-0 victory over Western Kentucky and kept its undefeated mark in the programs' all-time meetings.
 
Kentucky will enjoy a one-week break before the annual ITA Kick-Off Weekend, hosted in Atlanta, Jan. 26-27. UK will begin the weekend opposing Southeastern Conference foe Auburn. The Wildcats will not return to action at home until Friday, Feb. 15 in a dual with South Florida.
For more on Kentucky women's tennis, follow @UKWomensTennis on Twitter and Instagram, Kentucky Women's Tennis on Facebook, or on the web at UKathletics.com.