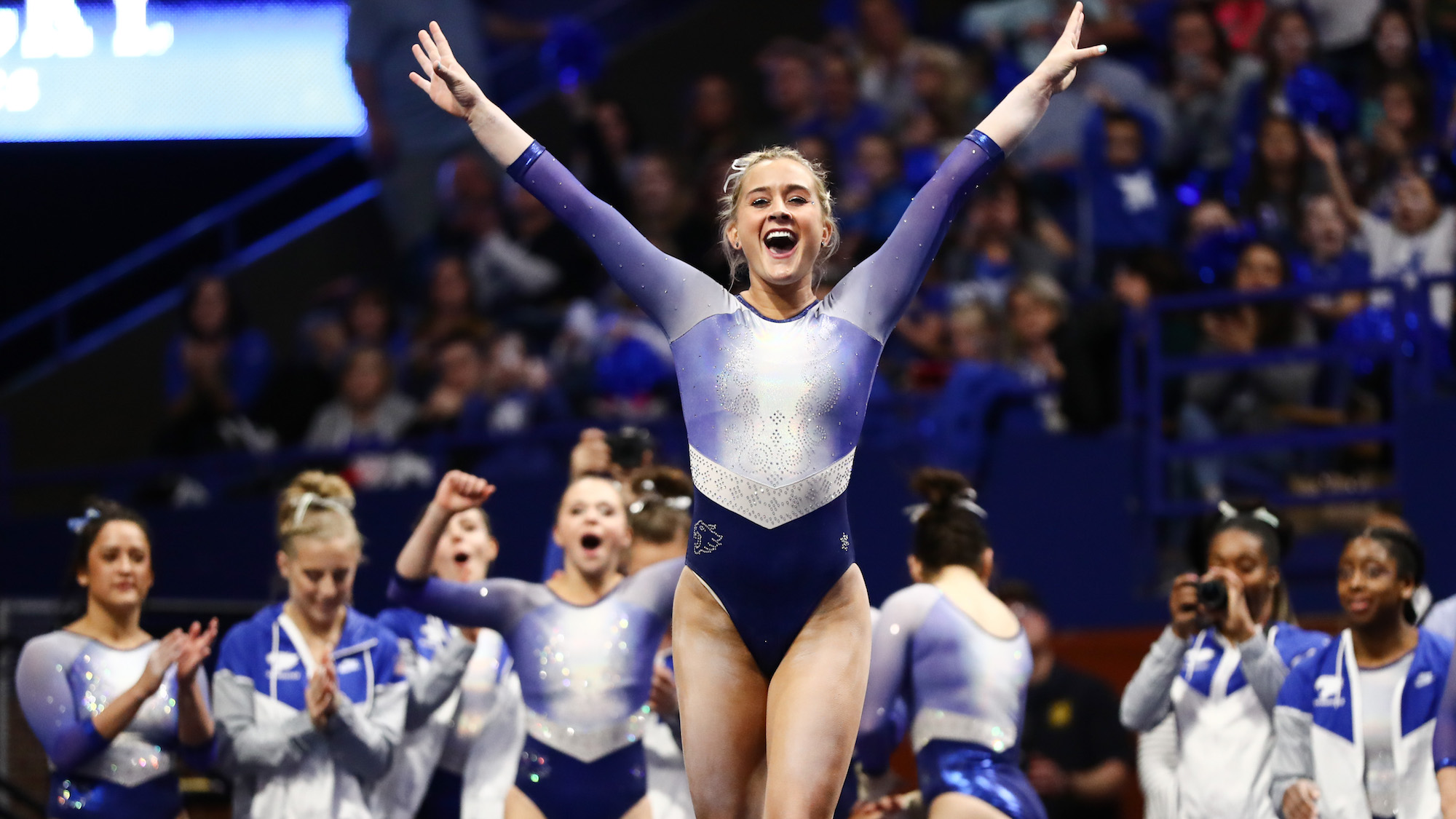 January 18, 2019 - 11:11 PM
Kentucky Snags Season's First SEC Victory in Front of Record Crowd
LEXINGTON, Ky. – It was a record evening for No. 16 Kentucky after spending the first two weeks of its season away from home. UK opened Southeastern Conference play on Friday with a 195.275-193.875 win over No. 14 Arkansas to the tune of a school-record 12,472 zealous fans in the Wildcats' annual Excite Night meet at Rupp Arena.
 
"That environment was unreal," said head coach Tim Garrison. "We are truly blessed to be here. … There is an appetite for gymnastics in this town and it's obvious after tonight."
 
Kentucky led off the event with a strong presentation on vault, logging a 49.175 total as a team. Four of the six performers scored better than 9.800, either setting or tying their respective season-highs. Event winner Mollie Korth led the way with a mark of 9.900, while Alex Hyland (9.850), Katie Stuart (9.850), and Sidney Dukes (9.825) followed closely behind.
 
After a solid 48.950 showing on bars, Kentucky took a considerable misstep with its balance beam rotation. The Cats posted just 47.775, the team's lowest beam output in four years.
 
However, Kentucky rebounded with a sum of 49.375 on floor, good for the 10th-highest score in program history. Sophomore Ella Warren locked down a 9.875 in her season debut, while Hyland, Dukes, and Korth recorded a season-high 9.900 apiece.
 
"We had a solid day on three events, and struggled on one," Garrison said. "Vault and floor reached the 49 mark for the first time this season, and bars was very close. Beam is typically a strong event for us, but tonight we were off. Floor was the highlight of the night and I couldn't be prouder of how they performed to close out the meet."
 
In addition to Korth's solo win on vault, she shared a 9.800 victory on bars with teammates Stuart and freshman Cally Nixon. Hyland, Dukes, and Korth split top honors with Arkansas' Sophia Carter on floor, while Korth was named the meet's all-around champion (39.200).
 
Kentucky will return to the road next Friday, taking on No. 3 Florida at 6 p.m. ET.
 
For the latest on the Kentucky gymnastics team, follow @UKGymnastics on Twitter, Facebook, and Instagram, as well as on the web at UKAthletics.com.