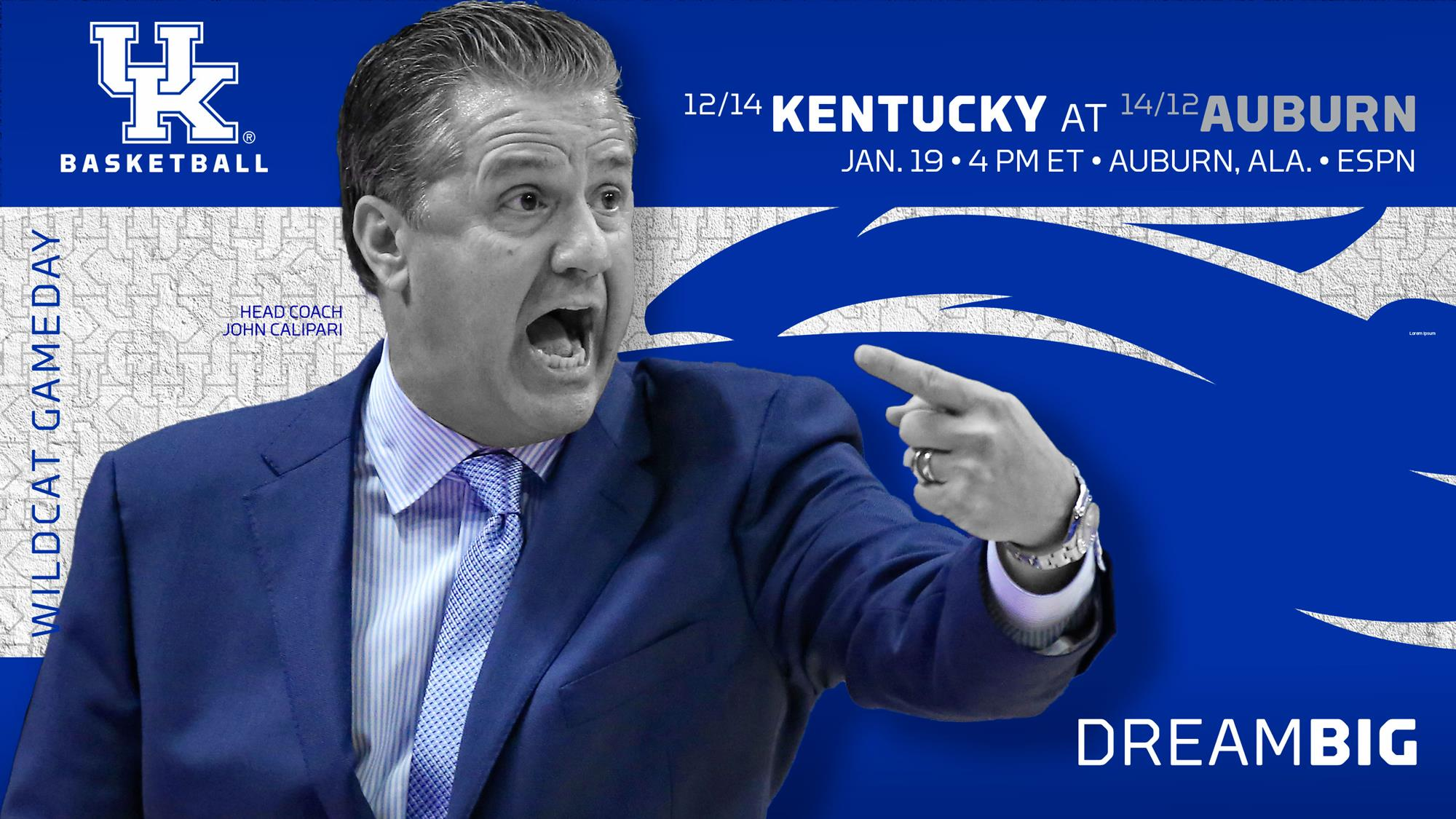 January 18, 2019 - 05:07 PM
Trip to Auburn Begins Stretch of Ranked Opponents
John Calipari has been reminded of the NCAA Tournament of late.
 
With the way Kentucky's schedule has shaken out, the Wildcats have experienced a contrast in playing styles pretty much every time out.
 
"Well it's kind of neat; every team we play is doing different stuff," Calipari said. "It's helping our team as we prepare for what's ahead of us, from a zone, to hold the ball, to shoot it quick, to bring the bigs out, to shoot 3s to – I mean, every game has been different. So they're all learning experiences for us."
 
The next such learning experience and playing style will come in the form of No. 14/12 Auburn (13-3, 2-1 Southeastern Conference). No. 12/14 Kentucky (13-3, 3-1 SEC) will face the defending SEC co-champion Tigers Saturday at 4 p.m. in Auburn Arena. What makes Auburn unique is the fact that the Tigers rarely see a 3-point look they don't like.
 
"Well, let's say this: They are going to shoot 35 of them," Calipari said. "If you really guard them and you really guard the 3, they are going to shoot 35 of them. They do it off the bounce, they do it off the catch, they do it in transition, and they do it in pick-and-rolls."
 
Kentucky at Auburn

Sat., Jan. 19 – 4 p.m. ET
Auburn Arena
Auburn, Ala.
Game Notes: UK | AU
UK Athletics App Digital Guide

Coverage

TV: ESPN
Radio: UK Sports Network
Watch
Listen
Live Stats

UK
2018-19 Stats
AU
80.1
PPG
84.5
67.5
Opp PPG
66.5
.486
FG%
.454
.418
Opp FG%
.414
38.3
RPG
39.7
.347
3PT FG%
.359
.363
Opp 3PT FG%
.349
.754
FT%
.676
14.3
APG
16.4
6.9
SPG
10.0
5.3
BPG
6.1

Auburn attempts 46.1 percent of its field goals from beyond the arc, taking fewer than 30 treys just six times in 16 games so far this season. That's somewhat of a scary proposition for a Kentucky team that ranks 270th in 3-point defense at 36.3 percent, though the Cats have limited Vanderbilt and Georgia to 11-of-52 (21.1 percent) 3-point shooting over their last two games.
 
"Coach has been emphasizing limiting 3s," Tyler Herro said. "He gave us a few ways, putting our hands up early, so the shooter sees our hands. It makes the shooter think a little bit before he shoots. Just putting our hand up early and getting out to shooters."
 
After UK gets to shooters and forces misses by the likes of Bryce Brown (16.2 ppg and 37.7 percent from 3) and Jared Harper (15.1 ppg, 6.7 apg and 40.2 percent from 3), closing out defensive possessions with rebounds – often long ones – will be essential. The Tigers rebound 39.5 percent of their own misses (third best in the country according to KenPom.com), even better than Kentucky's ninth-ranked offensive-rebounding rate of 38 percent.
 
"We're going to play and do some things against a team that's shooting 35 3s and if they make 20 – what's the next game?" Calipari said. "They're shooting them whether you're on them, hanging on them, they're shooting them. Long rebounds matter in this game. I like to press a pressing team. I like to drive a driving team. I'm not so apt to shoot the 3 with the 3-point shooting team."
 
UK, in other words, isn't going to change its stripes. The Cats are going to do what they do on offense, not that Auburn won't try to affect them. That is the Tigers' specialty after all. Auburn is susceptible to fouls and giving up offensive rebounds, but the Tigers excel at forcing turnovers, ranking third nationally in turnovers forced (19.9 per game) and first in defensive turnover rate (turnovers forced on 27.8 percent of opponent possessions).
 
Calipari will be preparing his team for the specifics of that challenge, but his thinking continues to be more long term.
 
"This is a work in progress, it really is," Calipari said. "Trying to get guys to conquer themselves first, you can't feel pressed about your performance; you've got to lose yourself in the team. What does the team need you to do has got to come before what you're trying to do or what you think you need to do. That's going to be an ongoing thing. We'll all know. You'll be able to see it when you say, 'They've blended, man. They're engaged with each other. They're doing it for 40 minutes.' We're not there yet."
 
The next eight days – during which UK will face ranked opponents in three successive games – will be a good test of the Cats' progress. But though the quality of competition might feel like March as the varying playing styles UK will face do, the calendar says otherwise.
 
"What's the date? Is it still in January?" Calipari said. "We're good. Were fine."
Hagans, Bench Leads Kentucky to Rout of Georgia
Ashton Hagans knew he was going to get booed returning to his home state. It sure didn't seem to bother him.
With the crowd jeering each time he touched the ball, Hagans scored a career- and game-high 23 points in a brilliant all-around performance
that led No. 12/14 Kentucky to a 69-49 rout of Georgia on Tuesday night.
Hagans, a freshman point guard, initially committed to Georgia while still in high school but wound up signing with Kentucky.
That change of heart — largely the result of a coaching change by the Bulldogs — made Hagans a convenient villain for the sellout crowd at
Stegeman Coliseum.
"When I heard the crowd booing me, it was just like, `Let me just go out here and put on a show,' " he said. "I'm at home. I played good in
front of the home crowd, even though I was getting booed. But other than that, I had my family here. I'm just happy they saw me play."
Hagans reached double figures for the fifth game in a row and eclipsed his previous high, 18 points a week ago against Texas A&M. But the
youngster's contribution went much deeper on the stat sheet — he also had five rebounds, four assists and four steals for the Wildcats (13-3, 3-1
Southeastern Conference).
"Coach put me in a role. He let me have the ball more. He let me find the open guys," Hagans said. "I'm just going back to playing my game
like I did in high school: finding my shooter, attacking the basket, looking for my bigs. I'm just loving how I'm playing these past couple of games.
I've got to keep it going."
Hagans seemed to be pressing a bit in the early going, missing his first four shots. After that, he was pretty much unstoppable.
"It rattled him early," coach John Calipari said of the booing. "It inspired him later."
The Bulldogs (9-7, 1-3) led by five in the opening minutes before going to the locker room down 35-31. Hagans took control after halftime,
leading Kentucky to its third straight victory. He knocked down a 3-pointer just ahead of the shot-clock buzzer, darted into the lane to scoop one
in, and took off on another layup set up by his own steal to open the second half.
Just like that, Kentucky pushed the lead into double figures, 42-31. It was no contest after that. In the closing minutes, as most of the red-clad
fans headed for the exits, a sizable contingent of Wildcat fans chanted, "Go Big Blue!"
Nicolas Claxton led Georgia with 12 points. The Bulldogs shot only 30.4 percent (17 of 56) from the field, their season and Kentucky's second-best defensive performance of the season.
• UK is now 246-5 when leading by at least 10 points at any time in the contest. The Wildcats have led by 10 points or more in a whopping 85.4 percent of John Calipari's 288 wins at Kentucky
• Kentucky is now 235-40 vs. unranked competition under Calipari
• Georgia totaled 49 points. UK is 67-0 under Calipari when keeping the opponent at 55 points or less, including 3-0 this season
    o It's the second straight game the Wildcats have held the opponent to 50 points or less. That's the first time UK has done that since holding South Carolina (Feb. 14, 2015) and Tennessee (Feb. 17, 2015) to 43 and 48 points, respectively, during the 2014-15 season
    o It was the fifth time in the Calipari era UK held an opponent to 50 or fewer points on the road and first since Tennessee's 48 points in Feb. 2015
• UK improved to 170-15 under Calipari when keeping the opponent at 40 percent or less, including 6-0 this season
• After Georgia scored via dunk for its five field goals of the game, the Wildcats limited Georgia to 12 points in the paint the rest of the way UK won that category overall, 40-22. UK is now 11-2 when winning the points in the paint.
• Hagans had career highs in points (23) and rebounds (5). He extended his school-record streak of three or more steals in a game to six with four thefts vs. the Bulldogs
• UK got great production from its bench. Nick Richards had four points, seven boards and three blocks. EJ Montgomery chipped in with six points, six boards and a swat. Jemarl Baker Jr. had a career-high-tying six points
• Kentucky's 20-point win over Georgia in Stegment Coliseum is it's fifth victory by at least 20 points and first since Jan. 18, 2009 (won by 23)
Auburn-Kentucky Meet for Eighth Time as Ranked Foes
Saturday's matchup between No. 12/14 Kentucky and No. 14/12 Auburn will mark the eighth time in the series' history the teams will meet while both are ranked in the Associated Press Top 25 and the first since No. 24 Auburn took on No. 4 Kentucky on Jan. 22, 2003. K
Kentucky owns a 92-19 all-time record in the series, including a 30-15 advantage when the game is played in Auburn. UK also has a lead in the series during the seven prior meetings when the teams were both ranked with a 6-1 edge.
John Calipari and Bruce Pearl have matched up head-to-head with ranked squads on four occasions, splitting the meetings 2-2. Calipari is 9-5 all-time against Pearl. Here's a breakdown of the series when the teams have both been ranked in the APTop 25:
No. 8 Kentucky 67, No. 24 Auburn 51 (Jan. 22, 2003 | Lexington, Ky.) No. 11 Kentucky 63, No. 5 Auburn 60 (Jan. 3, 1987 | Auburn, Ala.)
No. 4 Auburn 66, No. 20 Kentucky 63 (Jan. 11, 2000 | Auburn, Ala.) No. 6 Kentucky 84, No. 16 Auburn 64 (Feb. 11, 1984 | Lexington, Ky.)
No. 14 Kentucky 69, No. 4 Auburn 57 (March 6, 1999 | SEC Tournament) No. 3 Kentucky 75, No. 3 Auburn 56 (Feb. 21, 1959 | Lexington, Ky.)
No. 7 Kentucky 72, No. 6 Auburn 62 (Jan. 20, 1999 | Lexington, Ky.)
Tough Stretch on the Way
 
Already tasked with playing one of the toughest schedules in the country, Kentucky is headed for a buzzsaw over the next week. UK will take on three straight Associated Press Top 25 teams in No. 14 Auburn (Jan. 19), No. 24 Mississippi State (Jan. 22) and No. 7 Kansas (Jan. 26).
It's the first time since the 2015 NCAA Tournament UK will face three consecutive foes ranked inside the top 25 and the first time in the regular season since the final three games of the 2005-06 season.
UK's reward for getting through this particular three-game stretch? Back-to-back road games at Vanderbilt (Jan. 29) and Florida (Feb. 2).
Big-Game Cal, Cats
 
John Calipari's teams aren't just good against the best teams in the country, they're great. Not only does Kentucky have a 53-27 record (.663) vs. Associated Press Top 25 teams, UK is 5-4 when both teams are ranked in the AP top five under Calipari.
All-time, Calipari is 11-8 when both teams are ranked in the AP top five. When both teams are ranked in the AP Top 25, Calipari's all-time record is 76-50, including a 45-23 mark at Kentucky. When both are ranked in the top 10 he has a 24-16 record, including 13-9 at UK.
This weekend's matchup will mark the seventh top-15 (Associated Press Top 25) matchup between Southeastern Conference schools under Calipari and the fifth in the regular season. UK is 5-1 and 3-1 in those respective games.
This will mark the fourth time UK has played a top-15 opponent on the road in the SEC in the Calipari era. Kentucky hasn't beaten a top-15 SEC foe on the road since March 1, 2006.