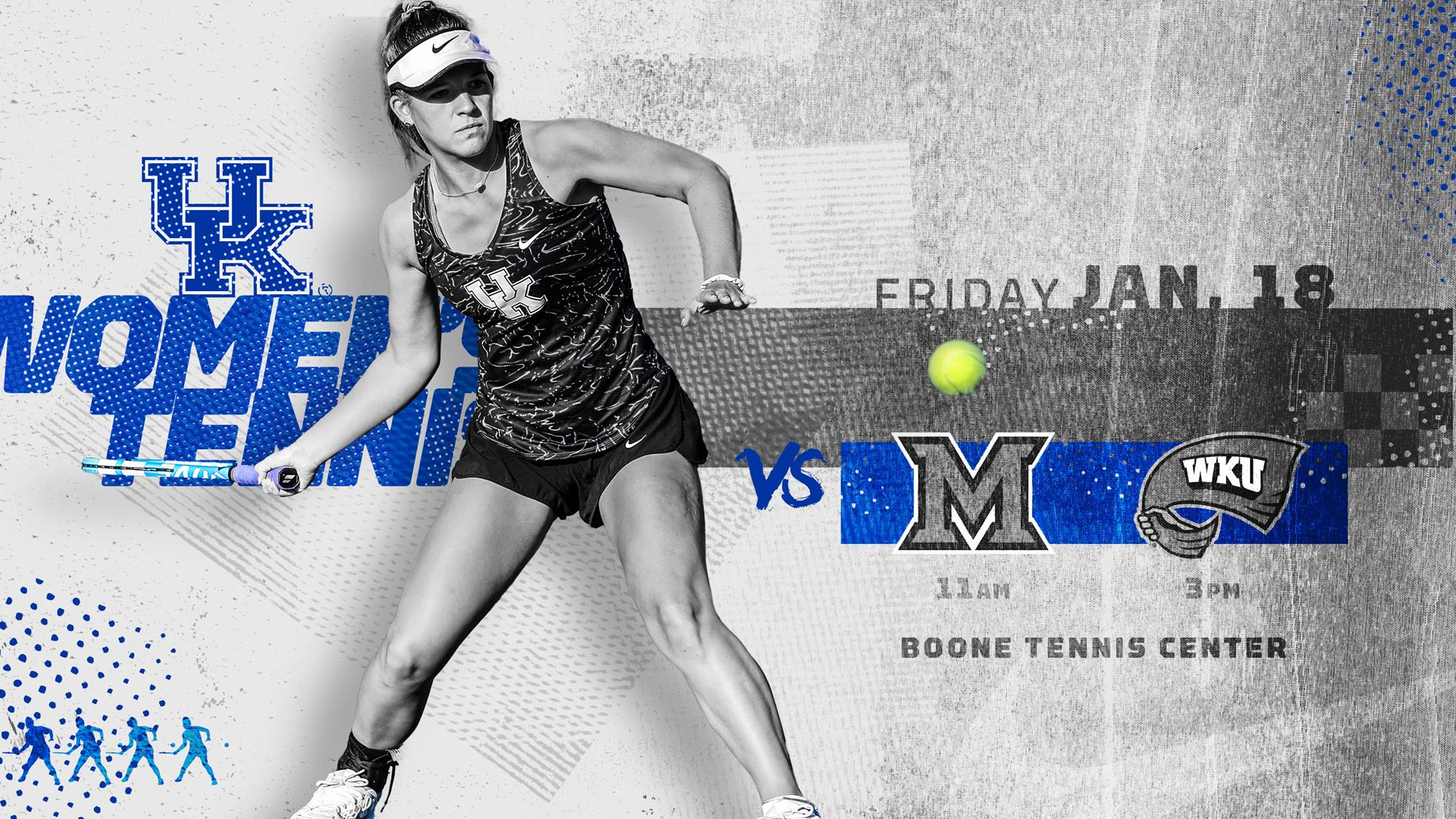 January 17, 2019 - 07:17 PM
Short Break for Women's Tennis, Will Return Home Friday for Doubleheader
LEXINGTON, Ky. – Kentucky women's tennis will compete in its final home outing of January in a doubleheader Friday, Jan. 18 at the Hilary J. Boone Tennis Center. The program will begin with an 11 a.m. first serve over Miami (OH), followed by a 3 p.m. instate duel with Western Kentucky.
 
The Wildcats formed a 2-0 mark on the season Wednesday, after opening the regular season with a pair of wins in a doubleheader over Marshall and Kennesaw State. Kentucky constructed a 4-0 score to start each of its matches, collecting the doubles point followed by three straight singles wins. The quick spark by the Wildcats allowed Kentucky to secure early victories in each of its matches. Notably, UK rallied a 7-0 sweep over Kennesaw State to cap the day.
 
UK will look to build off the momentum generated in the season opener. Kentucky has met Miami (OH) 22 times in program history. UK owns the winning mark on a 20-2 record. Though Bowling Green and Lexington are only separated by 160 miles, the two teams have met only five times, while Kentucky is undefeated against the Toppers.
 
Live scoring can be followed at sidearmstats.com/ukentucky/tennis/xlive.htm.
 
Fans who wish to attend can enjoy free parking in any of the three E-lots adjacent to the tennis courts on the University of Kentucky campus one hour prior to the start of the matches. Parking structure No. 7 is also a near option for spectators, but for a $2 an hour fee prior to 3 p.m.. It is a free option for visitors after 3 p.m..
 
Kentucky received votes in the first Oracle/ITA Division I Women's Rankings of the year, released Tuesday, Jan. 8. Six teams in the SEC are ranked in the top 25; including No. 2 Vanderbilt.
 
Friday is the final opportunity of the month fans can watch the women's tennis program at home. The Wildcats will not return to their home court until Friday, Feb. 15 in a dual with South Florida.
For more on Kentucky women's tennis, follow @UKWomensTennis on Twitter and Instagram, Kentucky Women's Tennis on Facebook, or on the web at UKathletics.com.