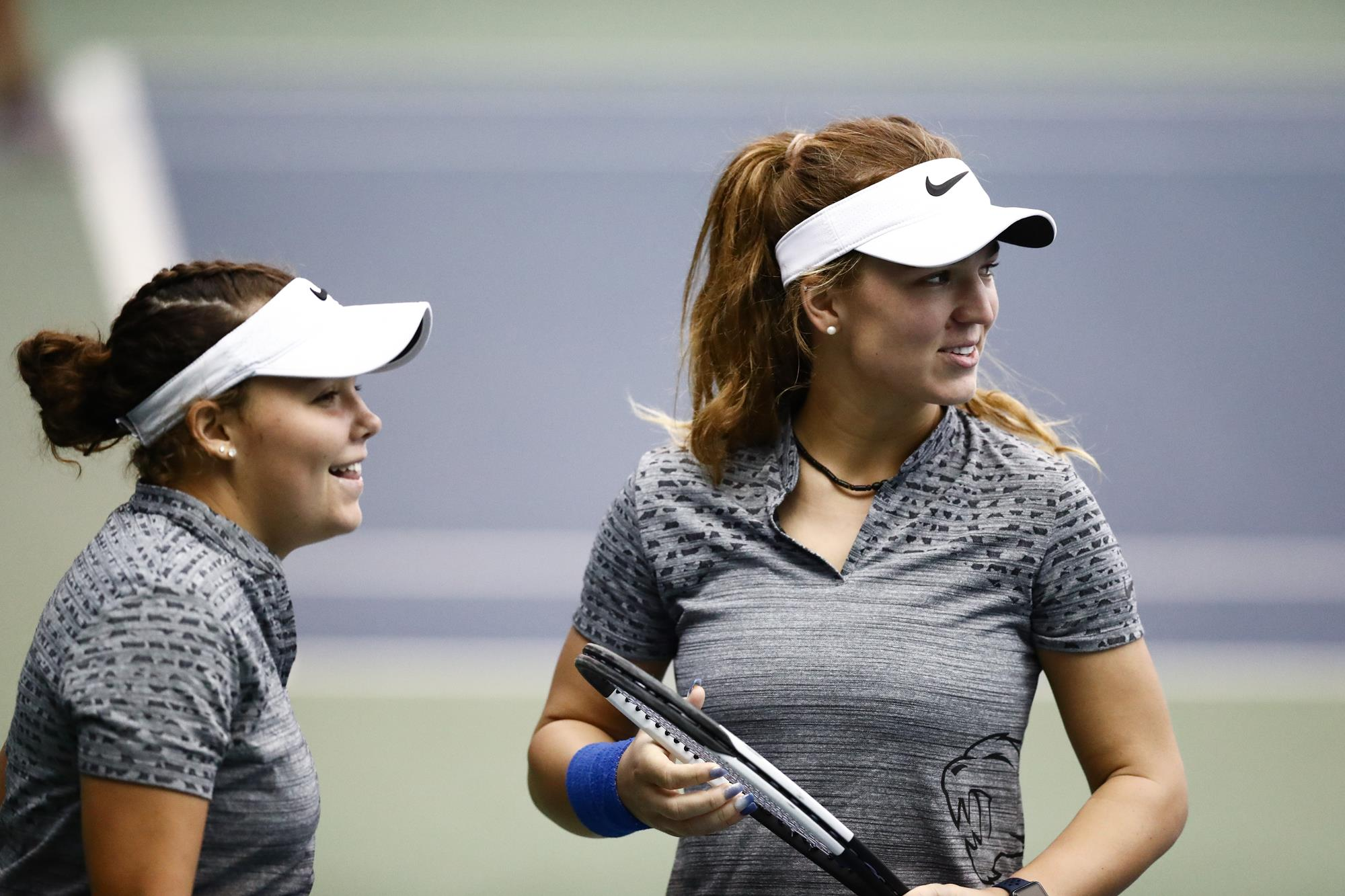 January 16, 2019 - 10:22 PM
Women's Tennis Logs Perfect Score to Cap Season-Opener Doubleheader
LEXINGTON, Ky. – Winning performances were contagious Wednesday, the opening day of the regular season for Kentucky women's tennis. The Wildcats crafted a 2-0 mark to open the schedule, after defeating Marshall and Kennesaw State in a doubleheader at the Hilary J. Boone Tennis Center.
 
Kentucky found momentum early, which would fuel the Wildcats through the day, clinching the doubles point over Marshall. Freshman Tiphanie Fiquet and junior Lesedi Jacobs defeated Anna Smith and Victoria Walter on a 6-2 decision. Senior Justina Mikulskyte and junior Anastasia Tkachenko quickly followed, overcoming Daniela Dankanych and Matilde Mulatero with a 6-3 set.
 
Good tennis followed when the Wildcats forced three-straight singles wins over the Thundering Herd to quickly secure the first of two Kentucky victories Wednesday. The remaining three singles matches were honored, allowing Kentucky to finish with a 6-1 victory over Marshall.
 
While five Wildcats in the singles lineup fastened wins, Jacobs was just on the cusp. The junior took control in the first set versus Victoria Walter of Marshall posting a 6-4 decision, but did not follow through in the second set allowing a 3-6 outcome. The super tiebreaker was an 18-point battle that ultimately favored Walter, 6-4, 3-6, 1-0(8).
 
Fiquet had quite the day, sealing the deal in her singles and doubles match in her regular-season debut, contributing two points to the team total in UK's win over Marshall.
 
Three hours of tennis didn't keep the Wildcats from pressing the gas in the second bout of the doubleheader. Kentucky filed its first serve at 5 p.m. vs. Kennesaw State, who is led by Matt Emery, former volunteer assistant coach of the Kentucky women's program.
 
UK jumped out to a quick 1-0 lead when the team stole the doubles point. In fact, Kentucky won each of its three doubles competitions over Kennesaw State.
 
The roster found just as much success on the singles courts in the second match as they did the first, quickly securing the win over Kennesaw State after three consecutive singles victories. The pair of teams finished the remaining singles matches going undefeated, which gave Kentucky a 7-0 final outcome over KSU.
 
One day off is all that the Wildcats will enjoy, before hosting Miami (OH) and Western Kentucky in a doubleheader Friday, Jan. 18 at 11 a.m. and 3 p.m., respectively. The competition will take place at the Hilary J. Boone Tennis Center. It is the final home match of January, before the Wildcats return to the Bluegrass Feb. 15.
 
For more on Kentucky women's tennis, follow @UKWomensTennis on Twitter and Instagram, Kentucky Women's Tennis on Facebook, or on the web at UKathletics.com.