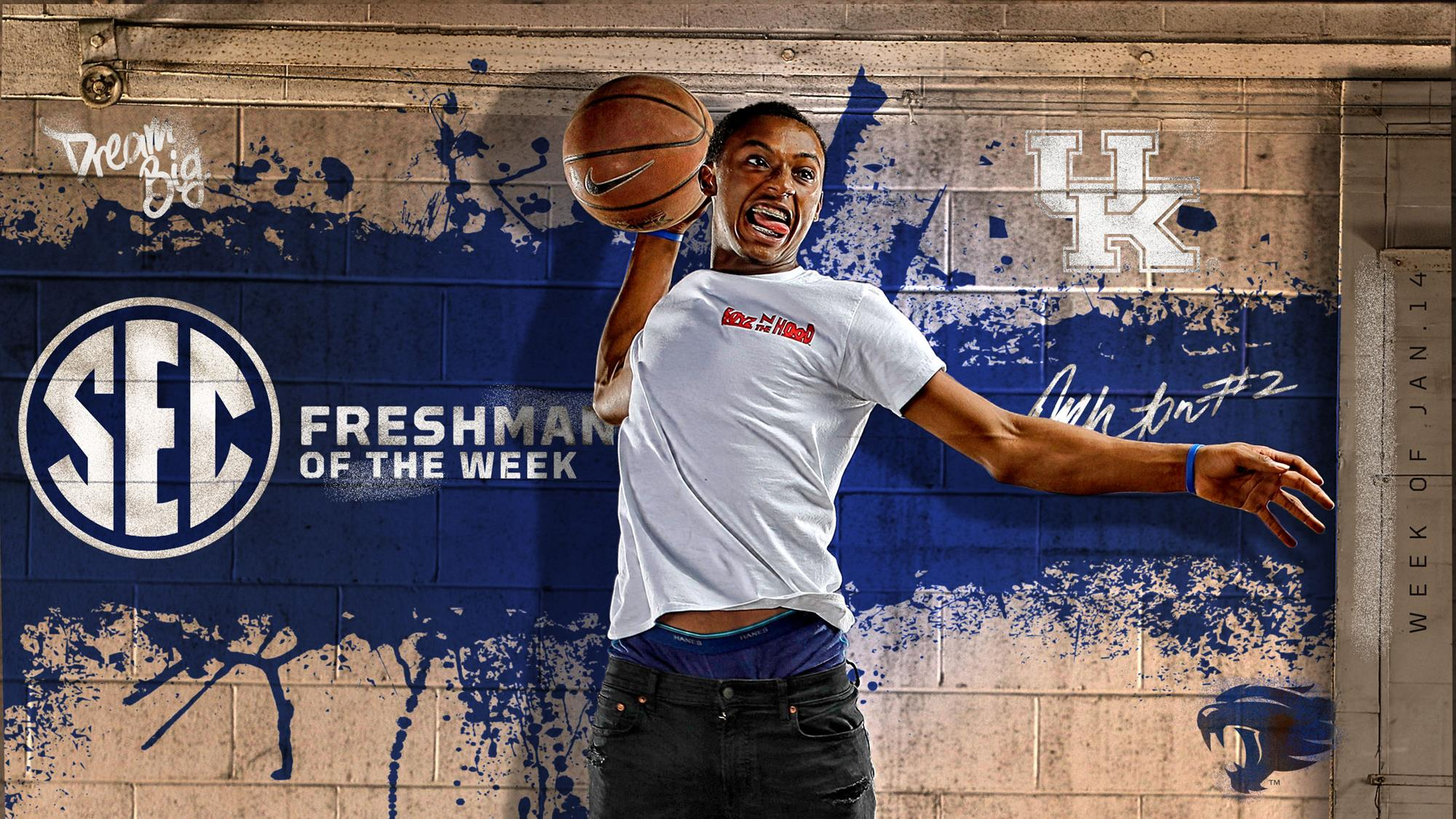 January 14, 2019 - 10:56 AM
Hagans Hauls in Second SEC Freshman of the Week Honor
BIRMINGHAM, Ala. – Freshman Ashton Hagans did a little bit of everything for the Kentucky men's basketball team in two victories last week. He led the team in scoring, set a program record for a stretch of stellar defense and kept his teammates involved while running the offense. For these efforts, he was named the Southeastern Conference Freshman of the Week for the second time this season.
 
Hagans has flourished offensively since ramping up his defensive energy. The freshman from Cartersville, Georgia, poured in a team-best 16.5 points, 4.5 assists and 4.0 steals per game in victories over Texas A&M and Vanderbilt. He scored a career-high 18 points against the Aggies before tallying a game-high-tying 15 against the Commodores. The 18 points against Texas A&M marked the third straight game he set a new career-high total. He has scored in double figures in four straight games after scoring in single figures in his first 11 games and leads the squad with 15.0 points per game in league play.
"He's playing as well as anybody we have on our team," UK head coach John Calipari said Monday on the SEC teleconference.
 
Hagans has corralled at least three steals over the last five games. He's believed to be the only player in school history with such a streak (since steals became an official NCAA statistic in 1985-86). According to STATS, he's the first major-conference freshman with three or more steals in five or more games since Oklahoma State's Marcus Smart did it five straight games from Jan. 26-Feb. 9, 2013. He had five thefts against Texas A&M and a game-high three against Vanderbilt.
"Happy for him," Caliapri said. "I'm happy that our players can see what he is doing and that everybody is talking about, 'He's this, he's that,' and it's because of his strengths. Forget your weaknesses. Play to your strengths."
 
Since taking over UK's lead point guard duties against Seton Hall, Hagans has done a tremendous job at getting his teammates involved as well. He dished out a team-high nine assists for the week and has passed out three or more in nine straight games.
 
Offensively, his efficiency against the Aggies and Commodores was impressive. He shot 73.3 percent from the floor with seven made field goals against Vanderbilt marking a career-best total. He drained 10 of 11 free throws, both career-high marks against Texas A&M.
 
Hagans' 2.1 steals per game this season is not only ranked second in the SEC and fourth nationally among all freshmen, he's ranked first in the country in steals per game among freshmen who are averaging 25.0 minutes or less per game. Hagans' steal rate per 40 minutes is 3.7 for the season, and over his last five games that number rises to 5.8 steals per outing.
 
The honor is the second of the season for Hagans and the fifth time a UK player has been named the league's top-performing freshman. Keldon Johnson has twice been named Freshman of the Week and Tyler Herro has also earned the honor this season.
 
Kentucky has won more weekly SEC honors (94) than any other school during the Calipari era, including 76 SEC Freshman of the Week honors and 18 SEC Player of the Week awards.
 
The Wildcats return to action on Tuesday at 7 p.m. ET. UK will travel to take on Georgia, with the game airing live on ESPN.
 
For the latest on the Kentucky men's basketball team, follow @KentuckyMBB on Twitter, Facebook and Instagram, and on the web at UKathletics.com.