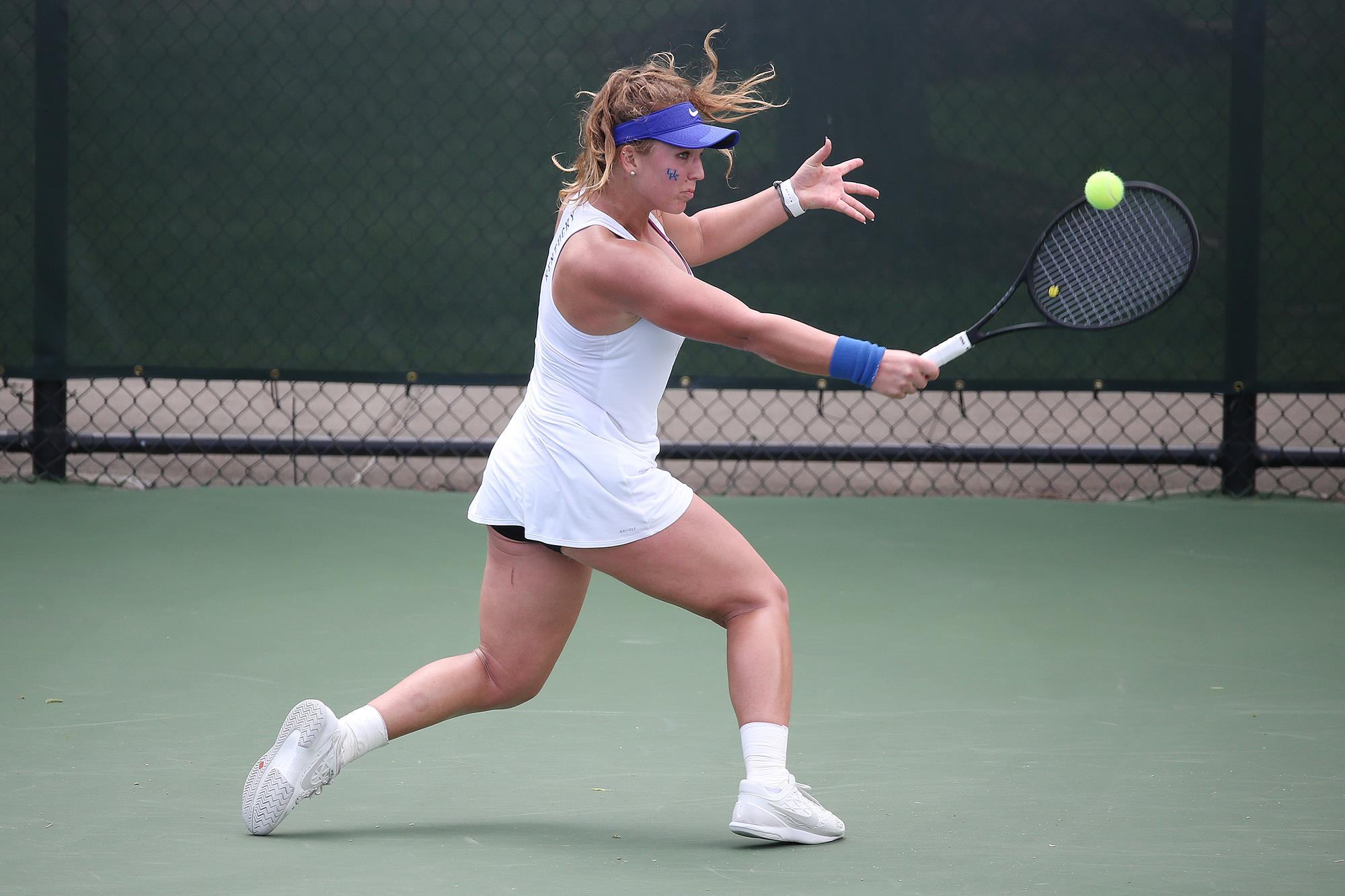 January 13, 2019 - 06:43 PM
Preseason Agenda Draws to a Close at Miami Spring Invite
LEXINGTON, Ky. – Kentucky women's tennis' preseason schedule came to a close Sunday in Coral Gables, Florida, after the Wildcats picked up two singles wins in the final day of the Miami Spring Invite.
 
Kentucky only competed in four singles matches versus No. 17 Miami, after wet courts brought changes to the Sunday program. Initially, UK was scheduled to play Northwestern in doubles at noon, followed by Miami in singles. However, wet courts meant that Kentucky did not play doubles and only finished four singles matches.
 
Senior Akvile Paražinskaite and freshman Tiphanie Fiquet each took a victory lap Sunday, winning their singles matches in back-to-back days.
 
Paražinskaite defeated Daevenia Achong on a 7-5, 6-2 decision. Fiquet found a win over Ana Madcur, outscoring the Cane with a 6-2, 7-5 outcome. Both Wildcats saw singles wins over Northwestern Saturday, the only Kentucky players to tally two wins in the three-day tournament.
 
Senior Justina Mikulskyte picked up a fifth Kentucky victory Saturday, winning in singles over No. 100 Clarissa Hand (6-3, 6-2).
 
The women's tennis program will take two days off before opening the regular season slate Wednesday, Jan. 16 at the Hilary J. Boone Tennis Center. Kentucky will compete in a doubleheader, opening with Marshall at 11 a.m., followed by Kennesaw State at 5 p.m..
 
The full regular season schedule can be found at UKathletics.com. All matches are held at the Hilary J. Boone Tennis Center and are free to attend.
For more on Kentucky women's tennis, follow @UKWomensTennis on Twitter and Instagram, Kentucky Women's Tennis on Facebook, or on the web at UKathletics.com.