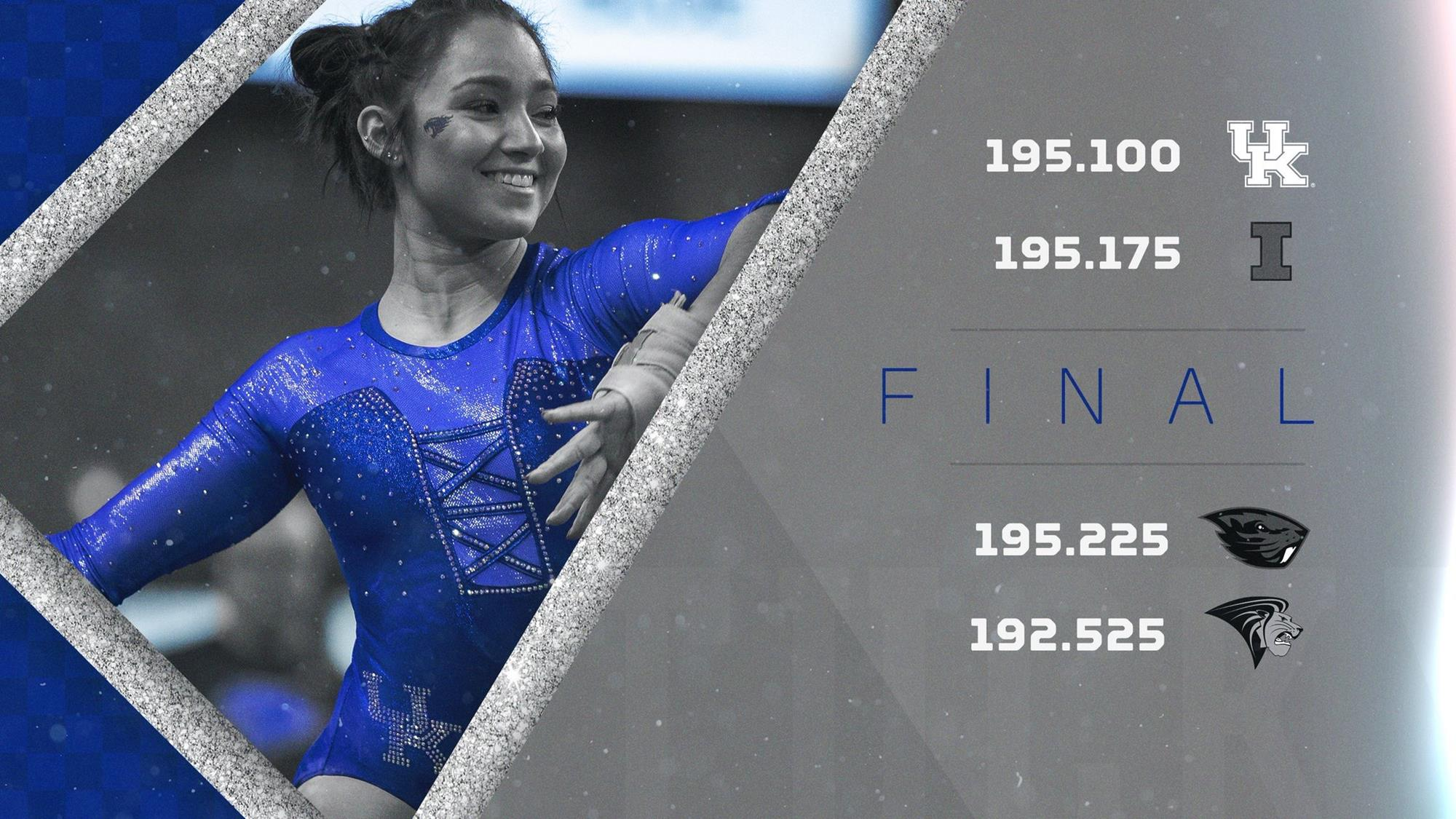 January 13, 2019 - 08:20 PM
Mollie Korth Claims Two Victories in Quad Meet at Illinois
URBANA-CHAMPAIGN, Ill. – Junior Mollie Korth led all competitors on vault with a mark of 9.850, helping to earn the 5-foot-2 Cambridge, Wis. native the title of all-around victor on Sunday evening in No. 7 Kentucky's first quad meet of the season. The Wildcats totaled 195.100 on the day, edging out Lindenwood (192.525) but falling to host Illinois (195.175) and meet champion Oregon State (195.225) in the process.
 
"We certainly were not sharp today," said UK head coach Tim Garrison. "While making 23 of 24 routines isn't a terribly inconsistent day, we gave up far more in execution deductions than in our opening meet."
 
Kentucky won a decisive 195.975-192.600 season-opening contest at Texas Woman's last weekend, but followed that performance with its lowest point total since 2017.
 
Korth was one of four Wildcats to score at least 9.750 on vault, joining Alaina Kwan (9.775), Danaea Davis (9.775), and Katie Stuart (9.750). Bars and beam produced Kentucky's best results as a team, totaling 48.875 apiece. Korth and Stuart each logged a tally of 9.800 on bars, while senior Sidney Dukes anchored the balance beam at 9.850.
 
Kentucky was the only team to place three all-around competitors, dialing in both of the top two scores of the evening. Korth earned the 13th all-around win of her career with a sum of 39.075, while Stuart finished second overall at 38.900. Senior Alex Hyland, who was named all-around champion in last weekend's win over the Pioneers, finished with a total of 38.675 on Sunday.
 
"We were able to successfully compete two new routines, and there were some other solid performances," Garrison said. "With that said, we are far better than we performed, and this was an eye-opener for the team and staff. We are Kentucky gymnastics, and we did not live up to that standard today."
 
Kentucky will make its home debut next Friday, inaugurating Southeastern Conference play versus Arkansas at 6 p.m. ET. The clash will constitute the program's annual Excite Night meet at Rupp Arena, televised live on the SEC Network.
 
For the latest on the Kentucky gymnastics team, follow @UKGymnastics on Twitter, Facebook, and Instagram, as well as on the web at UKAthletics.com.