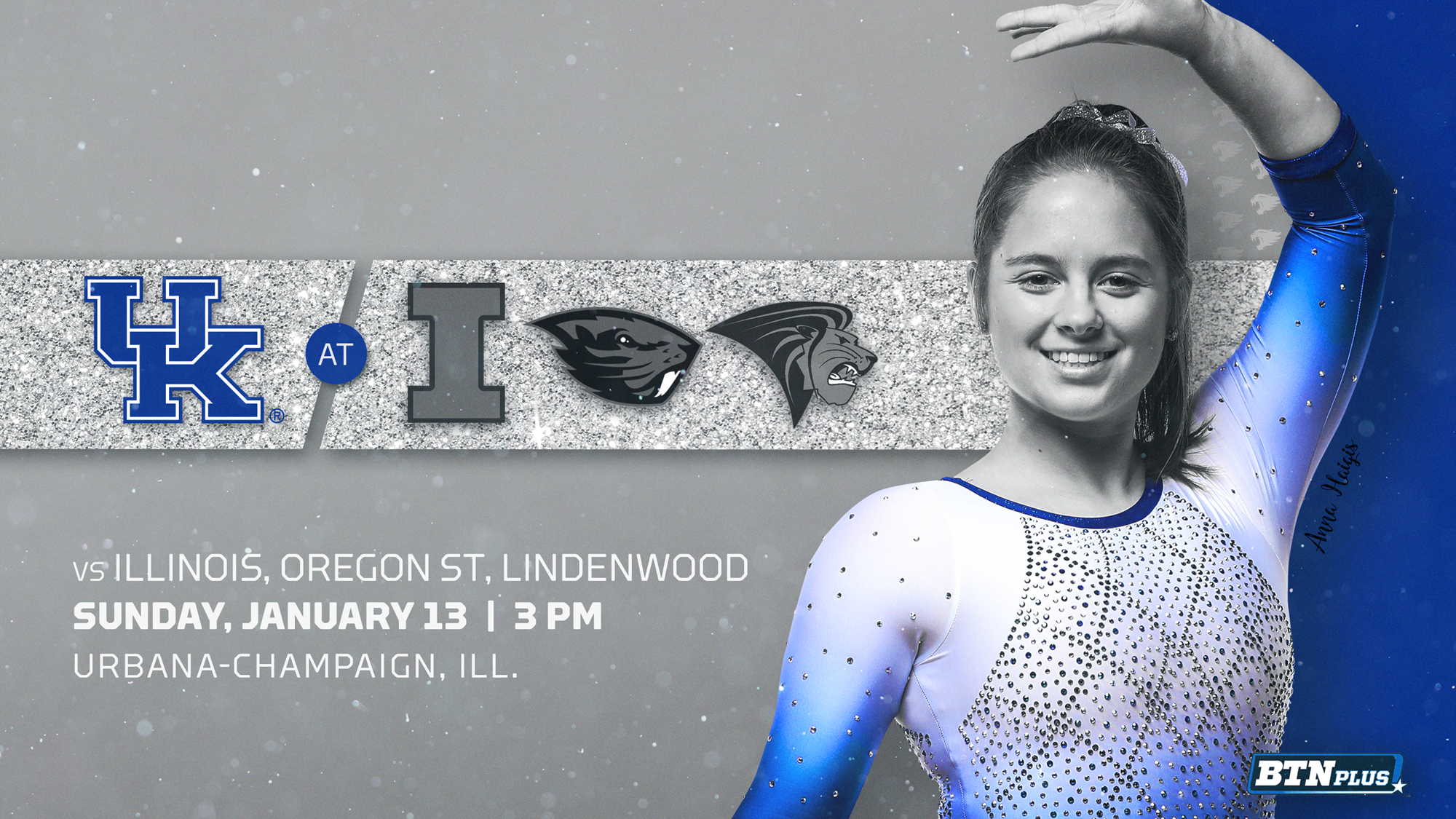 January 11, 2019 - 06:17 PM
Gymnastics continues season-opening road slate with quad meet at Illinois
URBANA-CHAMPAIGN, Ill. – After opening its 2019 campaign with a 195.975-192.600 win at Texas Woman's last Saturday, the Kentucky gymnastics team continues its two-meet road swing with its first quad matchup of the season. The Wildcats will take on host Illinois, Oregon State, and Lindenwood on Sunday at 3 p.m. ET, live on BTN Plus.
 
"What I liked most about last week was that we were able to show consistency," said UK head coach Tim Garrison. "I'm looking to again make that a priority, and I will evaluate our performance based largely on the number of hit routines. If we can hit consistently, our ability to make minor adjustments and improvements will be greater. In the end, that will determine our level of success."
 
Kentucky was led in all four of last week's events by senior Alex Hyland, who was also named the meet's all-around champion with a total score of 39.375. Hyland picked up a solo victory in vault (9.850), sharing top honors with Mollie Korth on bars (9.825) and Sidney Dukes on beam (9.875).
 
The Cats' impressive showing netted a three-spot jump from its No. 10 preseason placement to the No. 7 rank in the nation.
 
"Moving up is always a good thing," Garrison said. "But, with our ranking being by average at this point, the sample size is a little small to get too excited about."
 
The Fighting Illini are the lone opponent to join Kentucky in Sunday's meet with a win under its belt, posting a 1-2 record in its season-opening quad meet with Central Michigan, Arizona, and Bridgeport. Both Oregon State and Lindenwood will be taking the floor for the first time in 2019.
 
For the latest on the Kentucky gymnastics team, follow @UKGymnastics on Twitter, Facebook, and Instagram, as well as on the web at UKAthletics.com.