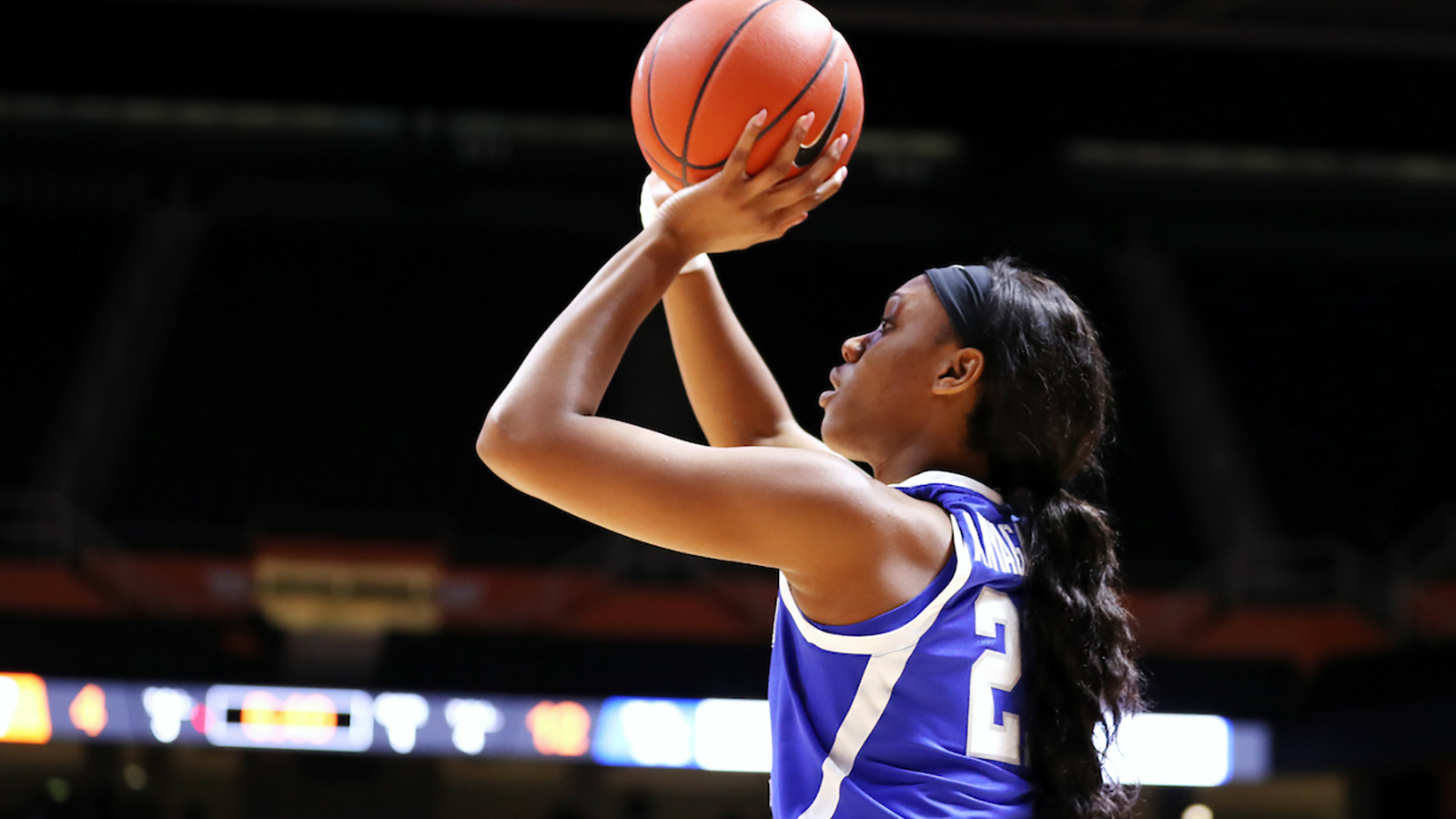 January 11, 2019 - 11:43 PM
Anyagaligbo Progressing, Helping UK Rebounding Effort
Despite earning a huge win at Tennessee on Thursday night, Kentucky women's basketball coach Matthew Mitchell knows his team has flaws. Despite the Wildcats' 15-2 record, including a 2-1 mark in the SEC, Mitchell is still trying to get his team to rebound better than they have, especially lately.
Over the last two games, a loss at No. 7 Mississippi State and in the win over 13th-ranked Tennessee, the Wildcats have been dominated on the glass. MSU had a 48-24 advantage over UK in Starkville, while the Lady Vols won the battle of the boards 50-32 on Thursday. Mitchell knows that this trend cannot continue.
"Well, a lot of it is before the shot goes up," Mitchell said. "We've got to improve our defensive positioning and our awareness. We have to be ready for when the shot goes up. We have to immediately get into rebounding mode. You know, the shot goes up and we've got a second-and-a-half of relaxation there and we're the kind of team that can't always do that. We just cannot jump and go get balls. We've got to get our body on somebody."
One player who may be able to help with the rebounding situation is redshirt junior Ogechi Anyagaligbo, who has stepped up her game recently. Mitchell has noticed a significant change in Anyagaligbo.
"I really feel like Ogechi found her footing over the last seven to 10 days," Mitchell said. "She was really kind of down in the dumps about how things were going. She didn't feel great. She said she was lacking confidence, and we really had to get an attitude adjustment there, and to her credit, she has adjusted. She has just been a more dynamic player. She was tough and dynamic in Starkville, and last night she showed you what she's capable of."
Against Mississippi State, Anyagaligbo had four points and three rebounds in 21 minutes while facing a significant size disadvantage against the Bulldogs. And on Thursday, the Miami native had her best game as a Wildcat, scoring 13 points in 24 minutes at Tennessee. The 13 points accounted for the most that Anyagaligbo has scored in a Kentucky uniform and the most since she scored 23 as a freshman while playing for Stony Brook.
Anyagaligbo is averaging 3.5 rebounds per game despite playing just 14 minutes per contest. She grabbed 10 boards against Murray State earlier this season, and had eight rebounds against Virginia and Sacred Heart.
Mitchell thinks Anyagaligbo has the physical skills to help the Wildcats' rebounding situation.
"Ogechi has a lot of strength and a lot of length," Mitchell said. "She's not real tall, but she's got long arms and she's got a real strong base. So, she can play physical. She's a strong player and she has excellent timing. She's able to block shots and she's able to get rebounds."
And while her physical attributes figure to bode well for UK, Mitchell knows that Anyagaligbo, like her teammates, still has some technique to work on.
"She still missed a few box outs that she needs to get," Mitchell said. "She's got to get those box outs as you know, we all do."
If Anyagaligbo can continue to provide quality minutes for the Cats, and improve her rebounding, she could be a key factor for UK as conference play continues.