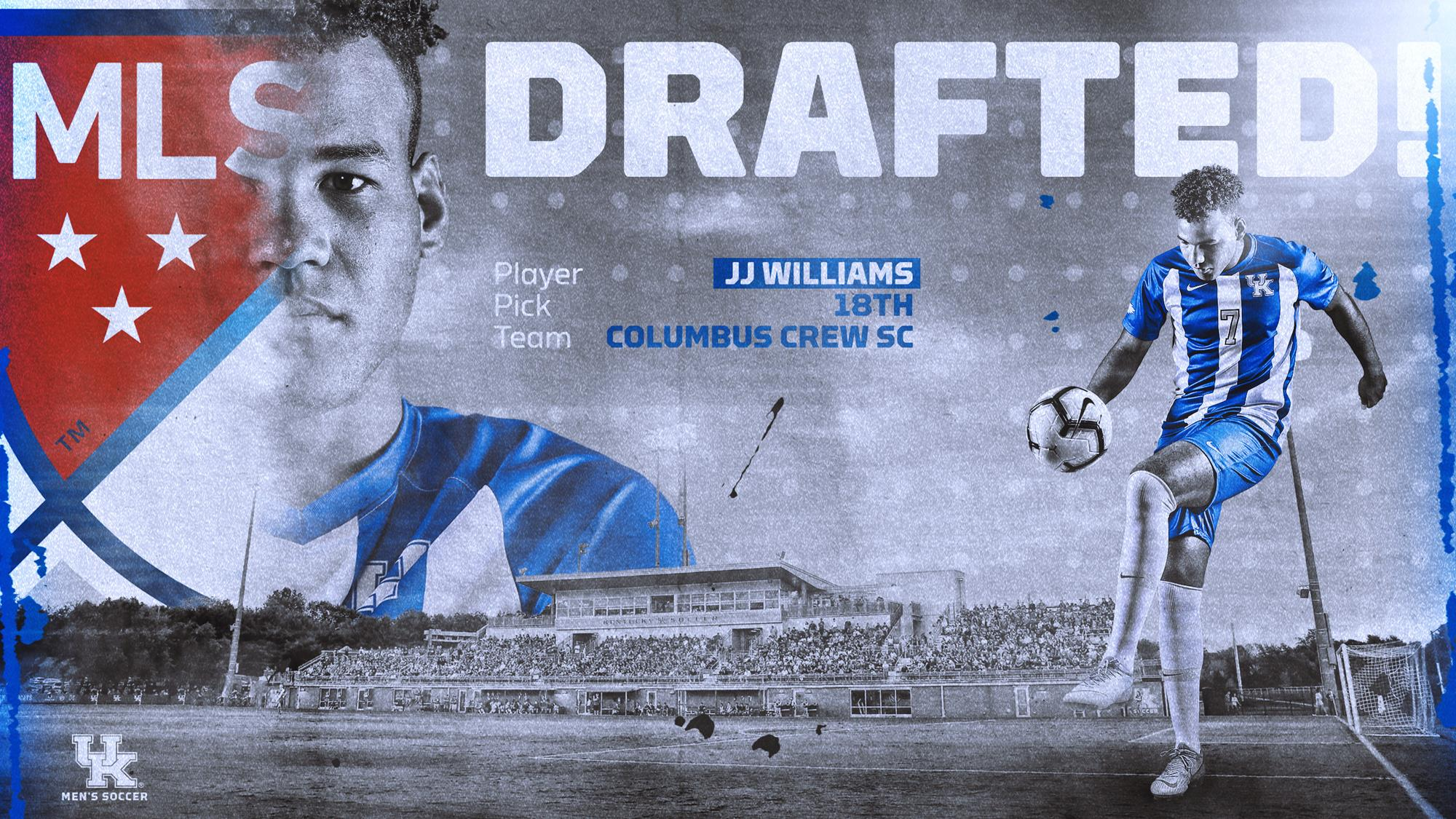 January 11, 2019 - 05:30 PM
Kentucky's JJ Williams Selected 18th in MLS SuperDraft
CHICAGO – Kentucky soccer junior forward JJ Williams was selected 18th overall by Columbus Crew Soccer Club in the 2019 Major League Soccer Super Draft on Friday.
 
"Me going to Columbus Crew SC, they want someone that's like family and I know The Crew is going to treat us like family," Williams said. "I'm really thankful, I'm really happy to be a part of it. I'm really thankful for my UK family as well. I'm right up the road so please make visits, please make trips. Just come support.
 
"It's one of those things to where I'm moving on to a new team, new family, new environment, but (Kentucky) is my family as well. Big Blue Nation is something that nobody can experience unless you go there. I'm really thankful for everybody who's a part of that at Kentucky. There's not enough thank yous to go around. I'd be out here all day. I'm really just blessed to come from Big Blue Nation and hopefully put Kentucky on the map."
Kentucky has had a player taken in the MLS SuperDraft each of the past three years. Alex Bumpus was taken 52nd overall last year by New York City FC, and Napo Matoso went 31st in 2017 to New England Revolution.
Williams was one of seven college players to sign a Generation Adidas contract last week. GA is a joint venture between MLS and its sportswear sponsor designed to give select promising underclassmen and youth national team players a route to go professional. Players in the program are signed to MLS deals before the SuperDraft, and don't count against MLS teams' salary budget and are provided additional incentives for their personal development outside the sport.
 
"I'm incredibly proud of JJ," Kentucky Head Coach Johan Cedergren said. "It's been a whirlwind couple of weeks being in St. Louis and being a Hermann finalist – the only junior. Again, I was telling someone in St. Louis that over the last 12 months there's no one on the team that has worked harder than JJ in regards to trying to achieve his individual goals, but also the team goals.
 
"For him to have this opportunity to move on into the professional world, and to be picked by such a good franchise and a good coach we're incredibly excited to see what's in the future for JJ. As a Kentucky coach, what JJ has done for the program the three seasons he's been here I couldn't be any happier."
The junior forward established himself as perhaps the nation's top attacking threat leading the Wildcats to the Conference regular season and tournament double and an NCAA Tournament Elite Eight berth after claiming the No. 3-overall seed in the Big Dance.
He was a First Team All-American, MAC Hermann Trophy finalist, Conference USA Player of the Year and Offensive MVP.
 
He scored 18 goals – third most in the nation – nine game winners – second most in DI – and ranked third nationally in total points (44).
 
Williams scored huge goals on some of his biggest stages, scoring twice in 3-0 regular-season wins against NCAA Tournament No. 4-seed Louisville, No. 2 Indiana – a game in which he assisted the third goal. He also scored a brilliant 1-0 game winner in the C-USA Tournament final against USC No. 14 Charlotte just after halftime to go along with an NCAA Tournament second-round brace against USC No. 21 Portland.
 
His goals and points totals were the UK single-season records.
 
 —
For the best coverage of UK men's soccer follow the team's social media accounts on Twitter, Facebook and Instagram in addition to on UKathletics.com.