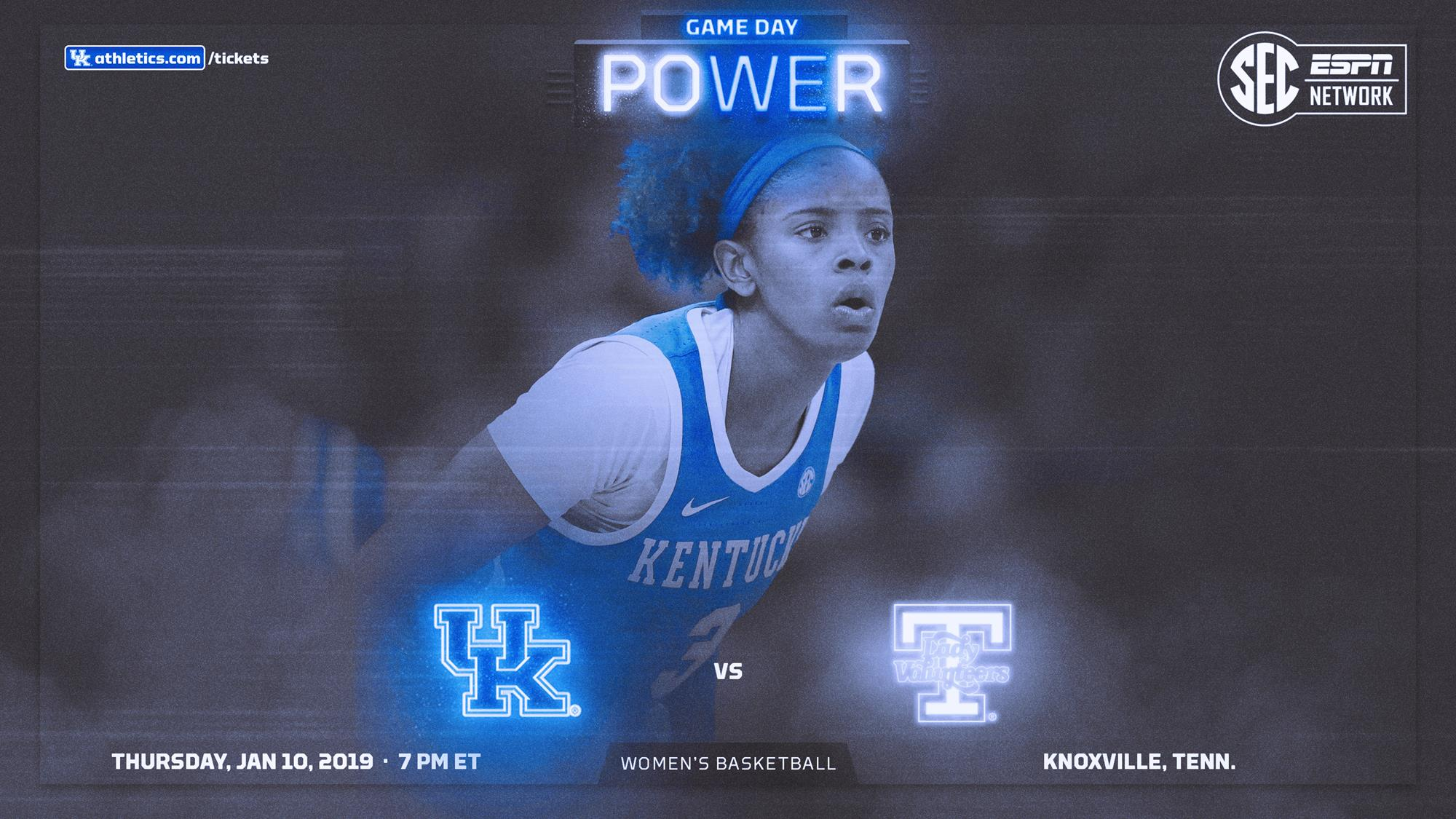 January 9, 2019 - 01:19 PM
No. 16 Kentucky Continues Challenging Road Stretch at No. 13 Tennessee
LEXINGTON, Ky. – The No. 16 University of Kentucky women's basketball team continues its challenging road stretch to start Southeastern Conference play as it travels to face its second straight top-15 ranked team Thursday at 7 p.m. ET vs. No. 13 Tennessee inside Thompson-Boiling Arena.  
 
The game will be televised on the SEC Network with Paul Sunderland and Debbie Antonelli on the call. The action can also be seen through WatchESPN on computers, smartphones or tablets. Darren Headrick will have the call on the UK Sports Network on 630 AM in Lexington. Live stats and free live audio will be available online at UKathletics.com.
 
Kentucky (14-2, 1-1 SEC) is coming off a loss at No. 7 Mississippi State on Sunday. The Wildcats fell behind by double digits in the first quarter and could never find enough momentum to get the score under 10 points the rest of the game, falling 86-71. UK had some encouraging moments during the loss, including forcing Mississippi State into a season-high 24 turnovers and scoring 28 points off those miscues. The Wildcats had 15 steals and won the battle of the bench, 16-9. Senior guard Maci Morris led Kentucky with 20 points while freshman guard Rhyne Howard had 15 points with six assists and five rebounds.
 
Howard, who won her school-record fifth SEC Freshman of the Week honor Tuesday, leads Kentucky in scoring and rebounding this season averaging 17.4 points and 7.0 rebounds per game. The native of Cleveland, Tenn., ranks second on the team in assists, blocks, steals and 3-pointers. Morris leads Kentucky in 3-pointers with 43, adding 21 assists, 21 steals and 11 blocks. Fellow senior guard Taylor Murray averages 13.1 points per game and leads Kentucky with 67 assists and 59 steals. Junior guard Jaida Roper is averaging 8.7 points per game and is hitting 42.2 percent from 3 this season.
 
Tennessee enters Thursday's game with a 12-2 overall record and 1-1 mark in league play. The Lady Vols won at Auburn to start conference play before a 66-64 loss to Missouri in Knoxville on Sunday. UT is 7-2 at home this season with losses to Mizzou and Stanford. As a team, the Lady Vols are scoring 81.1 points per game this season, hitting 44.5 percent from the field and 35.3 percent from long range. Tennessee has a +11.7 rebounding margin and +3.0 turnover margin this season, forcing teams into 19.8 turnovers per game.
 
Individually, sophomore guard Rennia Davis leads the Lady Vols by averaging 15.5 points per game and 8.4 rebounds per game, adding 20 steals. Sophomore guard Evina Westbrook is also averaging 15.5 points per game with a team-best 74 assists. Senior guard Meme Jackson has hit a team-best 36 3-pointers and is averaging 13.9 points per game with 28 steals and 32 assists.
 
Tennessee leads the all-time series in games played against UK, 55-11, including a 23-3 mark in games played in Knoxville. The Lady Vols have won six of the last seven meetings in the series, including each of the last two meetings. UK is 10-48 against a ranked Tennessee team. The Lady Vols defeated the Wildcats 63-49 last season inside Rupp Arena. UK's last win against Tennessee was a 64-63 decision in January of 2016 inside Memorial Coliseum. The Wildcat's last win in Knoxville vs. Tennessee was 75-71 on Feb. 16, 2014.
 
For more information on the Kentucky women's basketball team, visit UKathletics.com or follow @KentuckyWBB on Twitter, Instagram and Snapchat, or Kentucky Women's Basketball on Facebook.
 
UK ATHLETICS COMMUNICATIONS AND PUBLIC RELATIONS
WOMEN'S BASKETBALL
KENTUCKY PRE-TENNESSEE NEWS CONFERENCE
JAN. 9, 2019
JOE CRAFT CENTER – LEXINGTON, KY.  
Kentucky Head Coach Matthew Mitchell
Opening statement…
"Well, tough game ahead down in Knoxville. It always is a tough place to play. Tennessee has a really good team this year. Very athletic, very explosive. Really tough on the boards, really great in transition offense, some things that really plagued us in the game down in Starkville versus Mississippi State. We've got to focus in and see if we can correct some things and play better than we did down there. So, really good team. Going to take a great effort. But, I know the team wants to go down and earn a victory."
 
On being anxious to get back on the floor…
"Yeah, we had a good session yesterday. We got off to such a tough start in Starkville, the first quarter made it tough for us to win that game. I thought we made physical effort in the game, just have to sharpen up on details, starting with working much harder on the glass to box out and make contact. We didn't do that well on Sunday. We had a good session working on that yesterday and we're going to try to be prepared for Thursday night."
 
On keeping the team energetic to practice or play every night during the conference schedule…
"Well, I think that's what they come here for. I think that's what all the athletes in this great conference, no matter what sport you play in, I think that's what you want to be a part of. You want to be a part of meaningful games and it is certainly that way in the Southeastern Conference. So, women's basketball, we've historically had the best league and night after right you're used to that. So, you try to stay focused on who you are and that is what we're trying to do right now. Who can we become? Over the course of a 16-game season, we really think that we can become a tough team. So, the games are like the tests that you take, and you just have to go to class every day and work hard and do your homework and be as prepared as possible. So, we really try to make sure the players understand how we need to play and what we're trying to accomplish, and I think we have a good handle on that right now."
 
On how fun it is to compete against Tennessee every year…
"Well, it's one of those special rivalries, you know, we border each other. In whatever sport it is, we've been in the SEC for so long and these games are meaningful. They mean something. In women's basketball, Coach Pat Summitt did such an awesome job of establishing Tennessee, they're really the gold standard in women's college basketball. So, it's a big game and they're not only our border rival, but they're a highly-ranked team this year, and it'd be a really awesome road game to get. So, it's a special rivalry and we need to go down there and fight hard."
 
On what this game means for Kentucky and its nationally competitive program…
"Yeah, I think in our conference the mission every game is to try to stay focused on what you can do. If you have success in our conference, then you have a chance to compete on the national stage. So, I think what you have to do with the Mississippi State game is… I don't know that really changes our outlook on the season, but it motivates us to get better, because it clearly looked like they're on their way to having a great season and they're going to be there at the end. So, we just take that and use every opportunity we can to improve. I think the same thing with Thursday. It is a great opportunity. When you go on the road against a team like Tennessee, it's an opportunity to get what would be a big road win, and that's the way you look at it. We're certainly trying every day to keep the focus on the players that are in the room. As far as where we stand on the national landscape on women's college basketball, it doesn't really matter a whole lot in January. There's just so much basketball to be played, and you're trying to position yourself to play meaningful games in March and that is really the rhythm of college basketball. So, big game, big opportunity is the way we look at it for Thursday night."
 
On the team maintaining the line between confidence and recognizing areas to improve…
"Well, I think that we've tried really hard as coaches of doing a good job of making certain that we keep both feet planted on the ground. We've never been disillusioned that we are the type of team that is flawless and we can show up and give 75-80 percent effort. Some teams are there, that is the way it goes. We've had some teams in the past that maybe you could win a big game without your "A" game, but this is not that team, and we've talked about that from day one. We feel like we can be a special team when we bring our "A" game, and that's how we try to practice each and every day. So, you never can guarantee how 15 people are going to be thinking on a certain day, but we don't have that many struggles with what the reality is of how we need to play to win this game, but we've got to have a great session today. We've got to focus in, great preparation and we've got to bring it tomorrow night."
 
On how back-to-back tough conference road games can mold our newcomers…
"That's a good point. I thought Sunday was an outstanding opportunity for us, and although we did not get the result we wanted – we really wanted to win that game very badly – I thought the players practiced hard physically, and they showed they had desire to win the game. So, now what you have to do with that is you have to take that excitement and focus it. Not only on physical hustle, but mental focus and execution. So, I like it. This is another big opportunity for us tomorrow night. We've got a better understanding of where we need to be to be in a tough road environment, like what Mississippi State was, it is the same thing we'll encounter in Knoxville, so the experience is really good for our team."