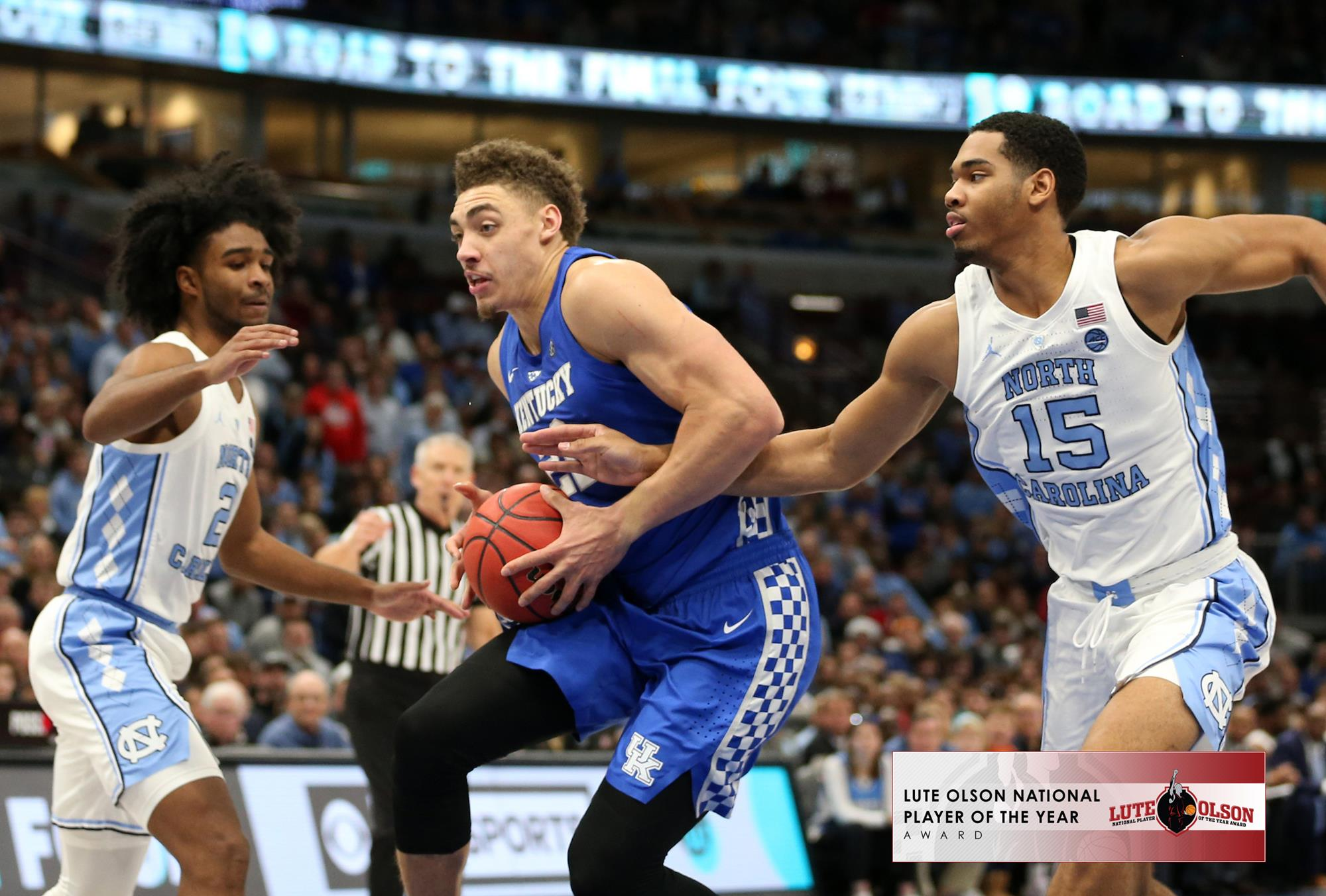 January 9, 2019 - 05:19 PM
Travis Tabbed to Lute Olson Award Midseason Watch List
BOSTON – Kentucky men's basketball forward Reid Travis was one of 30 players named to the Lute Olson Award Midseason Watch List on Wednesday.
 
The Lute Olson Award is presented annually to the nation's top Division I player. Although Travis is ineligible for that award because freshmen and transfers are excluded (Travis is a graduate transfer from Stanford), he is eligible to make the Lute Olson All-America Team.
 
Travis is one of three players from the Southeastern Conference on the midseason list.
 
The preseason All-Southeastern Conference First Team selection (media) has lived up to his two-time All-Pac-12 First Team billing. Travis is averaging 13.8 points and 6.1 rebounds through 14 games, both second best on the team.
 
Playing on a deeper team than he ever has while transitioning to a style of play that will serve him well for the future, Travis has added to an already impressive pre-Kentucky résumé with nine double-figure scoring games, including a team-high-tying four games with 20 or more points. Travis is shooting 54.6 percent from the floor, the best mark of anyone on the team with 30 or more field-goal attempts.
 
Perhaps Travis' most impressive game to date at Kentucky was a 22-point, 12-reobund effort in the win over UNC Greensboro. He also posted 22 points and seven rebounds vs. the Duke Blue Devils, who are now the No. 1 team in the country in the Associated Press Top 25.
 
Travis also has 11 blocks this season, his best single-season total in his career and more than he combined for in his last two years at Stanford. He's making a career-best 70.7 percent at the free-throw line.
 
The 6-foot-8, 238-pound forward came to Kentucky as one of the top forwards in college basketball. The former McDonald's All American is one of just three players in Stanford history to record at least 1,400 points and 700 rebounds in fewer than 100 games played. The three-time captain ranked third in the Pac-12 in both scoring (19.5 points per game) and rebounding (18.7 rebounds per game) while scoring in double figures in all but one game a season ago. He was the only player in the Pac-12 and only one of five Power 5 conference players to finish the season ranked in the top five of his league in both scoring and rebounding.
 
This season, Travis is up for a number of other honors. He appeared on a number of preseason national player of the year watch lists, including the John R. Wooden Preseason Top 50, the National Association of Basketball Coaches Division I Player of the Year Watch List and the Citizen Naismith Trophy Early Season Watch List.
 
He was also regarded as one of the top power forwards in the country in being selected to the Naismith Memorial Basketball Hall of Fame's Karl Malone Award Preseason Watch List, and he's a Senior CLASS Award candidate. An acronym for Celebrating Loyalty and Achievement for Staying in School, the Senior CLASS Award honors student-athletes who excel both on and off the court. The candidates must be classified as an NCAA Division I senior and have notable achievements in four areas of excellence in community, classroom, character and competition to be eligible for the award.
 
Named after the legendary Arizona coach who won 780 games in 34 seasons, including 24 at Arizona, the Lute Olson Award will be announced in April in Minneapolis, site of this year's Final Four. At Arizona, Olson led the Wildcats to 11 Pac-10 titles, 23 consecutive NCAA Tournaments, four Final Four appearances and a national championship.
 
At 11-3 overall and 1-1 in the league, UK returns to play Saturday at 8:30 p.m. vs. Vanderbilt. That game will be televised on the SEC Network.
 
For the latest on the Kentucky men's basketball team, follow @KentuckyMBB on Twitter, Facebook, Instagram and on Snapchat, and on the web at UKathletics.com.