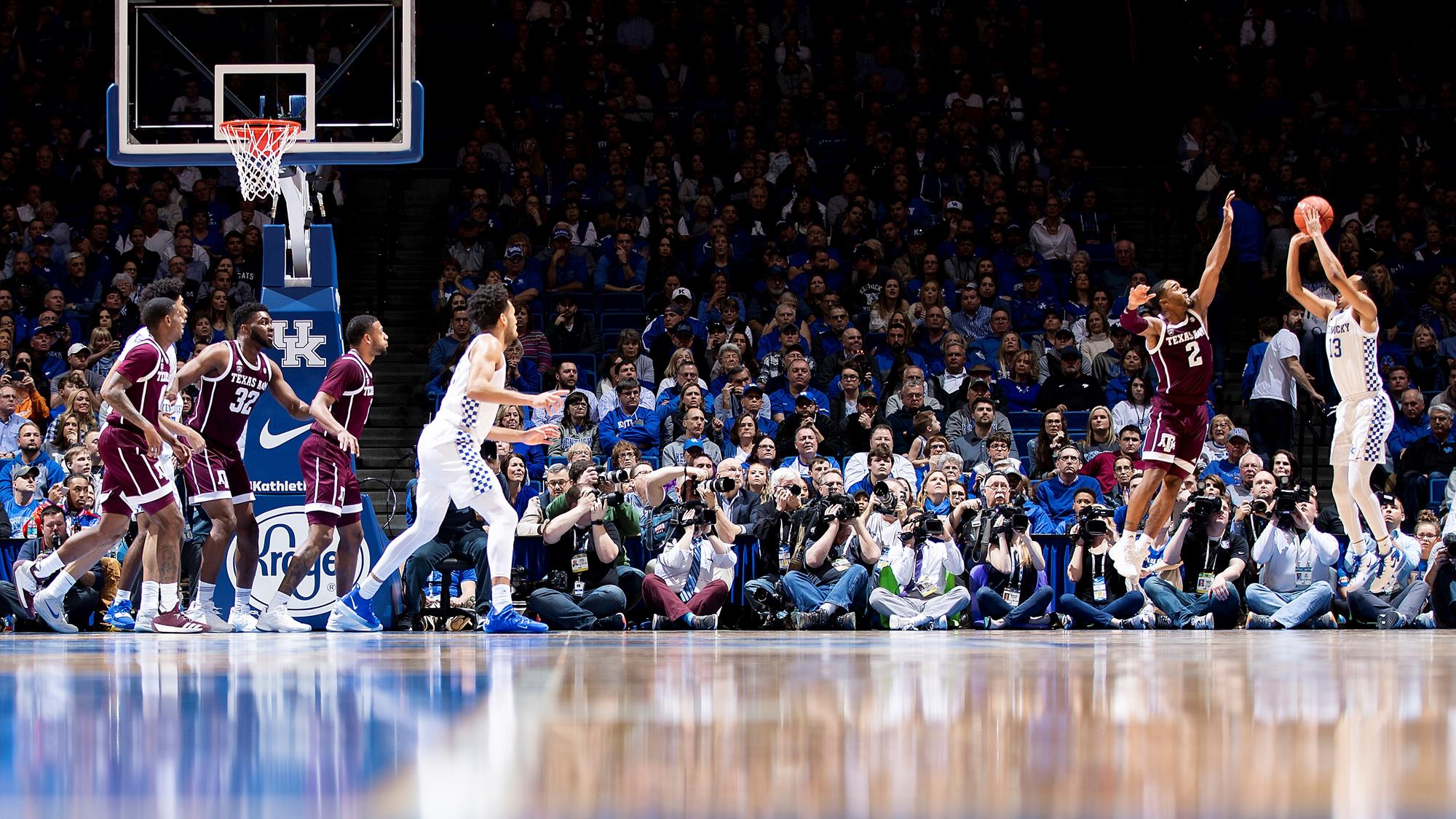 January 8, 2019 - 10:28 PM
Reserves Give UK Needed Spark
Kentucky's December emergence, in large part, was fueled by the play of its starting five.
 
The bench took a turn sparking the Wildcats in their first Southeastern Conference win.
 
"We just want to play hard, give energy," Jemarl Baker said. "That's what Cal preaches a lot, that when we come in we have to be aggressive and we have to just bring a new energy to the team when we get in the game."
 
When UK fell behind 10-0 in the opening minutes against Texas A&M, Nick Richards, EJ Montgomery, Immanuel Quickley and Baker were the ones who woke the Wildcats up by scoring 13 of their first 17 points. With the bench leading the way, it wasn't long before No. 18 Kentucky (11-3, 1-1 SEC) had a lead and was well on the way to an 85-74 victory over the visiting Aggies (6-7, 0-2 SEC).
 
The reserves had taken somewhat of a step back entering Tuesday, playing exactly 42 minutes in each of Kentucky's last three games and scoring 24 combined points. It was an entirely different story against A&M, as the bench quartet played 33 essential minutes and scored 20 points in the first half alone.
 
"Coming off the bench, that's your job, come in and give a spark," Quickley said. "I think we did. I think that helped the starters get back on track and helped stretch out the lead. I think it was a collective effort and I think that's what our job was throughout the game."
 
Quickley was the headliner of the bunch.
 
The freshman guard has seen his role evolve over the season, most recently as Ashton Hagans has emerged as UK's go-to point guard. Quickley is not letting that deter him, making himself indispensable nonetheless. He hit all four of his shots, including two 3s, and scored 10 points.
 
"Immanuel's playing within what he needs to do and who he is," Calipari said. "And he's playing great right now."
 
Though Quickley had the best numbers, Coach Cal believes it was Baker who made the biggest difference in spite of a rather modest stat line of four points and three assists in 13 minutes.
 
"I thought Jemarl Baker went in and was just playing basketball," Calipari said. "Wasn't playing for himself, wasn't trying to get his. If a guy was open, he threw it to him. And guess what. It changed the whole complexion of the game."
 
A month ago Tuesday, Baker made his UK debut after sitting out a season-plus due to injury. It hasn't happened immediately, but he has begun to carve out a role for himself. It's not by doing anything earth-shattering either. All Baker needs to do to earn time is to give maximum effort and make the easy play.
 
"Every time I come in, I just want to give energy and play hard, play great defense and just try to give the team whatever it needs," Baker said. "I just tried to get out there and play hard and play my game."
 
Baker's game, clearly, includes knocking down open shots. He took only three of them Tuesday and made one, but it was notable. Receiving a pass in the right corner from Quickley, Baker released from 3-point range and converted, getting fouled in the process to bump UK's lead to 14 late in the first half.
 
The and-one, unquestionably, was his best on-court moment as a Wildcat, but he wants to top himself soon.
 
"Hopefully more to come," Baker said.