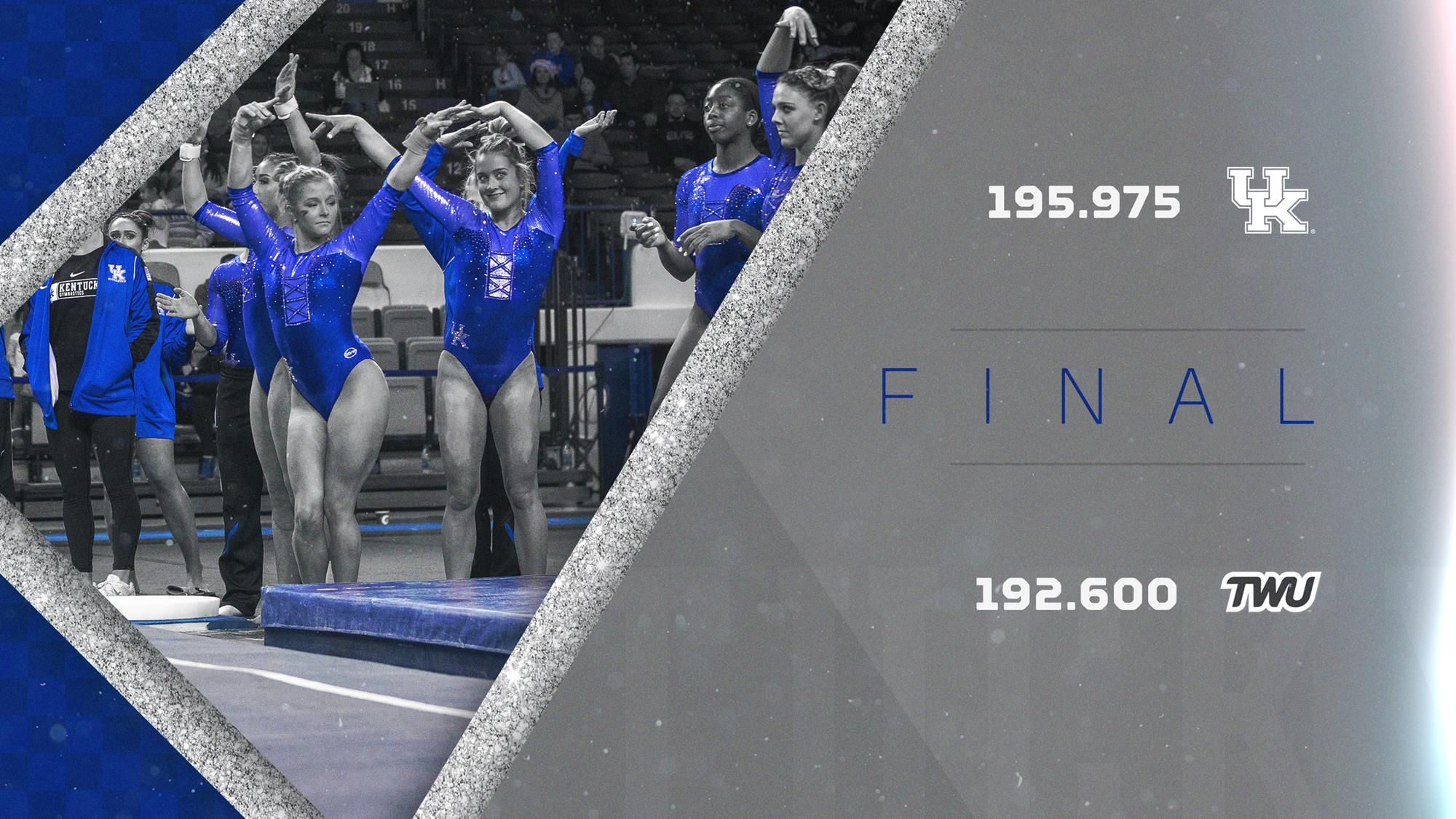 January 6, 2019 - 01:06 AM
Gymnastics opens 2019 season with sweep of Texas Woman's
DENTON, Texas – Coming off its best season in program history, Kentucky gymnastics opened its 2019 campaign with a 195.975-192.600 win at Texas Woman's on Saturday night at Kitty Magee Arena.
 
"Making 24 out of 24 routines tonight, we were able to demonstrate the consistency that we have been working towards," said head coach Tim Garrison. "There are still plenty of small mistakes to clean up, but overall it was a solid start to the season."
 
Senior Alex Hyland, a three-time All-Southeastern Conference performer, led the Wildcats with four event wins on the day. The Foxborough, Mass. native took home top honors in vault (9.850) and all around (39.375), and split two more victories with teammates Mollie Korth (9.825 on bars) and Sidney Dukes (9.875 on beam). Hyland led the Wildcats with a 9.825 mark on the floor, but was bested overall by Bria Northrop (9.850) of Texas Woman's.
 
UK senior Aubree Rosa set a new career-high with a 9.775 floor routine, while junior Alaina Kwan tied her career best on bars at 9.700. Freshmen Cally Nixon and Josie Angeny made their collegiate debuts in the Wildcats' opener, competing in three and two events, respectively.
 
"I'm proud of the team, as always," Garrison said. "We are very much looking forward to getting back in the gym Monday to continue our progress."
 
Kentucky resumes its two-meet road slate to start the year, traveling to Illinois on Sunday, Jan. 13 at 3 p.m. ET. UK will be joined by Oregon State and Lindenwood in the Cats' first quad meet of the season.
 
For the latest on the Kentucky gymnastics team, follow @UKGymnastics on Twitter, Facebook, and Instagram, as well as on the web at UKAthletics.com.