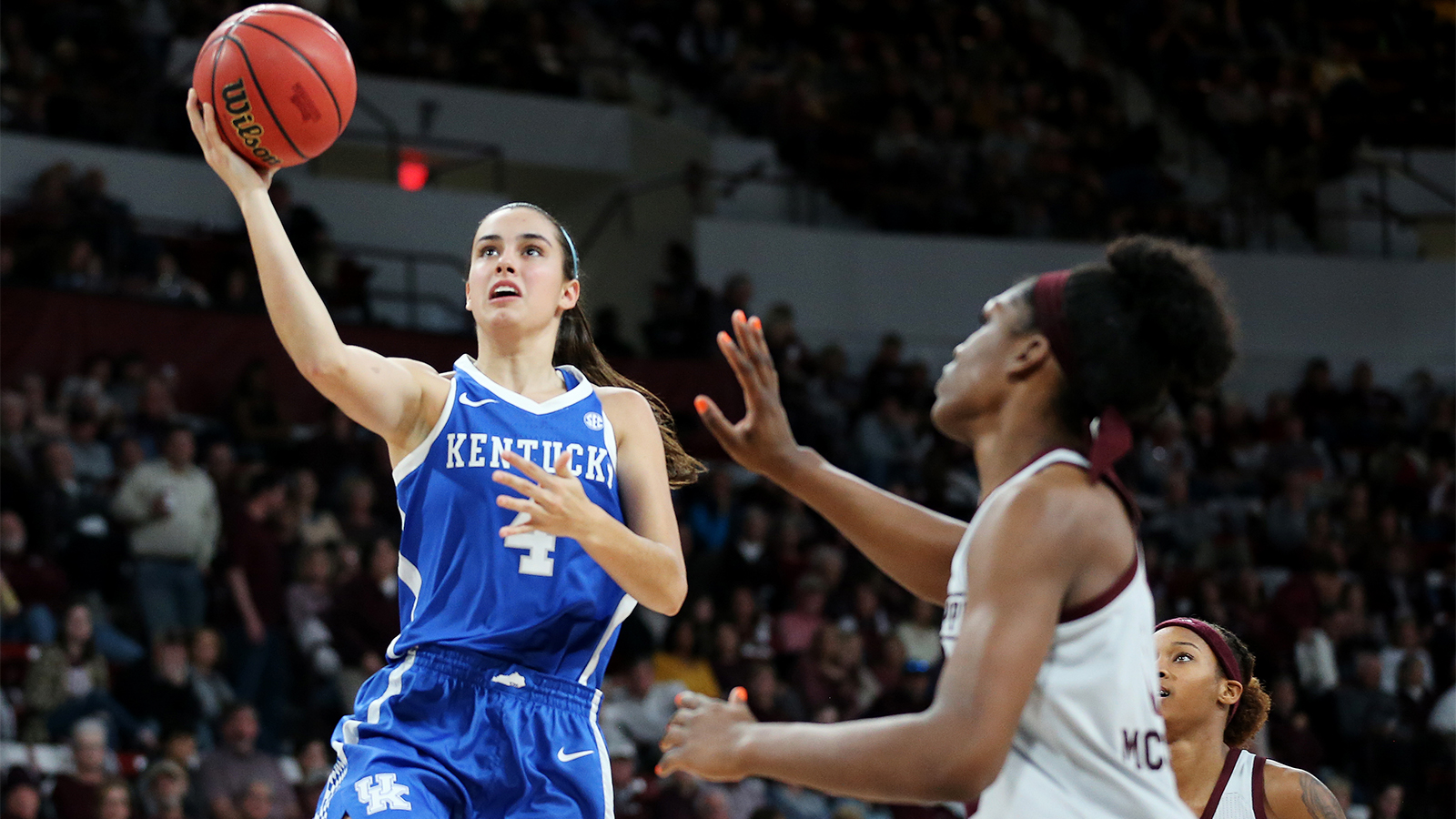 January 6, 2019 - 07:13 PM
No. 16 Kentucky Falls at No. 7 Mississippi State
STARKVILLE, Miss. – Maci Morris scored 20 points and Rhyne Howard added 15, but it was not enough as the 16th-ranked Kentucky women's basketball team lost to seventh-ranked Mississippi State 86-71 on Sunday at Humphrey Coliseum.
With her effort on Sunday, Morris moved into 13th place on Kentucky's career scoring list, passing UK legend Jennifer O'Neill. The senior from Bell County (Ky.) High School now has 1,468 career points and needs only 20 points to move into the Top 10 on that prestigious list. Sunday's game was the 17th time in her career that Morris has scored at least 20 points, and the fourth such game this season.
Mississippi State (14-1, 2-0 SEC) took advantage of its superior size in Sunday's game, controlling the paint for most of the game. The Bulldogs had a 48-24 advantage on the boards, outscored Kentucky 25-12 in second-chance points, and scored 48 points in the paint compared to Kentucky's 22.
Kentucky (14-2, 1-1) got on the board first on a Tatyana Wyatt layup. But Mississippi State scored the next seven points to lead 7-2 with 6:20 left in the first period. After Wyatt hit a three-pointer to cut the lead to 7-5, MSU ran off 12 straight to take a 19-5 lead with 3:01 to go in the first. Kentucky would get a pair of free throws from Ogechi Anyagaligbo to end the run, but MSU scored the next seven points to lead 26-7. UK scored the final four points of the period, but the Wildcats trailed 26-11 after 10 minutes of play.
The Wildcats scored the first five points of the second quarter as Howard converted a jumper, then hit a three-pointer, cutting the lead to 26-16. The Cats would cut the lead to single digits when Morris made her first basket, cutting the lead to 31-22 with 4:31 left in the half. But MSU would score the next four, and the Bulldogs led 41-27 at the break. Howard and Wyatt led UK with five points apiece in the first 20 minutes.
In the third period, MSU maintained its double-digit lead. Kentucky got within 10, 59-49, on a jumper by Jaida Roper. But the Bulldogs scored the final five points of the period to lead 64-49 after three quarters.
Kentucky would get within 14 in the fourth quarter, as Morris hit a jumper to make it 76-62. But MSU scored seven straight to take their biggest lead of the game, 83-62. The Wildcats would not give up, mounting a 9-1 run to cut the lead to 84-71 with 48 seconds left, but Kentucky would get no closer.
Kentucky returns to action on Thursday, visiting Tennessee in SEC action. Tipoff is set for 7 p.m. ET and the game can be seen on the SEC Network.