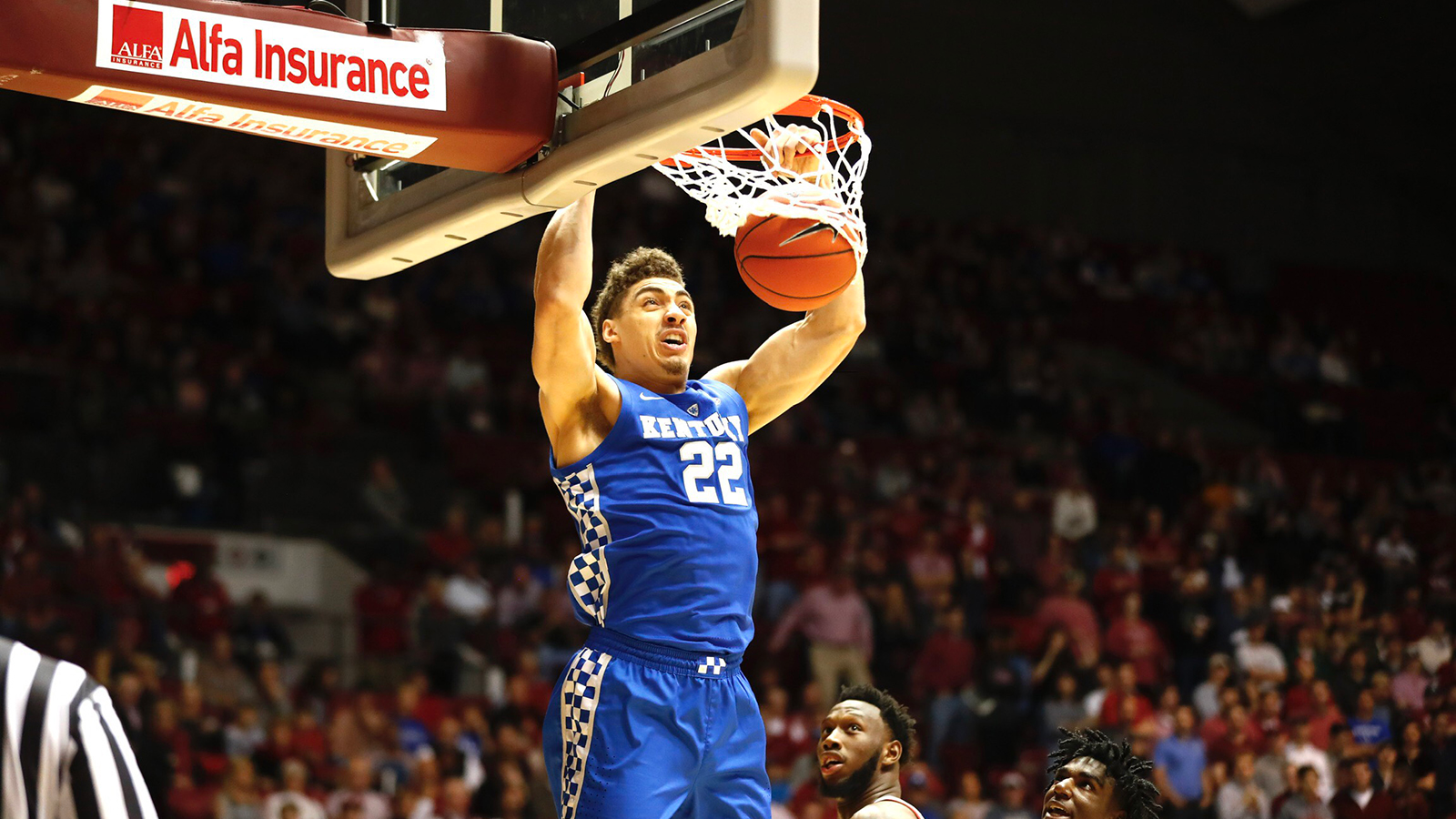 January 5, 2019 - 03:49 PM
Late Rally Falls Short as No. 13 Kentucky Falls at Alabama
TUSCALOOSA, Ala. – No. 13 Kentucky rallied from a double-digit, second-half deficit to get within a point late in the game, but the comeback came up just short as the Wildcats lost to Alabama 77-75 on Saturday afternoon at Coleman Coliseum.
Alabama (10-3, 1-0 SEC) led 54-53 with 10:46 to go in the game. That's when the Crimson Tide assembled an 18-8 run that would seemingly put the game out of reach. By the time the run was over, Alabama led 72-61 with just 3:11 to play.
Kentucky (10-3, 0-1) would not go away quietly. The Wildcats went on a 10-2 run to cut the lead to 74-71 with 30 seconds remaining. After Alabama got a pair of free throws from Dazon Ingram with 22 seconds left, Kentucky scored four straight points, on a layup by Ashton Hagans and a dunk by PJ Washington, cutting the Tide lead to 76-75 with five seconds left.
Alabama inbounded the ball, and John Petty was fouled by Tyler Herro. Petty connected on the second of two free throws to give the Tide a two-point lead.
Kentucky had one last chance, but Herro's three-pointer from the top of the key at the buzzer missed, and the Tide claimed victory.
The Wildcats got a balanced scoring effort in the game, with five players in double figures. Washington led the Cats with 15 points and seven rebounds, while Keldon Johnson had 13 points and also added seven boards. Hagans, Herro and Reid Travis each had 12 points for Kentucky. Hagans led Kentucky with six assists and three steals, while Travis had six rebounds.
Three-point shooting was a key factor in the outcome. Kentucky connected on five of its 18  (27.8 percent) shots from behind the arc, while Alabama hit 10 of its 23 (43.5 percent) three-point attempts. Alabama also won the rebounding battle, 40-32, in a game that had nine ties and 10 lead changes.
Kentucky fell behind by five early in the game, 11-6, but the Wildcats mounted a 7-2 run to tie the game at 13 apiece. Alabama would lead 19-16 when Kentucky went on another run, this one an 11-3 stretch, taking a 27-22 lead with 9:38 remaining in the first half.
Alabama would use an 8-0 run to take a 32-29 lead with 4:17 to go in the first half. From there, the teams battled back and forth until Kentucky scored four of the half's final six points to lead 40-38 at halftime.
The Crimson Tide opened the second half on an 8-0 run to lead 46-40. Kentucky would battle back to lead 47-46 before Alabama scored four in a row. The Wildcats then scored the next four points to lead 51-50 with 13:32 to go. That would be Kentucky's final lead of the game.
Alabama's Tevin Mack led all scorers with 20 points in the first half, and 22 in the game. Kira Lewis, Jr. had 12 points, while Donta Hall added 11 points and 10 rebounds.
Kentucky returns to action on Tuesday, as the Wildcats host Texas A&M at Rupp Arena. Tipoff is set for 7 p.m. ET and the game can be seen on the SEC Network.