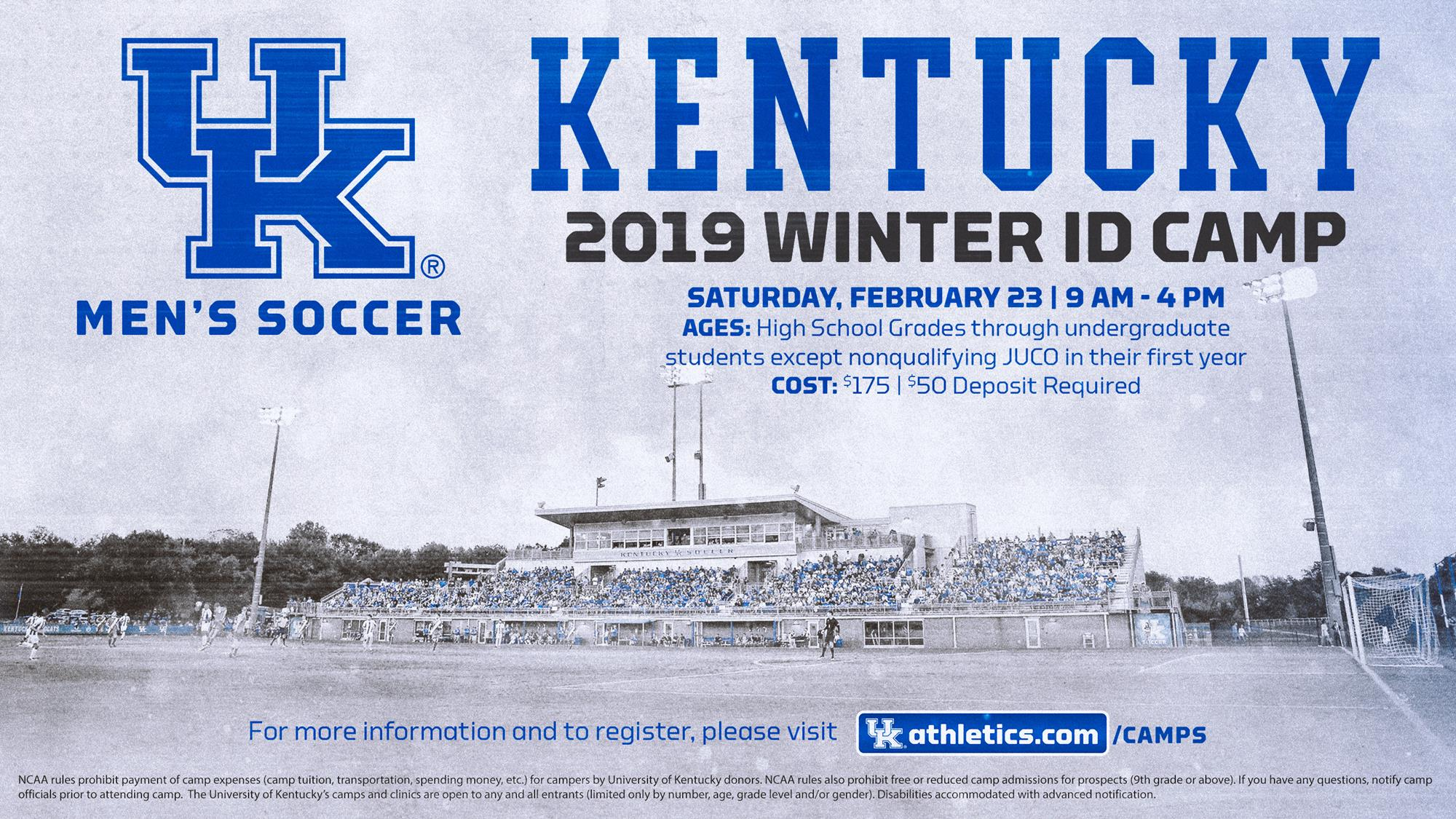 January 5, 2019 - 02:00 PM
2019 Kentucky Men's Soccer Winter Elite ID Camp
For the competitive soccer player looking to play at the collegiate level, this program will introduce you to all aspects of the collegiate game including:
 
• Technical & tactical training sessions
• Talk on the College Recruiting Process
• 11 v 11 and small sided competitive games
• Extensive use of UK Athletics facilities
 
College coaches will be in attendance
 
SCHEDULE, SATURDAY, FEBRUARY 23, 2019
 
8:15 – 9:00 a.m. Check-in at Nutter Field House
9:00 – 9:15 a.m. Opening Remarks
9:15 – 11:30 a.m. Training Session
11:30 – Noon Lunch
Noon – 12:30 p.m. College Recruiting Talk
12:45 – 2:15 p.m. Training Session
2:15 – 3:45 p.m. Games
3:45 – 4:00 p.m. Closing Remarks
 
HOW TO REGISTER
 
The Winter Elite ID Camp is open to male soccer players ages 9th grade and up. Registration may only be completed online. Campers will receive a confirmation email. Registration is on a first come first serve basis and space is limited. There will be a waitlist if capacity is reached. The number of goalkeeper participants will be limited to eight, with a waitlist afterward.
 
Registration amount: $175.00
 
Credit cards are accepted for online registration only.
 
IN PERSON: Cash or personal or cashiers/certified checks will only be accepted to pay remaining balances.
 
 
 
 
MEDICAL INFORMATION AND REQUIREMENTS
 
The University of Kentucky requires:
1. Proof of a physical, dated within one year of camp. (The physical may be mailed separately from the application or presented to the camp trainer at check-in.). Physician's Statement is acceptable in lieu of a physical.
2. A copy of the front and back of camper's health insurance card.
 
CANCELLATIONS
 
Cancellations and refund requests must be received no later than seven days prior to the start of camp. Any later cancellations must be in the case of illness or injury and require a physician's signed note. Contact kentuckysoccercamp@uky.edu for cancellations.
 
 
CHECK-IN PROCEDURES
 
Check-in will be at the Nutter Field House, located on the east side of Kroger Field on the campus of the University of Kentucky.
 
CHECKLIST OF THINGS TO BRING
 
Soccer ball, shin guards, soccer shoes, sneakers/indoor shoes and appropriate clothing for training indoors and outdoors (weather permitting). All personal items should be labeled.
 
ETC.
 
Lunch will be provided. Each participant is responsible for his own lodging.
 
QUESTIONS
 
Contact Marcus Aldaba at 859-257-0001 or at M.Aldaba@uky.edu
 
NCAA rules prohibit payment of camp expenses (camp tuition, transportation, spending money, etc.) for prospects (9th grade and above) by University of Kentucky boosters. NCAA rules also prohibit free or reduced camp admissions for prospects. If you have any questions, notify camp officials prior to attending camp. The University of Kentucky's camps and clinics are open to any and all entrants (limited only by number, age, grade level and/or gender).
 
Disabilities accommodated with advanced (4-6 weeks) notification.