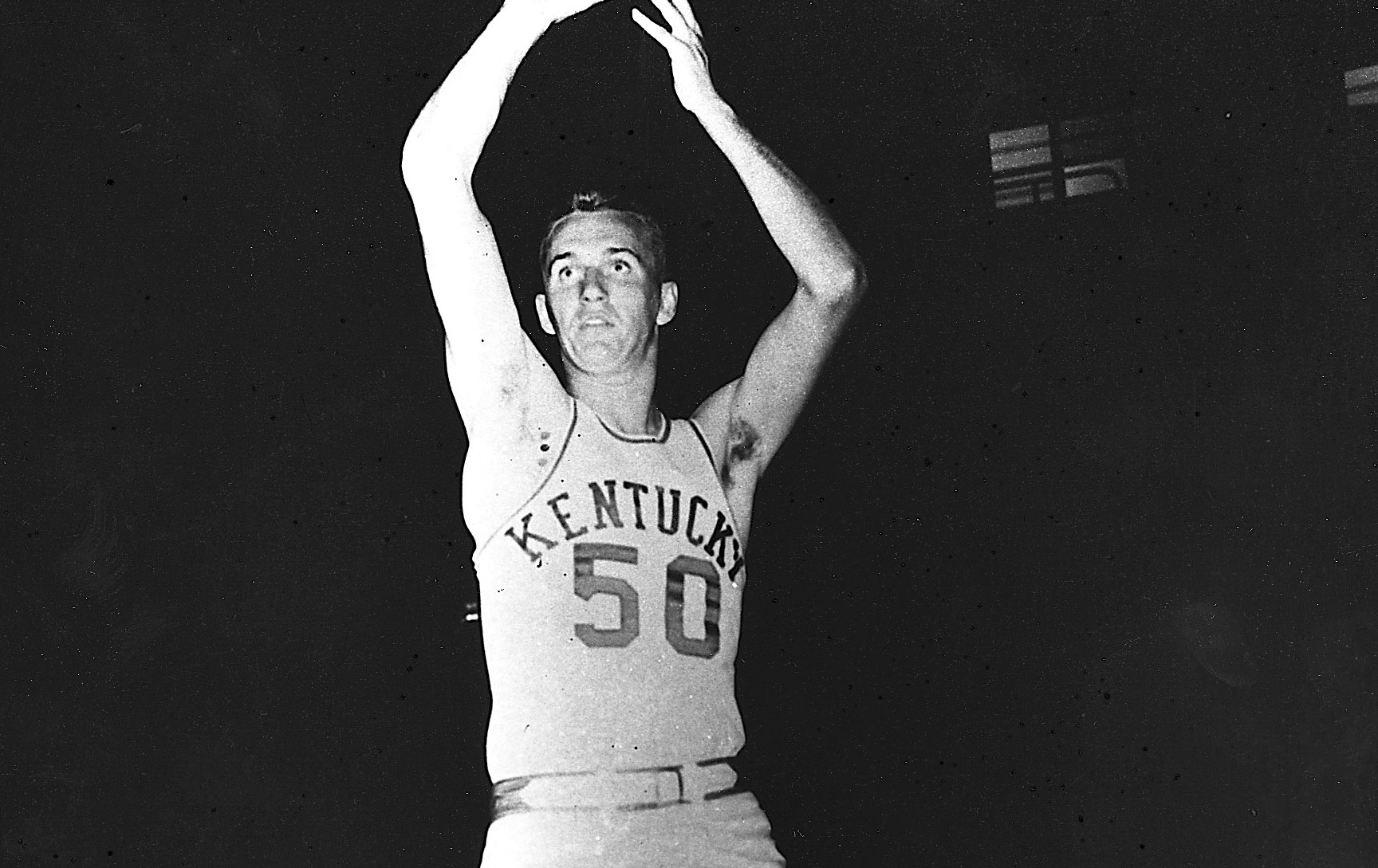 January 4, 2019 - 10:50 AM
UK Men's Basketball All-American Bob Burrow Dead at 84
FRANKLIN, Tenn. – Bob Burrow, a two-time men's basketball All-American and UK Athletics Hall of Famer, died Thursday. He was 84.
 
Burrow, a two-year star (1955-56) under legendary head coach Adolph Rupp, made a big impact in a short amount of time at the University of Kentucky. After transferring from Lon Morris Junior College (Texas), Burrow became the eighth member of the 1,000-point club. He did so in just two seasons thanks to a 20.1 scoring average at UK.
 
But Burrow's work on the glass was equally if not more impressive. In his first season at UK, 1954-55, Burrow averaged 17.7 rebounds per game, which still stands as the best single-season average in school history. His 14.6 average the following season still ranks fourth all-time.
 
He's also co-owner of the record for most rebounds in a game in school history. Burrow hauled in 34 vs. Temple on Dec. 10, 1955. Bill Spivey did the same vs. Xavier on Feb. 13, 1951.
 
In all, Burrow totaled 1,023 points and 823 rebounds in just 51 career games – averaging a double-double in both seasons – on the way to All-American honors in both 1955 and 1956. He was named a Second Team All-American by the Helms Foundation and Third Team All-American by the Associated Press in 1955. In 1956, he earned NCAA Consensus Second Team All-America honors with first-team nods from the National Association of Basketball Coaches and Look Magazine.
 
Burrow was also a two-time All-Southeastern Conference honoree and two-time NCAA All-Regional Team member in 1955 and 1956. The Wildcats won the 1955 SEC championship with Burrow leading the way.
 
He was named to the UK Athletics Hall of Fame as a member of the 2005 charter class. His No. 50 hangs in the rafters in Rupp Arena.
 
"Bob Burrow occupies a special place in Kentucky basketball history," UK Athletics Director Mitch Barnhart said. "In two short years, he left an incredible legacy and set records that stand six decades later. As a UK Athletics family, we offer our condolences to his family and friends."
 
Burrow was selected by the Rochester Royals in the 1956 NBA Draft and played two seasons in the NBA.
 
Following his basketball career, began a career in education. He coached boys' basketball and taught at Fort Knox High School from 1958-67 before becoming the assistant principal for a couple of years beginning in 1967. He took over as principal in 1968 and led the school until 1980.
 
Burrow served as the assistant superintendent of business of the Fort Knox Community Schools from 1980 until 1993 and finished his career as the superintendent from 1993 to 1994.
 
He is survived by his wife, Lee Ann Burrow; sons Brett (wife, Diane) and Grant (wife, Susan); and his grandchildren, Reed, Paige, Blanne and Brooklin.
 
Visitation will be Sunday from noon to 3 p.m. CT at the Williamson Memorial Funeral Home in Franklin, Tennessee. The service will begin at 3 p.m. CT at the same location. Both are open to the public.
 
In lieu of flowers, expressions of sympathy may be made to the Room In The Inn program at Oak Valley Baptist Church at 1161 Lewisburg Pike, Franklin, TN 37064.