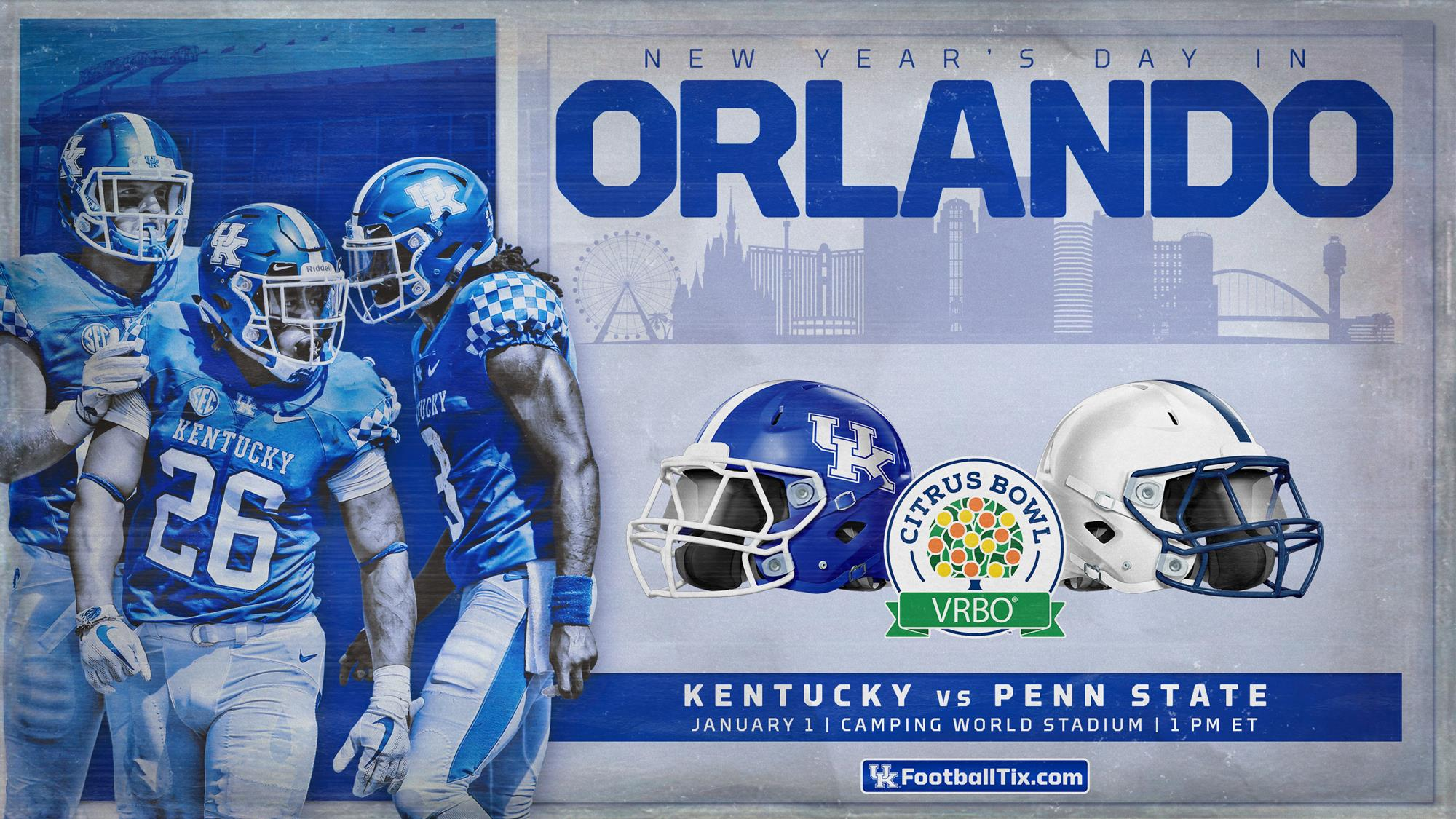 Twenty years after Kentucky last played in a New Year's Day bowl game the Wildcats will do so again, coincidentally against the same opponent from that game – Penn State University. The two nine-win teams will square off in the VRBO Citrus Bowl on Jan. 1, 2019 in Orlando, 20 years to the day after meeting in the 1999 Outback Bowl.
Owners of the best regular season in 41 years for UK, the Cats are appearing in their third straight bowl game under coach Mark Stoops and will face a Big Ten opponent for the second consecutive season. The Cats lost to Northwestern, 24-23, in last year's Music City Bowl when a last-minute two-point conversion failed.
 
Kentucky vs. Penn State
Tue., Jan. 1 – 1 p.m. ET
Camping World Stadium
Orlando, Fla.
Game Notes: UK | PSU
Digital Gameday Program
Gameday App
Coverage

TV: ABC
Radio: UK Sports Network
Watch
Listen
Live Stats

UK
Team Stats
PSU
9-3
Record
9-3
5-3
Conference Record
6-3
26.6
Scoring/game
34.6
366.2
Total offense/game
424.7
201.3
Rushing yards/game
208.6
164.8
Passing yards/game
216.1
21.6
Kickoff returns (avg)
24.6
10.0
Punt returns (avg)
8.7
44.8
Punting (avg)
42.4
30:40
Time of possession/game
27:33
41.5%
Third down conversion
37.9%
60.0%
Fourth down conversion
53.3%
16.2
Points allowed/game
20.0
331.3
Total yards allowed/game
354.9
150.0
Rush yards allowed/game
168.4
181.3
Pass yards allowed/game
186.5

The UK defense is led by national Defensive Player of the Year and first-team All-American Josh Allen, who has set a UK single-season record with 14.0 sacks to go along with 18.5 TFL this season. Allen is the most visible player on a unit stacked with seniors, including safeties Mike Edwards and Darius West, cornerbacks Derrick Baity, Jr., Chris Westry and Lonnie Johnson, Jr., lineman Adrian Middleton, linebacker Jordan Jones and more. Running back Benny Snell, Jr., a 1,000-yard rusher, wide receiver Lynn Bowden, Jr., tight end C.J. Conrad and quarterback Terry Wilson have been key playmakers for the Wildcat offense. 
Cat Scratches: 'Phenomenal' Week in Orlando Set to Culminate with Penn State Matchup
The New Year's Day forecast for Lexington: a high of 45 degrees with cloudy skies.
 
In Orlando, meanwhile, temperatures will top out in the low 80s beneath the warm Florida sun, which is about what the weather has been since the Kentucky Wildcats arrived in town for the VRBO Citrus Bowl the day after Christmas.
 
Add in the fact that family is along for the trip and Disney World is nearby and you have a recipe for a nice winter getaway.
 
"This has been an incredible bowl," Mark Stoops said. "The people, the hospitality and the hosts, everybody's just been phenomenal. Our players have thoroughly enjoyed themselves."
 
For good reason…Read More
Kentucky in Bowl Games
• The Wildcats own an 8-9 all-time record in bowl games.
• The last bowl appearance came in the Franklin Mortgage Music City Bowl in Nashville on Dec. 29, 2017. The Cats lost to Northwestern, 24-23, when a last-second two-point conversion attempt was thwarted.
• UK went to five consecutive bowls from 2006-2010.
• Former quarterback Andre' Woodson was two-time Most Valuable Player of the Music City Bowl in 2006 and 2007.
• This will be the second time Kentucky has faced Penn State in a bowl game, the most recent being the Outback Bowl on Jan. 1, 1999 when Joe Paterno's Nittany Lions slowed Tim Couch and the Cats' Air Raid offense enough to score a 26-14 victory.
Scouting Penn State
• Penn State is 9-3 on the season overall and completed Big Ten play at 6-3.
• PSU is coached by James Franklin, who is in his sixth season after beginning his head coaching career at Vanderbilt, where he faced and defeated Kentucky three times.
• Offensively, the Nittany Lions have proven to have a high-scoring offense, led by one of the nation's most experienced and accomplished quarterbacks – Trace McSorley.
• In his career, McSorely has passed for nearly 10,000 yards, with 75 touchdowns. He also has rushed for 1,182 yards and 29 scores, giving him 11,279 yards of total offense and 104 total touchdowns.
• This season, McSorely has 16 passing touchdowns and 11 rushing touchdowns.
• Running back Miles Sanders ranks 15th nationally with 1,223 rushing yards. This is the only bowl game in the nation featuring two opposing rushers with at least 1,200 yards.
• The Nittany Lions have five receivers with at least 21 catches, led by KJ Hamler's 41 for 713 yards and five scores. Pat Freiermuth has added seven scoring receptions.
• The PSU defense can really get after the quaterback, logging 43 sacks and 100 tackles for loss.
• Three Lions – Yetur Gross-Matos (8.0), Robert Windsor (7.5) and Shareef Miller (7.0) – all have at least seven sacks and 11 tackles for loss. Gross-Matos has 20 tackles for loss, ninth nationally
Series vs. Penn State
• Kentucky and Penn State have met five times on the gridiron with the Nittany Lions leading 3-2.
• The most recent meeting was Penn State's 26-14 victory over the Cats in the Outback Bowl on Jan. 1, 1999.
• In that game, Kentucky jumped out to a 14-3 first quarter lead and held a 14-13 halftime edge before the Nittany Lions outsored the Cats 13-0 after the break.
• Tim Couch threw for 336 yards and two touchdowns that day in his final collegiate game.
• The teams played four consecutive seasons from 1975-78, splitting those games.
• In the Cats' 10-1 season in 1977 they traveled to University Park and defeated Penn State 24-20.
• The Cats also won 22-6 in 1976 on the way to a 9-3 SEC championship season that ended with a Peach Bowl win.
Kentucky-Penn State Connections
• Neither team has a player who hails from the other state but there are a few connections.
• Freshman safety DeAndre Square and Penn State sophomore cornerback Donovan Johnson were teammates at Cass Technical High School in Detroit.
• Junior RB Benny Snell Jr., Penn State junior defensive tackle Antonio Shelton and sophomore long snapper Chris Stoll are all from Westerville, Ohio. Snell played at Westerville-Central, while Shelton was a standout at Westerville-North. Stoll played at St. Francis DeSales.
• PSU head coach James Franklin was the head coach at Vanderbilt from 2011-13. He went 3-0 vs. Kentucky with the Commodores.
• UK QBs coach Darin Hinshaw was wide receivers coach at Memphis from 2007-09, the same time PSU defensive coordinator and linebackers coach Brent Pry was the Tigers' defensive line coach.
• UK WRs coach Michael Smith and PSU OC/QBs coach Ricky Rahne coached together at Kansas State from 2009-10.
• UK DBs coach Steve Clinkscale was the cornerbacks coach at Illinois in 2012 under current coDC/safeties coach Tim Banks, who was the Illini DC/secondary coach from 2012-15.
A Kentucky Win Would…
• Improve Kentucky to 10-3, the best season mark since 1977 (10-1).
• Be just the third time in school history the Cats have won 10 regular season games (1977, 1950).
• Give UK 17 wins over the past two seasons, which would be the fourth-most in back-to-back seasons in program history: 20 (1949-50), 19 (1950-51 and 1976-77).
• Give the current senior class (2015-18) the most wins (29) in their career since the class from 2006-2009 won 30 total games.
• Give the Cats their ninth win in a bowl game and even their bowl record at 9-9 overall.