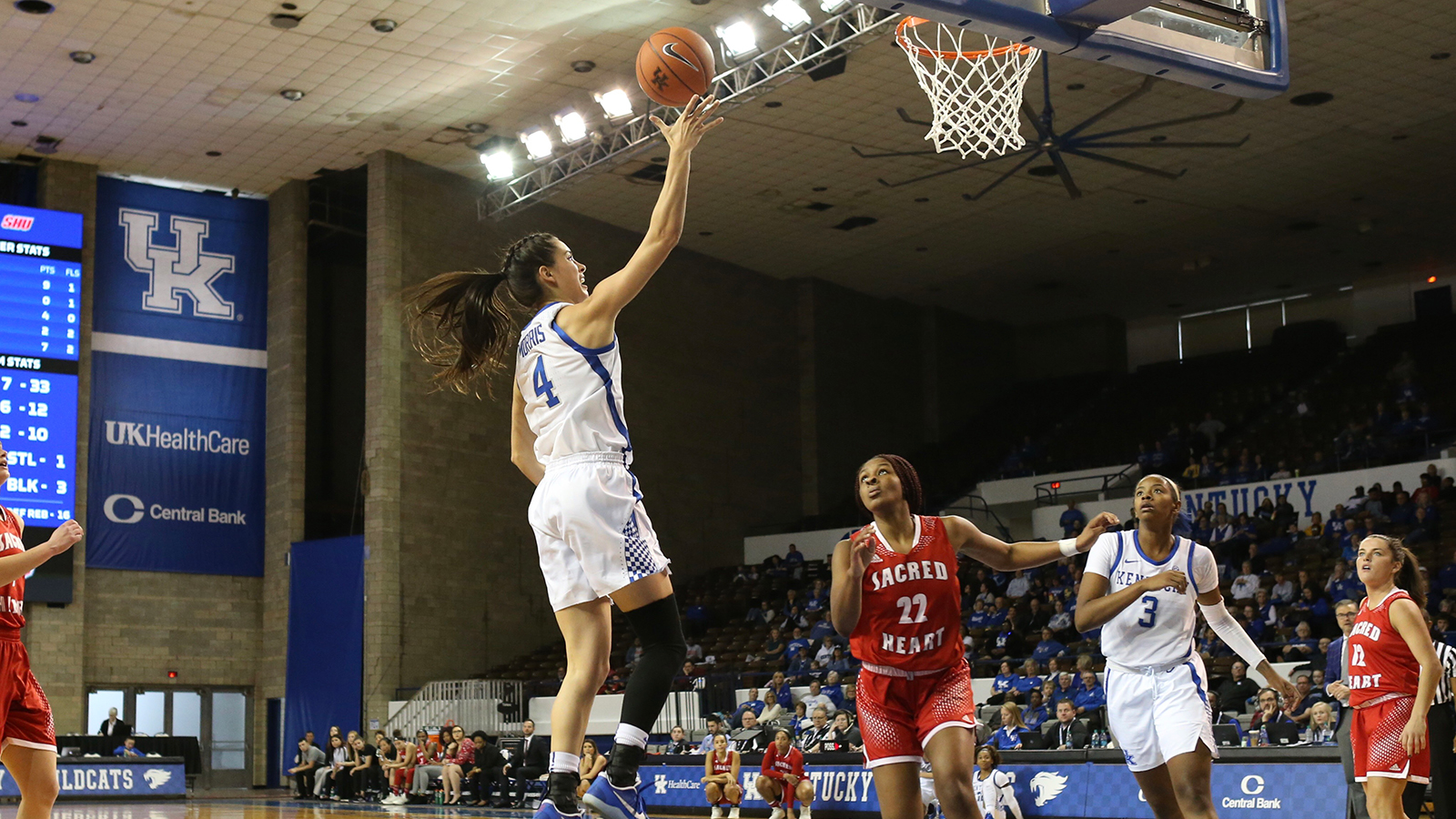 December 29, 2018 - 01:48 PM
Morris Leads No. 18 Kentucky Past Sacred Heart
LEXINGTON, Ky. – Maci Morris scored 17 points and Jaida Roper added 12 as No. 18 Kentucky cruised past Sacred Heart 71-43 on Saturday at Memorial Coliseum.
With her effort today, Morris moved into 15th place on the UK career scoring list, passing former Wildcat great Jodie Whitaker. Morris now has 1,434 points, and counting, during her four years in Lexington.
Taylor Murray added 11 points, six rebounds and two assists, while freshman Rhyne Howard collected a career-high 15 rebounds. It was the first time a UK player had at least 15 rebounds since Evelyn Akhator had 23 rebounds against Ohio State in the NCAA Tournament on March 19, 2017.
The Wildcats hit just 27 of their 77 shots (35.1 percent) in the game, but the UK defense did its job, holding Sacred Heart in check. The Pioneers were just 14 of 52 (26.9 percent) from the floor while committing 17 turnovers that Kentucky turned into 18 points.
Kentucky (13-1) got the scoring started when Morris hit a three-pointer from the left corner. But Sacred Heart scored the next four points to take a 4-3 lead. After the Cats missed five straight shots, KeKe McKinney connected on a jumper to give UK a 5-4 advantage. McKinney's basket started a 6-0 run that gave the Cats a 9-4 lead with 5:10 remaining in the period.
Sacred Heart battled back, assembling a 9-3 run to take a 13-12 lead with 1:02 left in the first quarter. But Morris answered with another three, giving the Cats a 15-13 advantage. Kentucky would lead 17-13 after 10 minutes, despite hitting just six of their 24 field goal attempts in the period.
Kentucky started the second period on a 6-2 run as the Wildcats' defense forced the Pioneers to miss their first eight shots from the field. After the Cats took a 23-15 lead, Sacred Heart scored five straight to cut the lead to three. But Kentucky answered, scoring the last 10 points of the half, including five from Morris, to lead 33-20 at the break.
The Wildcats made just 12 of their 39 shots from the field in the first half, but UK's defense did an outstanding job, as the Pioneers made just seven of 29 (24.1 percent) of their first-half attempts. Kentucky held Sacred Heart to one-of-16 (6.3 percent) from the floor in the second quarter. Morris led all scorers with 13 points in the first 20 minutes, while Howard had just five points, but did collect 10 rebounds.
In the third period, Sacred Heart got two free throws before Kentucky went on a 14-0 run to take a 47-22 lead. The Cats held Sacred Heart without a field goal for the first 6:39 of the half en route to a 26-point advantage. Kentucky hit nine of its first 13 field goals in the period before missing their last seven. Murray led UK with nine points in the period.
Kentucky would stretch the lead to as many as 31 points in the fourth period.
Sacred Heart (4-7) got 19 points from Erin Storck.
Kentucky returns to action on Thursday, hosting Vanderbilt at Memorial Coliseum in the SEC opener for both teams. Tipoff is set for 7 p.m. ET and the game can be seen on SEC Network+.