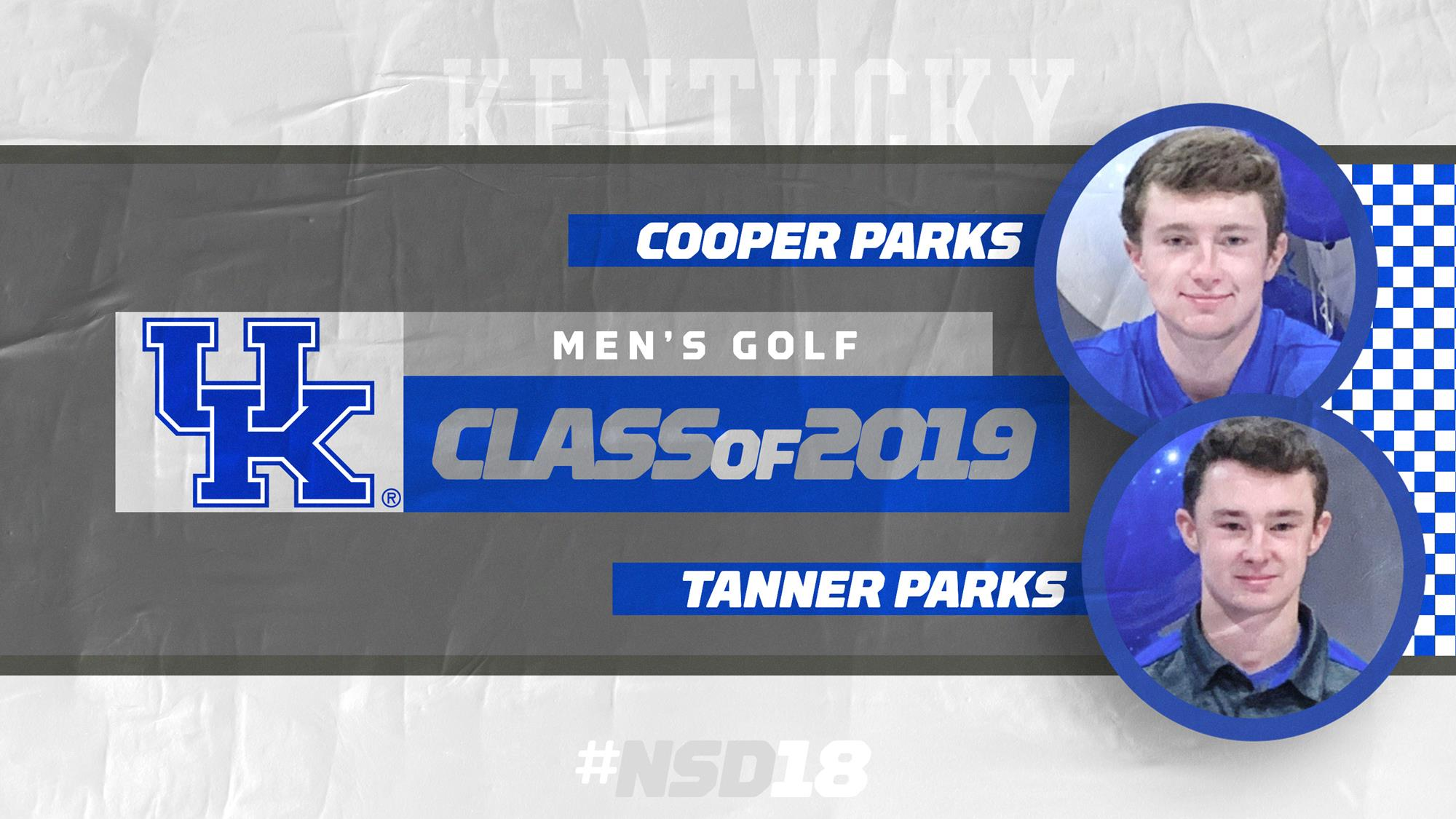 December 28, 2018 - 02:26 PM
Men's Golf Signs Parks Brothers for 2019
LEXINGTON, Ky. – University of Kentucky head men's golf coach Brian Craig announced the signing of two players to National Letters of Intent for the 2019 signing class on Friday. Twins, Cooper and Tanner Parks, from Campbellsville, Kentucky, have each signed to play their collegiate golf for the Wildcats.
 
"I am ecstatic we have the Parks brothers joining our Kentucky golf family," Craig said. "We wanted them in a big way as I knew with a strong conviction that Cooper and Tanner will be perfect fits in our program. They are not only exceptional golfers, but young men of character who love to pursue excellence."
 
The Parks will join fellow in-state players Cullan Brown, Jacob Cook, Allen Hamilton, Jay Kirchdorfer, Matt Liston and Zach Norris in 2019.
 
Cooper Parks
Hometown: Campbellsville, Ky.
High School: Taylor County
 
In 2018, he was the state player of the year and also helped lead Taylor County to a team championship. Cooper was a three-time Kentucky First-Team All-State member. He ranks among the top 100 of the 2019 class according to the Junior Golf Scoreboard.
 
Cooper was a five-time region player of the year and the 2017 Golf House Kentucky Junior Player of the Year. He has amassed four top-five finishes on the AJGA, and he won the Kentucky Invitational Tournament twice. He also finished third at the 2018 Big "I" National Championship.
 
He is ranked the top-overall student in his graduating class while also participating in the BETA Club.
 
"Cooper has a record that is simply outstanding in the junior ranks," Craig said. "He is clearly one of the best recruits to come out of Kentucky in recent years. He has a tremendous work ethic and is mature beyond his years. I love the fact that he has proven he is capable of posting very low scores in competition. That is a skill that is difficult to teach. I also love the fact that he has exemplary character and has excelled in the classroom. It will be my privilege to coach Cooper and help him get better while he represents the Big Blue Nation."
 
Tanner Parks
Hometown: Campbellsville, Ky.
High School: Taylor County
 
He was also a member of the 2018 KHSAA State Team Champion as well as a four-time member of the all-region team. Tanner shot 70-or-below numerous times including a 69 at the Tates Creek Invitational. He also was a Golf House Junior Tour Championship winner.
 
Tanner was voted student of the year for the 2017-18 school year at Taylor County and he is ranked in the top five in his graduating class. He owns a 4.25 grade-point average and is also a member of the BETA Club.
 
"Tanner has improved a tremendous amount in the last year," Craig said. "He has put in the effort and is seeing the fruits of his labor. I love seeing that and look forward to helping him continue to get better. I also admire his dedication in the classroom and the fact that he is an outstanding young man.  He will look awfully good wearing the Blue and White."
 
For the latest on the Kentucky men's golf team, follow @UKMensGolf on Twitter and on the web at UKathletics.com.