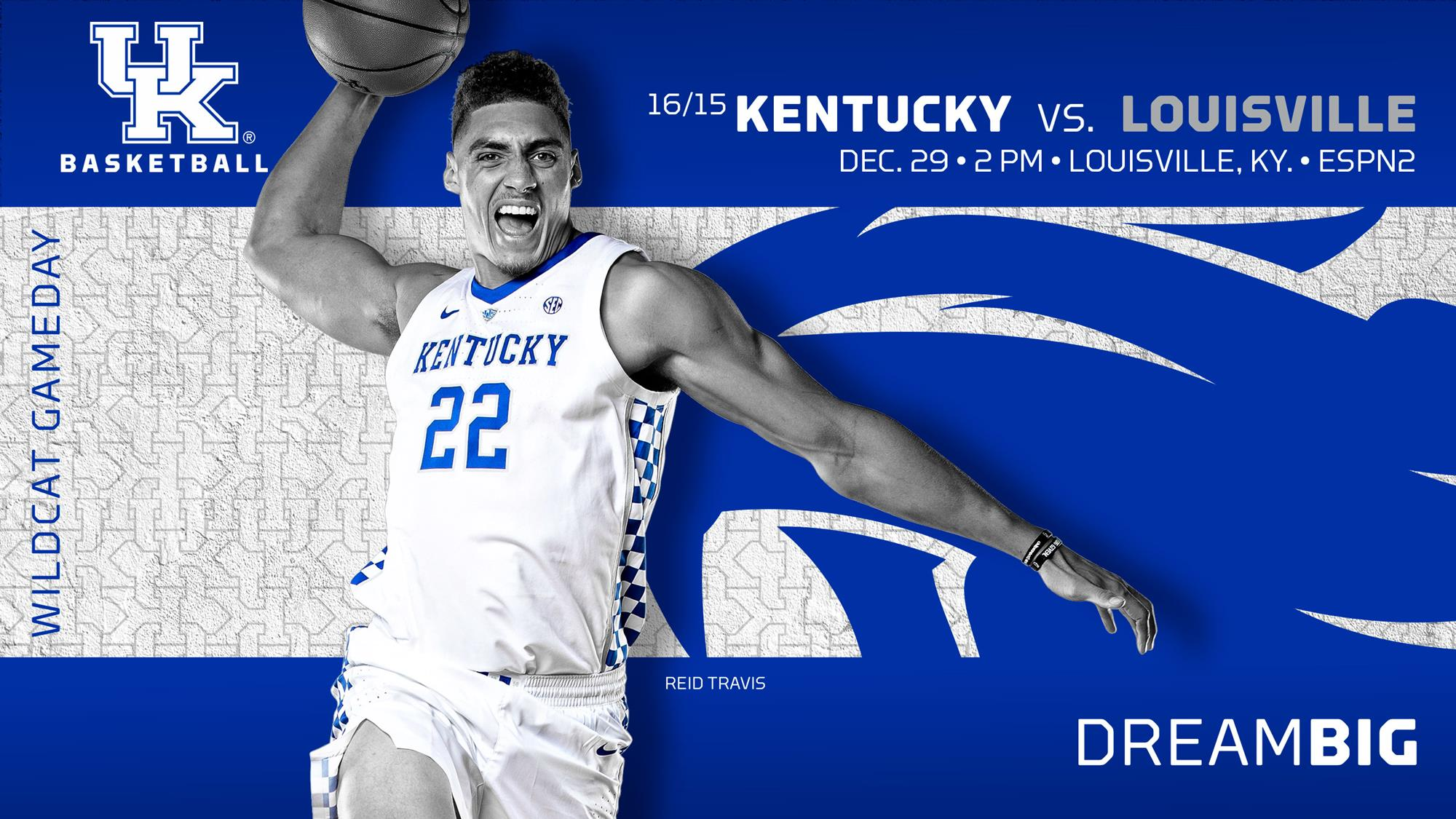 December 28, 2018 - 05:37 PM
New Challenge, Same Goals: UK Heads to Louisville
John Calipari watched his team all last week and had a good idea what was coming.
 
There were no guarantees about the result against a team of North Carolina's quality, but Calipari is a firm believer that you practice how you play.
 
A week removed from being proven right in Kentucky's biggest win of the season, Coach Cal is getting a similar vibe.
 
"They had another couple good days of practice again," Calipari said. "I just would expect that they're gonna play how they practice, and that's what happened with Carolina. We had great days and guys focused."
 
The challenge for the No. 16/15 Wildcats (9-2) will be of a similar magnitude when they make the short trip down Interstate 64 for their annual showdown with Louisville (9-3) Saturday at 2 p.m. This one, however, comes with a couple added variables.
 
Kentucky at Louisville

Sat., Dec. 29 – 2 p.m. ET
KFC Yum! Center
Louisville, Ky.
Game Notes: UK | UL
UK Athletics App
Digital Guide

Coverage

TV: ESPN2
Radio: UK Sports Network
Watch
Listen
Live Stats

UK
2018-19 Stats
UL
84.2
PPG
80.2
70.5
Opp PPG
68.5
.491
FG%
.455
.428
Opp FG%
.414
39.8
RPG
38.2
.366
3PT FG%
.358
.390
Opp 3PT FG%
.349
.748
FT%
.772
14.9
APG
13.1
6.4
SPG
5.3
5.6
BPG
3.8

For starters, it's UK's first true road game of the season. The KFC Yum! Center figures to be rocking with the Cardinals getting their first shot at the Cats under new head coach Chris Mack and coming off a 90-61 drubbing issued to them by Kentucky a season ago. UK has players experienced in road settings, but also relies heavily on five true freshmen who can only listen to the counsel of their older teammates.
 
"Just come out and stay focused, be together as one and work together," PJ Washington said. "Come out and just stick to the game plan."
 
The other difference, of course, is the rivalry. Kentucky-Louisville means something to nearly every person who lives within the Commonwealth's borders and a year's worth of bragging rights will be on the line Saturday. Calipari is adamant about keeping regular-season games in perspective, but he knows this isn't just any old game.
 
"Obviously with this being in-state makes it unique, but they're going to play and we're going to play and someone's gonna be happy and someone's not gonna be happy," Calipari said. "It's just we play this – I don't know how many times I've coached against them. It's a ton, and whether it's in that building, this building, neutral, NCAA, they're hard games."
 
Reid Travis hasn't yet had the privilege of playing in the game, but he knows that college rivalries require a balancing act. As Calipari will surely reinforce, preparation must stay the same. The Cats also forget that few get to take the floor in games like this.
 
"Obviously, you want to approach it like any other game, your preparation stays the same," Travis said. "But also understanding that it is a cool experience to be in a rivalry game. You take that energy, take that passion that comes with it. You don't want to overlook the fact that it is a great experience to play in a game like that. There's a lot of history and tradition that comes with playing in rivalry games. So, just trying to enjoy every step of the process and enjoy the game when it gets here."
 
The history of the rivalry will make it emotional, but the quality of Louisville's team is what will make it difficult to win its next chapter. The Cardinals are a balanced team with eight players averaging more than six points per game, led by Jordan Nwora and his 17.8 points per game on 40-percent 3-point shooting.
 
"It's not going to be as though they're not ready to play," Calipari said. "They're going to be ready. They play hard, they shoot 3s, they make 3s. Good defensive team. They've played a heck of a schedule now. They've played a heck of a schedule. They beat Seton Hall; we lost to Seton Hall. So it's going to be a hard game for us."
 
Louisville has lost three times this season, but one came in overtime to a Marquette team ranked in the top 20, one came by a single point at Indiana and the other to a Tennessee squad now ranked No. 3 in both polls. U of L has also not yet lost on its home floor in eight tries.
 
"My guess is they may press a little bit," Calipari said. "They may start the game pressing. I think they'll throw some of that 1-3-1 at us a little bit. And I think they're going to fly up the court, and if they can't, they're going to try to – they run good stuff to get shots. And then they rebound like crazy. They run guys to the rim. I think they'll play as fast as they can or as fast as we'll let the game go. Like I said, I think they're going to throw some stuff at us, which I would expect that they would."
 
The Cats are sure to see some things from their next opponent they haven't yet. The key for Calipari is that he sees the same thing he did from his own team its last time out. I
 
"Let's just see if we can continue on this path," Calipari said. "Had too many turnovers last game and some of them late in the game. Let's get those down to 12, 11, 13 somewhere in that range we'll be feeling pretty good. You want your team to fight like crazy like we did last game. Anybody that watched it that hit me just said, 'That looked like one of your teams.' "
Cats Claw Past North Carolina for Signature Win
John Calipari sees Kentucky rounding into form. Beating North Carolina sure is a good way to drive home that point.
Keldon Johnson scored 21 points and Reid Travis added 20 to lead the Wildcats to an 80-72 victory over the No. 9/10 Tar Heels in a CBS Sports Classic matchup between two of college basketball's winningest programs.
Johnson scored 16 in the second half, helping Kentucky (9-2) hold off North Carolina (8-3) in their first meeting since the 2017 NCAA South Regional final. The Tar Heels won that game on a last-second jumper by Luke Maye en route to their sixth NCAA title.
This time, Johnson came on strong down the stretch after Travis got off to a scorching start with 16 first-half points.
"We're not the same team we were two weeks ago," Calipari said. "It's not even close. And hopefully two weeks from now, we're not gonna be the same team we are today."
Johnson hit three 3-pointers in the second half and made 4 of 7 from beyond the arc overall. Travis dominated down low in the early going, scoring 16 as the Wildcats grabbed a 40-31 halftime lead.
Tyler Herro scored 15. PJ Washington added 11 points, 10 rebounds and a career-high eight assists. Ashton Hagans contributed a school-record-tying eight steals, and Kentucky won its second in a row since an overtime loss to Seton Hall in Madison Square Garden.
"If we had won (the Seton Hall) game, we wouldn't have all this craziness," Calipari said. "But this is Kentucky. Good luck. … We have the greatest fans in the country, we do. But they also want to win every game by 25."
The Wildcats probably wouldn't mind that, either. But they'll take a tight win over one of the nation's best teams.
Kentucky was leading 66-55 with just under eight minutes to go after Johnson nailed 3-pointers on back-to-back possessions.
North Carolina then cut the lead to six, but two steals by Hagans helped bump it back up to 11. The first led to a 3 by Washington, and Hagans, whose eight steals may have been the difference in the game, then scored on a breakaway layup off another steal to make it 71-60 with 5:50 left.
"I'm putting the ball in his hands and he's making the right plays," Calipari said of Hagans, who finished with seven points, a career-high four rebounds and three assists. "He's making the game easy for everybody now. He did jog it up a little bit today and I got on him, but the reality of it is it's kind of like a pressing team; you press a pressing team. And if a team is a speed team you go right back at 'em with speed. Which is what we were trying to do today.
• Kentucky has won three of its last four matchups vs. North Carolina
• UK improved to 3-2 in the CBS Sports Classic, tied with UNC for the series' best record. Ohio State and UCLA are both 2-3
• Kentucky is now 7-3 all-time at the United Center
• Hagans' eight steals tied the school record previously set by Wayne Turner (Nov. 24, 1997, vs. George Washington) and Rajon Rondo (Feb.
19, 2005, vs. Mississippi State. They are also the second-most swipes an individual player has ever posted vs. North Carolina
• UK defeated an Associated Press top-10 foe for the first time since winning at No. 7 West Virginia, 83-76, on Jan. 27
• The Wildcats are now 45-23 in games in which both teams are ranked in the AP Top 25 in the Calipari era. Over the course of his career,
Calipari is now 76-50 in those such games
• Kentucky improved to 242-5 (.980) under Calipari when leading by at least 10 points at any point in the game
• UK blocked a season-high eight shots and has blocked at least four opponent shots in every game this season
• Jemarl Baker Jr. played a career-high 15 minutes
• Johnson recorded his team-leading fourth 20-point game of the year. He's topped double figures in all but one game this season
• Washington's double-double was his team-leading fourth of the season and the seventh of his career
The Best Rivalry in College Basketball
With all due respect to all other rivalries, fans of Kentucky and Louisville will tell you the UK-Louisville game is the best rivalry in all of sports. Given the tradition, there is a strong argument.
Separated my a mere 80 miles, the two schools are the bluebloods of the Bluegrass State. They have combined for more than 4,000 wins, 11 national championships and 27 Final Fours, including a combined six since 2011. Countless All-Americans have put on uniforms for the two schools.
UK owns an all-time record of 35-16 against the Cards, including a 9-2 mark since John Calipari took over the reins. Two of those victories came when the stakes were at their highest in the NCAA Tournament. The first was in the 2012 Final Four in which Kentucky went on to win the national title. The second was in 2014 in the Sweet 16, as the Wildcats went on to the Final Four again.
Only two times in those 11 games since Calipari took over has the game been decided by more than 10 points. One of those was last season: a jaw-dropping 90-61 victory by the Wildcats, the third-most lopsided result in the series' history.
The two schools had a 24-year gap without a game following the 1959 meeting before the "Dream Game" revived the series in 1983. The two schools have played each other every year since.
The highest-scoring game came in 1991 when UK won 103-89. Prior to Louisville's win in 2016, Kentucky's four-game winning streak in the series was the longest since UK won five straight from 1916-51.
Best in the Bluegrass
 
Kentucky has been dominant against teams in the state under John Calipari. UK is 16-2 against in-state foes with Calipari at the helm.
The mark also includes a 9-2 mark vs. Louisville. Two of the victories over the Cardinals came in postseason play. UK had its four-game winning streak snapped in 2016-17 but has won all five meetings played in Rupp Arena, including a 29-point blowout in 2017-18, the third-biggest margin of victory in the history of the series. Louisville's two wins have come by a combined six points.
Here's a list of the meetings between the state's two premier programs since Calipari took over at UK:
• Jan. 2, 2010 – UK won 71-62 at Rupp Arena
• Dec. 31, 2010 – UK won 78-63 at KFC Yum! Center
• Dec. 31, 2011 – UK won 69-62 at Rupp Arena
• March 31, 2012 – UK won 69-61 at the Superdome (NCAA Final Four in New Orleans)
• Dec. 29, 2012 – Louisville won 80-77 at KFC Yum! Center
• Dec. 28, 2013 – UK won 73-66 at Rupp Arena
• March 28, 2014 – UK won 74-69 at Lucas Oil Stadium (NCAA Sweet 16 in Indianapolis)
• Dec. 27, 2014 – UK won 58-50 at KFC Yum! Center
• Dec. 26, 2015 – UK won 75-73 at Rupp Arena
• Dec. 21, 2016 – Louisville won 73-70 at KFC Yum! Center
• Dec. 29, 2017 – UK won 90-61 at Rupp Arena