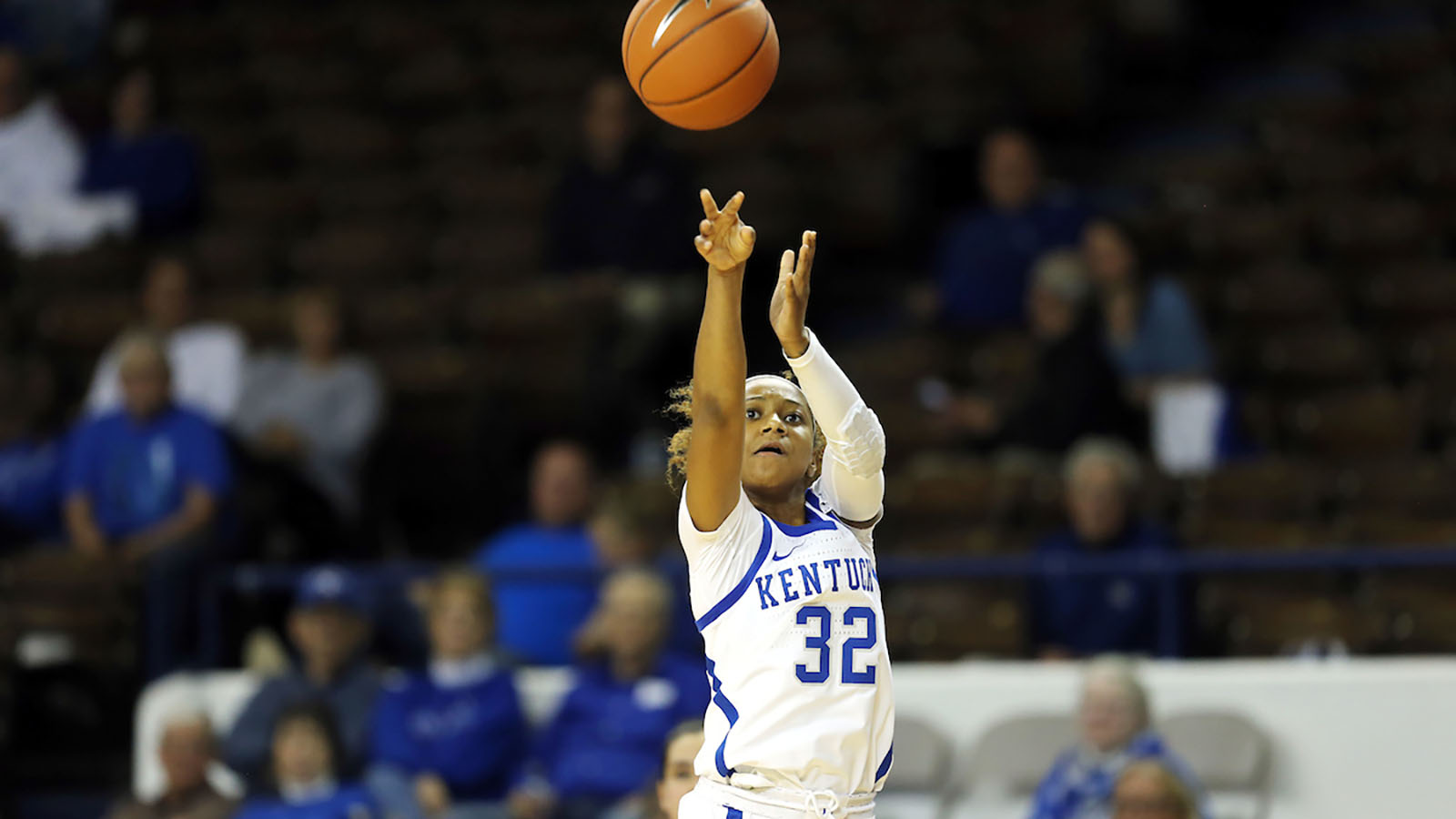 December 20, 2018 - 01:26 PM
Hard Work Paying Off for UK's Roper
In college athletics, there is rarely a substitution for hard work. Just ask Kentucky women's basketball guard Jaida Roper.
The junior from Memphis came to Kentucky as a point guard who was best known for distributing the ball to her teammates and slashing to the basket.
However, during the offseason, and continuing into the regular season, Roper has used hard work and plenty of practice to improve her outside shot. And the results have been amazing.
As a freshman, Roper was not a bad shooter from behind the arc, making 10 of her 32 attempts (31.3 percent). That number improved last season, when Roper connected on 15 of 41 (36.6 percent) of her three-point attempts.
But this season, Roper has taken her shooting to a new level. Through 12 games, Roper is hitting a sizzling 48.3 percent from behind the arc, having made 14 of her 29 attempts this season.  That number leads the team and is fourth in the SEC. Roper has hit at least one three-pointer in nine of her team's 12 games, including a three-for-four effort in UK's win over UCLA.
Head coach Matthew Mitchell knows that the extra time that Roper has spent working on her shot has paid off.
"We're real proud of Jaida, she has worked really hard," Mitchell said. "Jaida is such an important part of our team and we need her playing to her full capability. Part of the recipe for her to be at her full strength is she needs to make open threes because a lot of times, while she creates and can hit some open threes, she also has teammates that can break the defense down and when she is doing that, it increases the strength of our team."
Roper has gained more confidence in herself, and especially in her shot, through her hard work and dedication to getting better.
"Taylor (Murray), Coach Amber (Smith) and I stayed in the gym after practice almost every practice working on shots and different layup packages and all that," Roper said. "Just working on it, I got a lot more confident with it. I'm finally letting the ball fly."
Mitchell is also proud of Roper for becoming an example to the younger players on the UK team.
"Often times when we're trying to teach some of our younger players, she's really become a veteran leader on the team from that standpoint," Mitchell said. "We can put the video on and show her effort. A lot of energy in her feet, a lot of tenacity, so her improvement has been a big boost to our team this year and very proud of her improvement."
And while she's become known to opponents as an effective shooter, Roper still has her point guard roots. She proved that again on Tuesday night when she dished out a career-high seven assists in the Cats' big win over Western Carolina.
Roper and her teammates are 11-1 on the season and ranked 18th in the country heading into a Friday afternoon matchup against intrastate opponent Murray State (Noon ET, SEC Network+).
Roper's ability to hit the outside shot and to distribute the ball to her teammates continues to make the Wildcats' offense one of the best in the SEC so far this season.