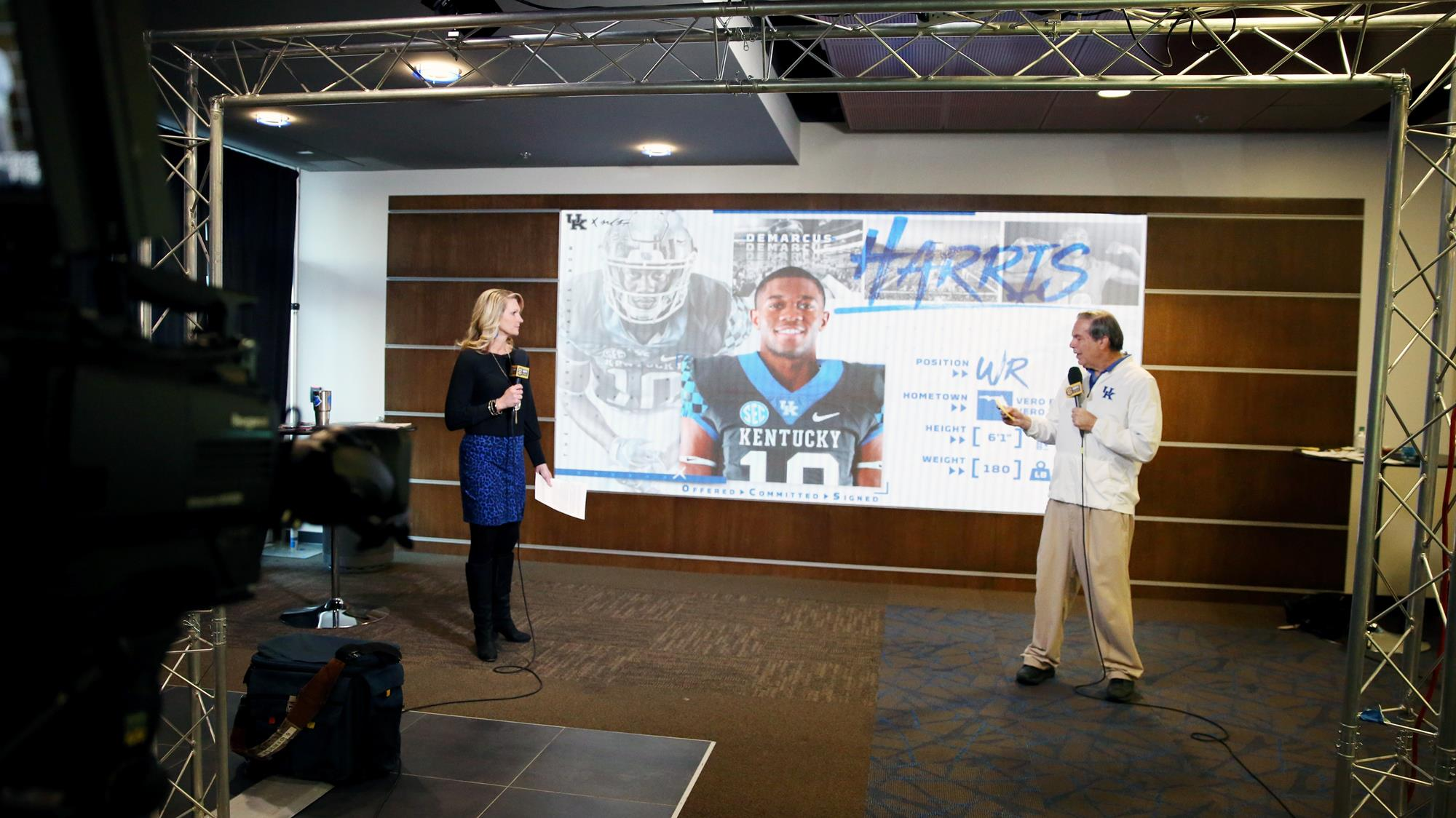 To start with, Mark Stoops and Vince Marrow were selling hope. They faced plenty of negative recruiting along the way, but overcame it more often than not.
 
A few years later, they had some success to sell as Kentucky began to climb the ladder in the SEC East.
 
Now, after a 9-3 season and a trip to the VRBO Citrus Bowl, Stoops and Marrow aren't selling hope. They're selling belief, belief that UK can and will climb the final rungs on that ladder.
 
"The message now is let's go beat Georgia," Marrow said. "We're climbing up the hill and beating some of these other teams, but we got to get Georgia. We've got to get the SEC East soon."
 
The message is apparently resonating. Kentucky signed 21 talented players Wednesday, capping a successful December Signing Day that has UK at No. 28 in Rivals' 2019 rankings.  
 
"Exciting day for us," Stoops said. "Really good to put the wraps on such a good class. Greatly appreciate our staff and the hard work they've done for the past year, past two years in some cases, recruiting some of these players. I feel very good about this class. I feel they're excellent football players, excellent people, very good in the classroom."
 
The class started at home, as UK signed five players from the state of Kentucky, one offensive lineman in Nicholasville's Eli Cox and four from Louisville. The Louisville group includes linebacker Jared Casey, wide receiver Tae Tae Crumes, linebacker Shawn'Kel Knight-Goff and outside linebacker J.J. Weaver.
 
"I think it was very important," Stoops said of UK's in-state crop. "We've been working these guys for some time. They're very—there's very good players. You don't know where the players are going to be in state, as I've mentioned every year. I think there's always good quality in this state. Sometimes there's not always the quantity. This year, there were certainly a good amount of very good football players."
 
The five players from Kentucky tied for the most Stoops has signed from the state during his UK tenure, but the Commonwealth did not lead the way. That was Georgia, from which UK signed six. That was no accident.
 
"I think with our success this year being, having some success on the field certainly helps in that area," Stoops said. "You know it's the heart of the SEC in there and everybody goes into Georgia. There's a lot of good football players in there. But we were definitely dead set on going in there and making sure we get the right players and getting good football players out of that state. They're definitely there."
 
Time will tell, but Stoops is optimistic about this group. It features a pair of junior-college prospects in outside linebacker Marquez Bembry and defensive back Quandre Mosely, a Signing Day surprise who picked UK over Oregon. The four high-school prospects are defensive back Taj Dodson, outside linebacker K.D. McDaniel, running back Travis Tisdale and linebacker Tra Wilkins.
 
"I'm telling you when I was recruiting a quarterback years ago, and I went in there and started taking over his recruitment, Kentucky was looked at as, 'Why you want to go there if you're from the South? Why do you want to go there? You're going to skip over all of these schools to go to Kentucky?' " Marrow said. "But, when you starting beating those schools. When you start beating South Carolina, Florida, Missouri and all of those schools, Mississippi State, well, oh, this is a school I really want to go to. That's what happened with us in Georgia now."
 
UK also ventured into Florida and snagged four commitments, while also keeping open its Ohio pipeline with three more signees. The Ohio group might not be as big as in past years, but it certainly has quality. Coaches are high on four-star safety Moses Douglass, who didn't even make another visit in spite of offers from all over, and Cavon Butler and Isaiah Gibson project as difference-makers in the interior of UK's defensive line.
 
"It's such a key with Cavon and Isaiah, both really good football players," Stoops said. "When you go, and you've heard me talk, and you know just watching and seeing recruiting, you have big defensive tackles that are big and athletic and playmakers, they're hard to get and they're hard to hold onto. And we really did a good job as a staff."
 
In terms of position, a bulk of UK's recruiting efforts was focused on linebacker and defensive back. Considering what the Wildcats will lose at those two spots, that was needed. UK's entire starting defensive backfield will depart, while outside linebacker Josh Allen is a few months away from becoming a top draft pick. In turn, UK landed five linebackers and five defensive backs.
 
Without question, the success of the players those newcomers will work to replace had something to do with that. With the endorsement of the winner of the Chuck Bednarik Trophy, the Bronko Nagurski Trophy and the Lott IMPACT Trophy, it's easy to see why.
No one " recruits and develops" better than this coaching staff at Kentucky. I should know. Welcome to the #BBN to all of our signees today.

— Joshua Allen (@JoshAllen41_) December 19, 2018

With those signees, UK already has a solid class, but it still might not be complete. With scholarships available and the February signing period ahead, recruiting for the class of 2019 continues.
 
"You never know what's going to happen, what's going to shake out," Stoops said. "There's a lot of talk and motion with kids nowadays with transfers and things of that nature, and certainly just the recruiting, the guys that are available still. And we're on some really good kids that we knew were going to take it into February. And we're still going to continue to battle with those guys as well."