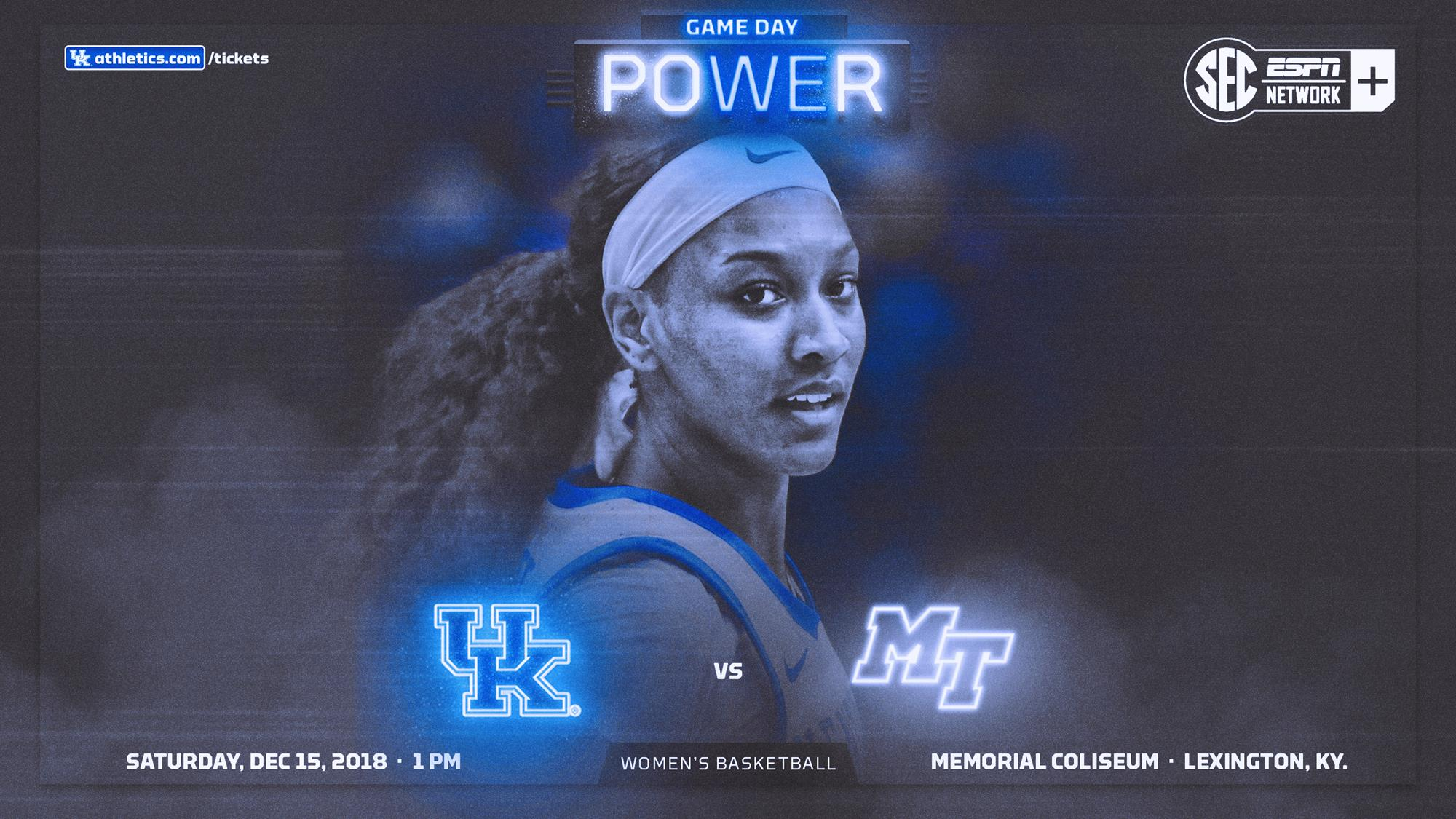 December 14, 2018 - 09:27 AM
No. 18 Kentucky Begins Five-Game Home Stretch Saturday vs. Middle Tennessee
LEXINGTON, Ky. – The No. 18 University of Kentucky women's basketball team begins a five-game home stretch Saturday when it plays host to Middle Tennessee at 1 p.m. ET inside Memorial Coliseum.
 
Fans can receive free admission into the game by donating a new toy at any entrance of Memorial Coliseum. The donated toys will go to Mission of Hope, which is a year round ministry blessed to assist many of our less fortunate Appalachian neighbors with much needed goods and resources. Sophomore forward Tatyana Wyatt is scheduled to sign autographs postgame.
 
The game will be streamed on SEC Network+ with Christi Thomas and Jeff Piecoro on the call. The action can also be seen through WatchESPN on computers, smartphones or tablets. Darren Headrick will have the call on the UK Sports Network on 630 AM in Lexington. Live stats and free live audio will be available online at UKathletics.com.   
 
Spectator parking is located in all E-lots surrounding Memorial Coliseum and are off control 3 hours prior to tip. Additionally, the South Limestone Garage (PS#5) and the Rose Street Garage (PS#2) are available 2 hours prior to tip. With the Gatton Student Center lot and expansion of North Craft lot there are 238 additional parking spots for spectators this season around Memorial Coliseum. The Bill Gatton Student Center is available as a pay-to-park option. Availability is based on the Gatton Student Center Event Schedule.
 
The Lexington Parking Authority Transit Center Parking Garage, located between High Street and Vine Street is available for parking after 5 p.m. during the week and all day on the weekends. Additionally, a free shuttle service will pick up in the High Street lot beginning 2 hours prior to tip. UK Athletics Event Staff will be at the Transit Center Garage Entrance to assist with directing patrons to the correct shuttle pick-up location.
 
Parking is prohibited in any R (Residential) lots. Vehicles parking in R lots without a proper permit, along yellow curbs, grass spaces, or other non-specified and unapproved areas may be subject to ticket and/or tow. Disabled spectator parking is available with a valid, state issues disabled hangtag in the E lot North of the Craft Center. These spaces are available on a first-come, first-served basis until full.
 
Shuttles are available beginning 2 hours prior to tip off and pick up and drop off near the South Limestone Garage (PS#5) and near the Transit Center Parking Garage and High Street Lot. Shuttles will start back up after halftime to return guests to their parking areas, the shuttle will discontinue service 1-hour post-game.
 
Doors to Memorial Coliseum open 1.5 hours before tip and UK Athletics encourages women's basketball fans to arrive early to ease traffic and parking congestion around the Coliseum. For more information on parking around Memorial Coliseum and other game-day questions visit UKathletics.com.
 
Kentucky (9-1) is coming off its first loss of the season last Sunday at highly ranked Louisville, 80-75. Freshman guard Rhyne Howard scored a team-best 25 points in the game with 10 rebounds and six assists. The performance was her third double-double of the year and her fourth 20-point scoring game. For her efforts, Howard was named the Southeastern Conference Freshman of the Week for the third time this season.
 
Howard leads Kentucky in scoring (18.9 points per game), rebounding (7.2 rebounds per game) and blocks (12). Senior guards Maci Morris and Taylor Murray are each averaging over 15 points per game with Morris at 16.8 and Murray at 15.1. Morris has hit a team-best 28 3-pointers this season with 3.4 rebounds per game while Murray leads UK with 40 assists and 35 steals. Junior guard Jaida Roper is averaging 8.1 points per game with 20 assists. Freshman guard Blair Green is averaging 5.7 points and is a perfect 10-of-10 from the free-throw line.
 
Middle Tennessee enters the weekend with a 7-2 overall record, including a 65-58 win over Southeastern Conference foe Vanderbilt to start the season. The Blue Raiders are riding a five-game winning streak after earning wins over the last month vs. Mississippi Valley, Dartmouth, UNLV, Georgia State and Troy. MTSU hasn't played since Dec. 4 when they used a come-from-behind effort to earn a 67-64 win at Troy.
 
Rick Insell's squad is averaging 68.7 points per game this season while limiting opponents to 59.0 points per game. MTSU is hitting 43.8 percent from the field and 34.1 percent from long range. The Blue Raiders enter the weekend with a +5.1 rebounding margin and +1.3 turnover margin.
 
Freshman guard Tyler Sutton leads Middle Tennessee in scoring at 13.9 points per game this season, hitting a team-best 22 3-pointers with 16 assists and nine steals. Sutton scored 25 points in MTSU's last game at Troy, earning USBWA National Freshman of the Week honors. Senior forward Alex Johnson is averaging 13.3 points per game and has 4.7 rebounds per game hitting 62.7 percent from the field while senior guard A'Queen Hayes is averaging 12.8 points per game and leads the team with 28 assists and 14 steals. 
 
Kentucky leads the all-time series in games played against Middle Tennessee 15-5, including a 9-1 mark in games played in Lexington. The lone home loss to the Blue Raiders was a 74-68 decision in January of 1984. The two teams met last season in Murfreesboro with Middle Tennessee using a second-half comeback to grab a 62-57 victory. The loss for UK snapped a five-game Wildcat winning streak in the series.
 
For more information on the Kentucky women's basketball team, visit UKathletics.com or follow @KentuckyWBB on Twitter, Instagram and Snapchat, or Kentucky Women's Basketball on Facebook.
UK Athletics Communications and Public Relations
Kentucky Women's Basketball
Kentucky Pre-Middle Tennessee News Conference
Dec. 14, 2018
Joe Craft Center – Lexington, Ky.
UK Head Coach Matthew Mitchell

Opening statement…
"This is a very difficult game ahead of us tomorrow. Middle Tennessee has a very good team and has really been playing well. I have a lot of respect for Coach Insell and his program and they are just always very tough to play against. Particularly, they have had quite a few days to game plan for this one and it is always very challenging. They will test us in every way possible and it will be a difficult game and we have to come out with tremendous defensive energy and focus. We have to be super sharp because they are great at executing their offense and have very intelligent players that can read defenses and make plays. We just have to get a mind for hustling tomorrow and be ready to scrap and claw for 40 minutes and see if we can earn a victory."
 
On why it is always a hard game against Middle Tennessee …
"I tell you, they always have good players and Coach Insell is one of the great coaches in our profession and is a hall of fame coach and really one of the great game planners that we go against. He knows how to put the pressure on you and make your uncomfortable and make you think a lot. It is always a challenge because of great players and a great game plan and a great program. They win and are a championship level program. It is always a really tough game."
 
On how the team has responded to the loss at Louisville …
"Well, we need to get better. We weren't sharp enough to win the game. I was proud of their fight but you have to do more and put it together and execute. We are still building and trying to grow as a team and we really have to sharpen up, especially when teams have the chance to prepare and get ready for you. They are not just going to sit out there like sitting ducks and let us do what we want to do. That is one benefit of the Louisville game is they ran some challenging action that we had to defend and we didn't always defend it well so you can learn from that and get better defensively. This week has been good. I am really proud of our players, it was final exam week, so they have been working hard. We take a lot of pride in academic accomplishments and achievement and we have some really intelligent and high character students who want to do well in the classroom. So most of the week has been devoted to academics and trying to finish strong. But the practices have been good. I know they are a little mentally fatigued from having to work hard on their exams and challenging courses. But I think there was a little sigh of relief today with exams behind them and complete. They came out and hustled and gave a good effort today in practice."
 
On not playing a pressing style at time and if that is something he has considered …
"There is a commitment you have to have to be good at the end. I don't know that we are at a spot where we can kind of play in-between and do different things. I certainly understand that thought process and that thinking. As you are watching the game, it looks like maybe you can make a few slight adjustments and it might look a little better, but we are in our first year of recommitting to this style of play. The coaches have been there before but the players may not have and they are still very young in this system and you just have to throw caution to the wind and commit to it. Once they get that down and do a little better and mature and players are more comfortable, then you can start tweaking it better. But Louisville has a really good team and certainly made some great plays but we could have played better. From that game, playing the way that we played, hopefully in the next game like that we will play better because people will get in better position and do what they need to do. It is not like if you just play another way you would have been outstanding. It is just that we were not quite sharp enough and we need more reps and games like Louisville and Middle Tennessee help you get there. So you have to stay the course with a strong stomach and get out there and make it happen, there is no way to run and no way to hide."
 
On the next few weeks …
"You know that I think is great is that we have some players that will benefit from some individual work. We worked really hard and I think benefited from some small group work and positioning work but I think some players can really benefit from some individual sessions. Now, not only can you work on your small groups and individual skill development with your groups but you can really get a KeKe McKinney and Tot Wyatt and Blair Green, some players who are very good outside shooters but their shot is maybe not falling and their confidence is lagging a little bit, we have found it very beneficial over the break to get some volume of shots and that really starts to build confidence there. I think that those areas can help us and confidence can help us and then really taking a good look at what is working for us and what we need to keep and what we need to add and think about refining the playbook and get down to what we do really, really well come conference time is important to your team this time of year."