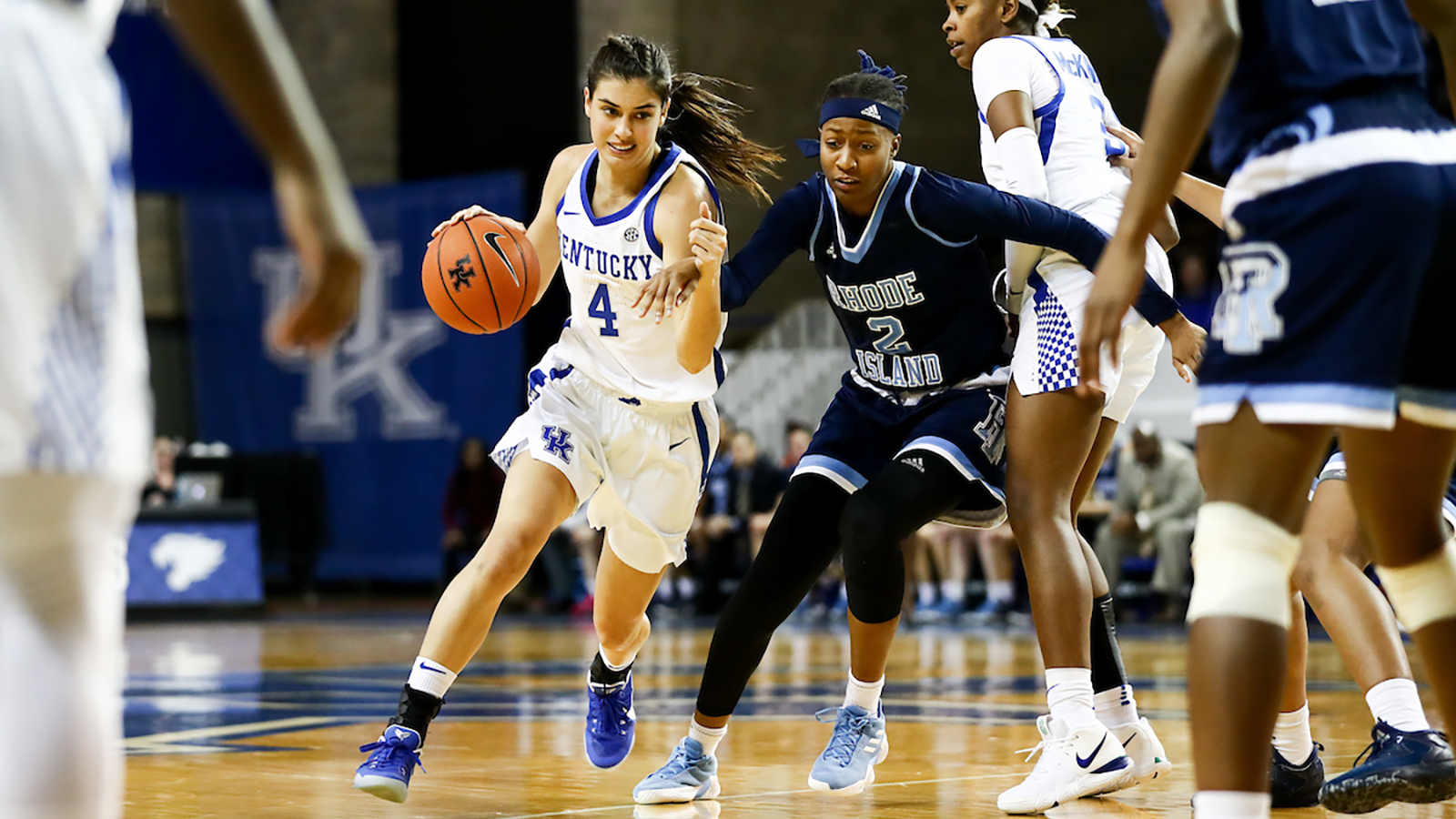 December 14, 2018 - 03:53 PM
Cats Hope to Prove Lessons Learned in First Loss of Season
The Kentucky women's basketball team suffered its first loss of the season on Sunday. Despite a huge fourth-quarter rally, Kentucky came up short against fifth-ranked Louisville, falling 80-75 in the Derby City.
While it's never good to lose, Kentucky head coach Matthew Mitchell and his team hope to use the loss as both a teaching tool and as motivation moving forward.
"Well, we need to get better, we weren't sharp enough to win the game," Mitchell said. "I was proud of their fight but you have to do more and put it together and execute. We are still building and trying to grow as a team and we really have to sharpen up, especially when teams have the chance to prepare and get ready for you. That is one benefit of the Louisville game is they ran some challenging action that we had to defend and we didn't always defend it well so you can learn from that and get better defensively."
Mitchell has been pleased with his team's practices this week, especially since they have come in the midst of UK's finals week.
"This week has been good, I am really proud of our players, it was final exam week, so they have been working hard," Mitchell said. "So most of the week has been devoted to academics and trying to finish strong. But the practices have been good. I know they are a little mentally fatigued from having to work hard on their exams and challenging courses. But I think there was a little sigh of relief today with exams behind them and complete. They came out and hustled and gave a good effort today in practice."
Kentucky's first chance to bounce back from Sunday's loss will be on Saturday afternoon, when the Cats host Middle Tennessee in the annual meeting between the schools. Mitchell knows that his team needs to be ready because Middle Tennessee poses a serious challenge.
"Middle Tennessee has a very good team and has really been playing well," Mitchell said of the 7-2 Blue Raiders. "I have a lot of respect for Coach (Rick) Insell and his program and they are just always very tough to play against."
This will be the 11th consecutive season that these two teams have met, in what has become an annual home-and-home series between the programs. Kentucky has won seven of the 10 meetings since the series resumed in 2008. Last season, Kentucky jumped out to a lead, but Middle Tennessee rallied for a 62-57 win in Murfreesboro. That win snapped the Wildcats' five-game winning streak against the Blue Raiders.
"They will test us in every way possible and it will be a difficult game and we have to come out with tremendous defensive energy and focus," Mitchell said. "We have to be super sharp because they are great at executing their offense and have very intelligent players that can read defenses and make plays. We just have to get a mind for hustling tomorrow and be ready to scrap and claw for 40 minutes and see if we can earn a victory."
Saturday will be Kentucky's first chance to prove that they learned, and grew, Sunday's loss at Louisville. With that experience, in addition to another week of practice, the Mitchell and the Wildcats know they will be ready for the challenge that Middle Tennessee presents.