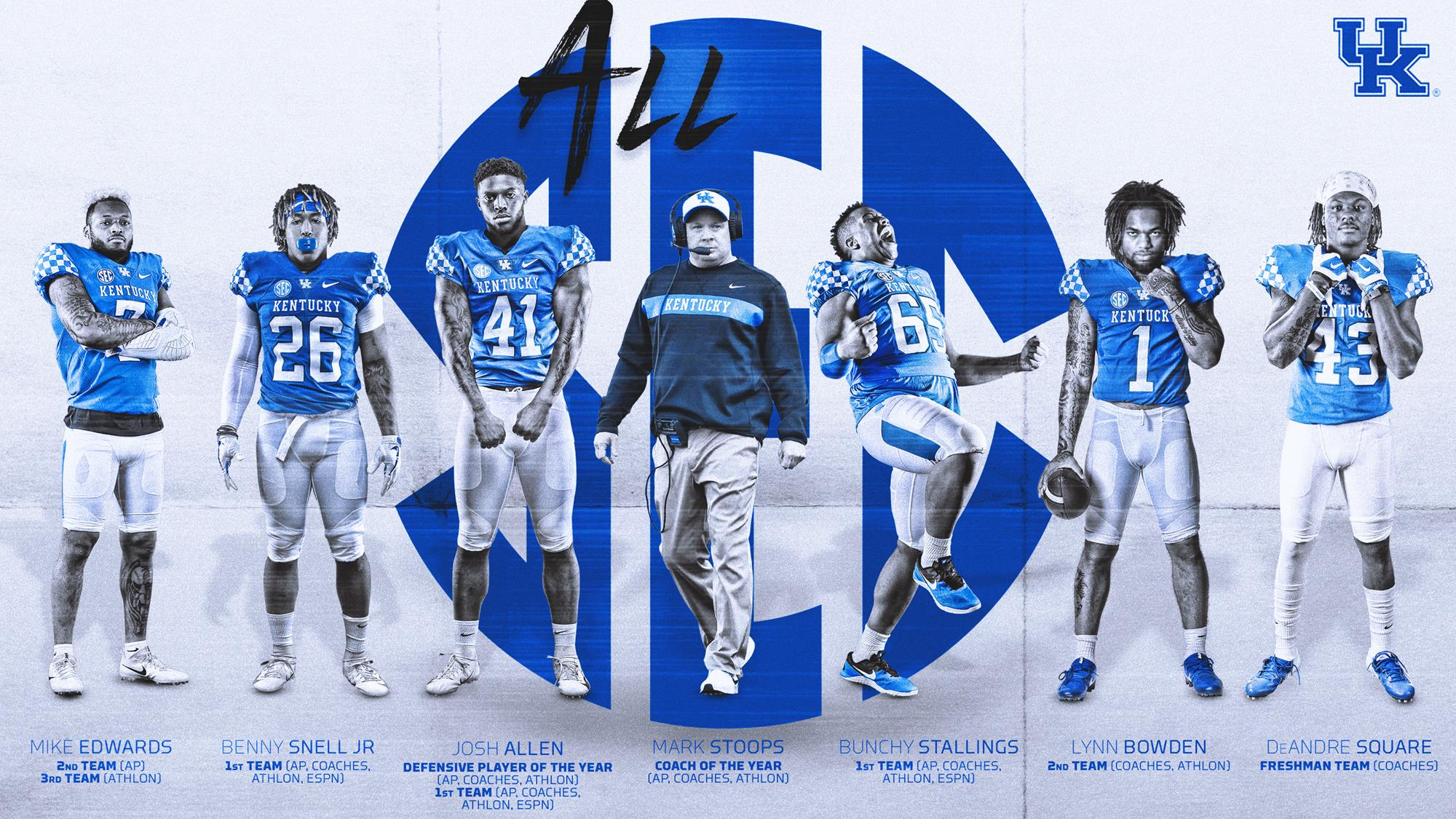 LEXINGTON, Ky. – Kentucky senior linebacker Josh Allen, sophomore wide receiver/kick returner Lynn Bowden, Jr., senior safety Mike Edwards, junior running back Benny Snell, Jr., senior offensive guard Jervontius "Bunchy" Stallings  and head coach Mark Stoops have received Southeastern Conference recognition on one or both of the All-SEC teams authored by Athlon Sports and ESPN.
Allen, Snell and Stallings are first-team All-SEC by both selectors.  Athlon tabbed Bowden second team as an all-purpose player and Edwards as a third-teamer.  Athlon chose Stoops as its SEC Coach of the Year and Allen as its SEC Defensive Player of the Year. ESPN announced only a first team (no second or third teams) and did not choose a defensive player of the year.
Allen has been a pass rush terror this season. With 28.5 career sacks and 14 sacks in 2018, he now holds UK's career and single-season records. His 11 career forced fumbles tie former Wildcats and current Chicago Bear Danny Trevathan for UK's career mark (forced fumbles stats available since 1988).  He leads the team with 84 tackles and paces the SEC in sacks, tackles for loss (18.5) and forced fumbles (5). He is among the NCAA leaders in sacks, TFL and forced fumbles. Twelve of his 14 sacks have come in the second half of games, including eight in the fourth quarter. In five of UK's wins this season, Allen had a sack in the fourth quarter that was crucial to the Wildcat victory, including two sack/fumble/UK recoveries on the opponent's final possession of one-score games. Here is a list of his SEC honors:
Defensive Player of the Year by Associated Press, Coaches, Athlon
First-Team All-SEC by Associated Press, Coaches, Athlon, ESPN
Snell, the junior from Westerville, Ohio, also was previously named first-team All-SEC by The Associated Press and SEC Coaches. His 1,305 rushing yards and 14 TDs are among the national leaders in both categories. He joined Herschel Walker as the only two players in SEC history to rush for at least 1,000 yards and 12 touchdowns in each of his first three seasons. He continued his onslaught on the UK record books this season and has broken or tied 13 school records during his career. He needs 107 yards in the VRBO Citrus Bowl to become the Wildcats' all-time leading rusher. 
 
The awards for Stallings, a senior from McComb, Miss., join his previous first-team All-SEC picks by AP and Coaches. Stallings was responsible for only one-half quarterback sack all year.  He totaled 170 blocks at the point of attack and had 55 knockdown blocks. His blocking efficiency helped Snell reach his third consecutive 1,000-yard season.
 
Bowden, a sophomore from Youngstown, Ohio, was one of the league's most explosive threats this season, leading the Wildcats with 62 catches for 661 yards and five touchdowns. He returned 20 kickoffs for an average of 22.5 yards and jumpstarted the Cats' wild, come-from-behind win at Missouri with his 67-yard punt return for a touchdown in the fourth quarter of a game UK won on the final play of the game. He also was second-team All-SEC as an all-purpose player by the league coaches.
 
Edwards, a senior from Cincinnati, Ohio, capped his career in style with a 66-yard interception return for a touchdown on Senior Day vs. Middle Tennessee. Having started 43 consecutive games, Edwards ranked second on the team in tackles with 77, added nine tackles for loss, two interceptions, a forced fumble, a fumble recovery and six pass breakups. He joined the 300-career tackle club as well this season. Last week, he was a second-team All-SEC pick by AP.  This marks the third season in a row that Edwards has earned All-SEC honors.
 
Stoops led Kentucky to a 9-3 record, UK's best regular-season record in 41 years, and UK's 5-3 SEC record is the team's first winning league mark in 41 years. Under Stoops, UK has equaled or exceeded its wins from the previous year in six consecutive seasons. The Wildcats conclude the season Jan. 1 vs. Penn State in the VRBO Citrus Bowl.
 
For more information on the Kentucky football team, follow @UKFootball on Twitter and Instagram, or like Kentucky Football on Facebook.