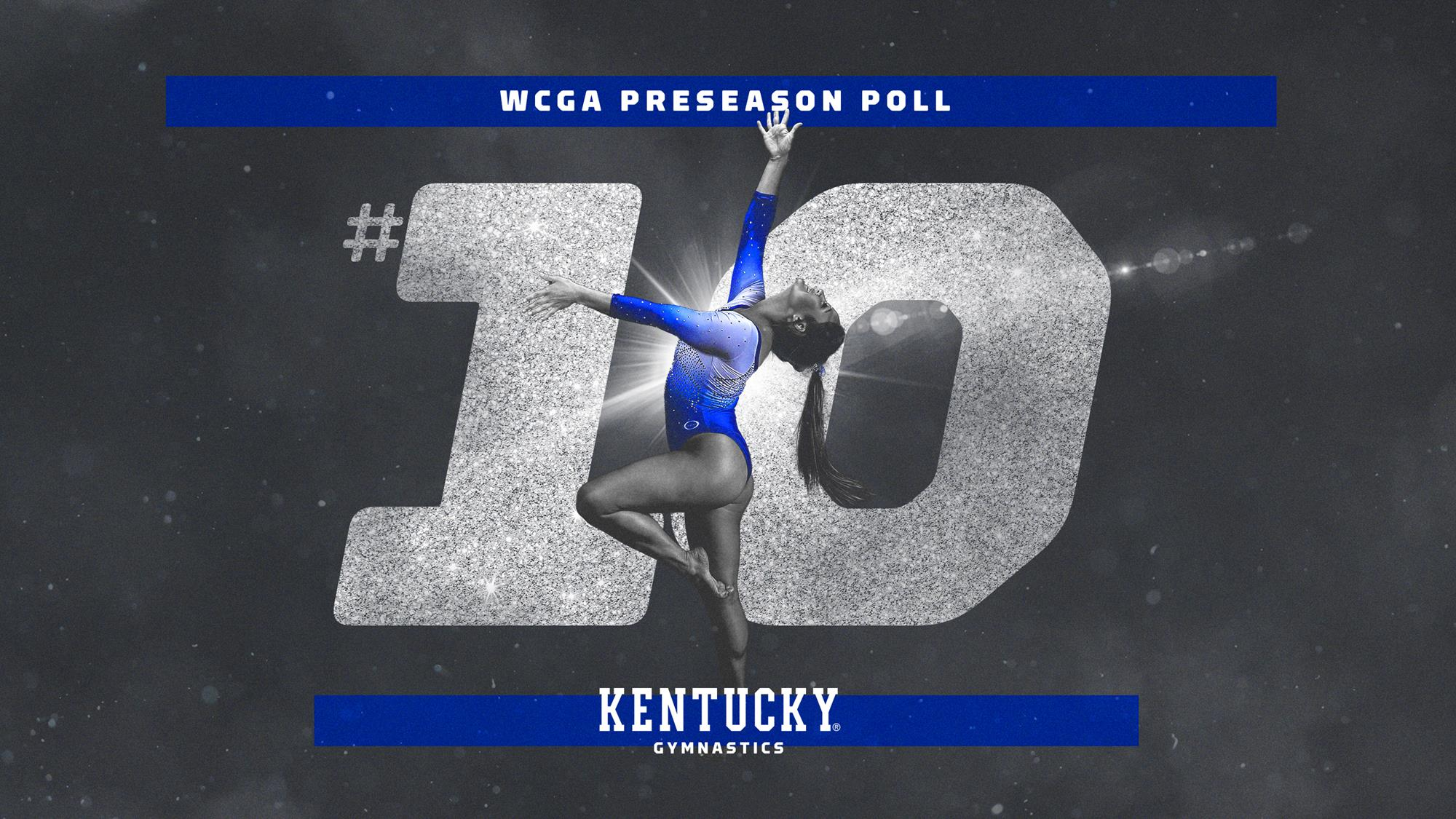 December 10, 2018 - 01:00 PM
UK Gymnastics Ranked No. 10 in Preseason Poll
LEXINGTON, Ky. – The Kentucky gymnastics team will begin its 2019 campaign with a top-25 ranking after checking in at No. 10 in 2018 Preseason Poll, voted on by the coaches of the Women's Collegiate Gymnastics Association.
With the No. 10 ranking, the Wildcats have now been ranked to start the season in each of the last eight seasons and in the top 10 in back-to-back seasons after also being ranked 10th to begin 2018. All eight SEC gymnastics squads appeared in the top 25.
In all, UK's 2018 schedule features 11 teams ranked in the top 30, including four in the top 10. UK will welcome No. 12 Arkansas to Rupp Arena to kick off the home season. Inside Memorial Coliseum, the Wildcats will host No. 4 LSU, No. 6 Alabama, No. 14 Auburn and No. 30 Central Michigan.
Kentucky will open the season Jan. 5 at Texas Woman's University at 7 ET. The Wildcats' first home meet will take place Jan. 18 at 6 p.m. when UK hosts the Razorbacks for Excite Night.
For more on the UK Gymnastics team, follow on Twitter, Instagram and Facebook.
2019 Preseason Poll
1. UCLA (1,961 points) (20 first place votes)
2. Oklahoma (1,959 points) (25 first place votes)
3. Florida (1,946 points) (9 first place votes)
4. LSU (1,891 points) (2 first place votes)
5. Utah (1,783 points)
6. Alabama (1,672 points)
7. Georgia (1,585 points) (1 first place vote)
8. California (1,526 points)
9. Michigan (1,517 points)
10. Kentucky (1,481 points)
11. Nebraska (1,361 points)
12. Arkansas (1,341 points)
13. Denver (1,286 points)
14. Auburn (1,281 points)
15. Washington (1,253 points)
16. Boise State (1,183 points)
17. Oregon State (1,005 points)
18. Ohio State (989 points)
19. Missouri (912 points)
20. Arizona State (862 points)
21. Stanford (831 points)
22. Illinois (809 points)
23. Minnesota (798 points)
24. BYU (749 points)
25. North Carolina State (704 points)
26. George Washington (611 points)
27. Penn State (525 points)
28. Iowa State (517 points)
29. Iowa (442 points)
30. Central Michigan (403 points)
31. Maryland (403 points)
32. Southern Utah (364 points)
33. Arizona (314 points)
34. New Hampshire (280 points)
35. West Virginia (259 points)
36. Pittsburgh (247 points)