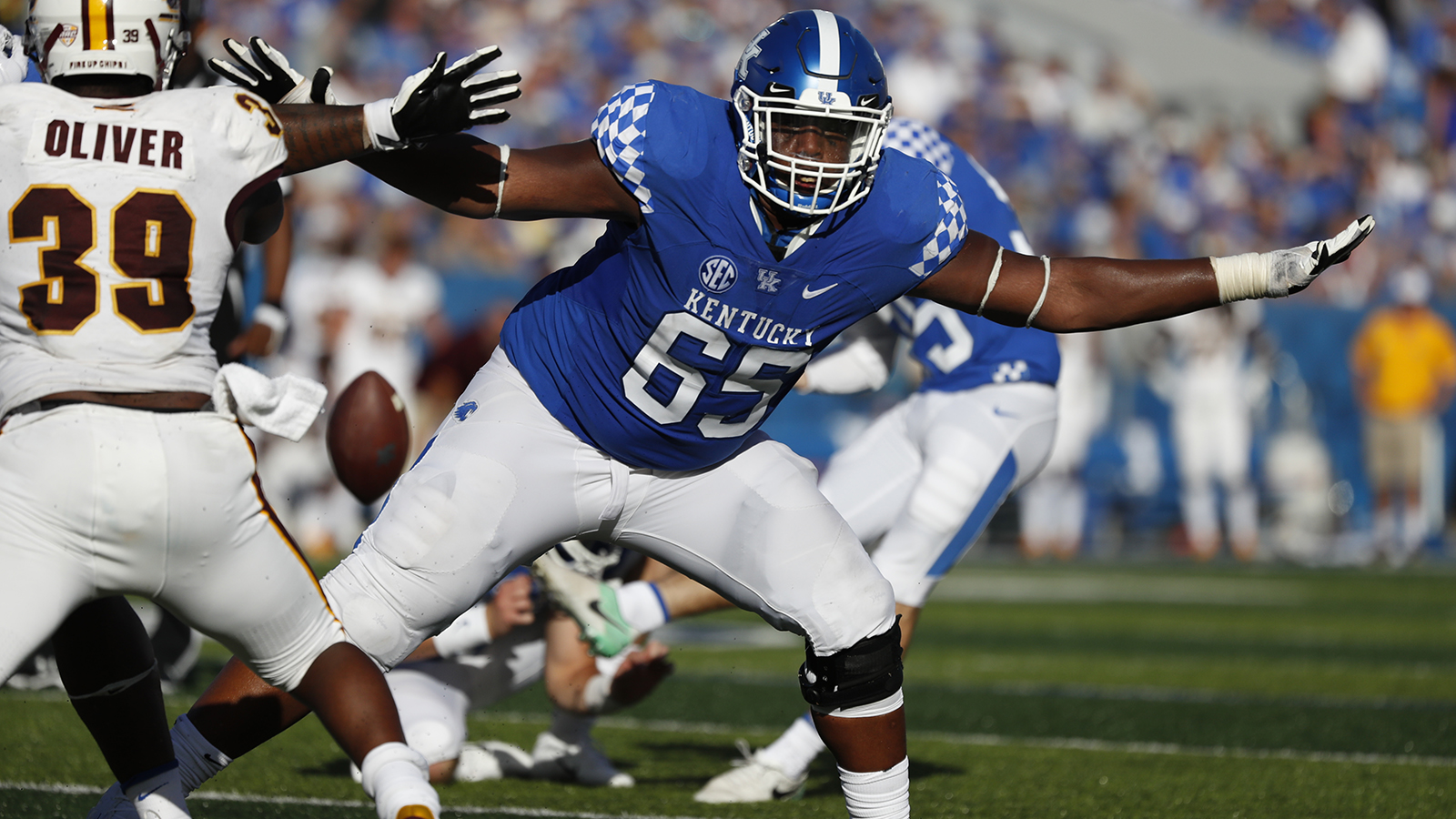 Allen, Snell and Stallings by The Associated Press and College Football News; Allen by ESPN
Two AP First-Team, Three Total AP Selections for First Time Since 1950
LEXINGTON, Ky. – Kentucky senior linebacker Josh Allen, senior offensive guard Jervontius "Bunchy" Stallings and junior running back Benny Snell Jr. continue to add to their stack of All-America honors with selections announced Monday by The Associated Press, ESPN.com and CollegeFootballNews.com.
Allen is first-team All-America by all three organizations.  Snell is a second-team All-American by College Football News and third-team from AP.  Stallings is first-team All-America by the AP and honorable mention by College Football News.
Kentucky's most recent Associated Press All-American was third-team offensive guard Larry Warford in 2012.  UK's most recent first-team honoree was wide receiver/kick returner Derek Abney in 2002.  The only other time in school history that Kentucky had three AP All-Americans, including a pair of first-teamers, was 1950 when quarterback Vito "Babe" Parilli and tackle Bob Gain (first team) and end Al Bruno (third team) were chosen.
Kentucky's most recent ESPN pick was wide receiver Randall Cobb, a first-team honoree in 2010.  The most recent picks by College Football News were linebacker Danny Trevathan (first team) and Cobb (second team) in 2010.
Allen's honors add to a growing list of accolades for the senior from Montclair, N.J.
Bronko Nagurski Award, National Defensive Player of the Year
Chuck Bednarik Award, National Defensive Player of the Year
Ronnie Lott IMPACT Trophy, National Defensive Player of the Year
First-Team All-America by Walter Camp Football Foundation, Sports Illustrated, TheAthletic.com, ESPN, Associated Press, College Football News
SEC Defensive Player of the Year by AP, Coaches
First-Team All-SEC by AP, Coaches
 
Allen has been a pass rush terror this season. With 28.5 career sacks and 14 sacks in 2018, he now holds UK's career and single-season records. His 11 career forced fumbles tie former Wildcats and current Chicago Bear Danny Trevathan for UK's career mark (forced fumbles stats available since 1988).  He leads the team with 84 tackles and paces the SEC in sacks, tackles for loss (18.5) and forced fumbles (5). Twelve of his 14 sacks have come in the second half of games, including eight in the fourth quarter. In five of UK's nine wins this season, Allen had a sack in the fourth quarter that was crucial to the Wildcat victory.
These are the second and third All-America recognitions for Snell, the junior from Westerville, Ohio, who also was second-team All-America by Walter Camp. His 1,305 rushing yards and 14 TDs are among the national leaders in both categories. He joined Herschel Walker as the only two players in SEC history to rush for at least 1,000 yards and 12 touchdowns in each of his first three seasons. He continued his onslaught on the UK record books this season and has broken or tied 13 school records during his career. He needs 107 yards in the VRBO Citrus Bowl to become the Wildcats' all-time leading rusher.
 
The award for Stallings, a senior from McComb, Miss., follows first-team All-America honors from TheAthletic.com and second-team All-America by Sports Illustrated. Stallings was responsible for only one-half quarterback sack all year.  He totaled 170 blocks at the point of attack and had 55 knockdown blocks. His blocking efficiency helped Snell reach his third consecutive 1,000-yard season.
The trio has helped lead Kentucky to a 9-3 record, UK's best regular-season record in 41 years, and UK's 5-3 SEC record is the team's first winning league mark in 41 years. The Wildcats conclude the season Jan. 1 vs. Penn State in the VRBO Citrus Bowl.
 
For more information on the Kentucky football team, follow @UKFootball on Twitter and Instagram, or like Kentucky Football on Facebook.