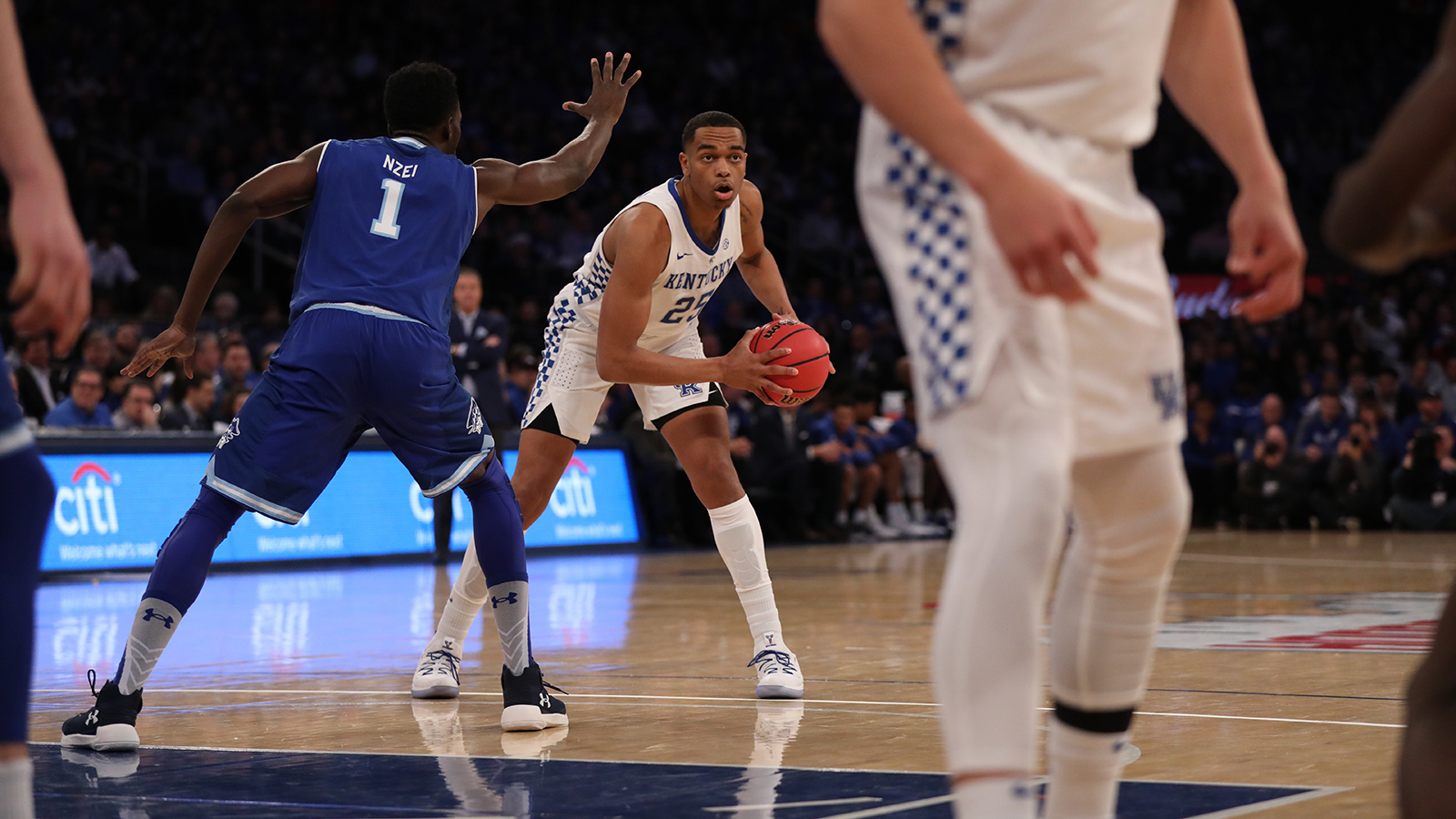 December 8, 2018 - 03:26 PM
No. 9 Kentucky Falls to Seton Hall in Overtime
NEW YORK – PJ Washington scored a career-high 29 points and grabbed 12 rebounds, but ninth-ranked Kentucky came up short, losing to Seton Hall 84-83 in overtime on Saturday at Madison Square Garden.
Kentucky (7-2) appeared to have lost the game at the end of regulation when Seton Hall's Myles Powell hit a three-pointer with 1.5 seconds left in the game to give the Pirates a 70-67 lead. But Washington inbounded to Keldon Johnson, who drilled a midcourt three to tie the game 70-70, forcing overtime.
In the extra session, Seton Hall scored the first four points to lead 74-70. The Pirates would hold the lead until Johnson struck again, with another three, giving the Cats an 82-81 lead with 42 seconds left.
On Seton Hall's next possession, Myles Cade missed a three-pointer and Johnson secured the rebound. UK's Ashton Hagans was fouled, and was able to make one of two at the line to make it 83-81 with 23 seconds remaining.
Seton Hall (6-3) had a chance to take the lead on its last possession, again going to Cade, who converted a three-pointer from the right side to give the Pirates an 84-83 lead with 9.5 seconds left. Kentucky did not call a timeout, instead choosing to play. Johnson got a look at a three, but Seton Hall's Quincy McKnight got a hand on the shot, and the ball fell harmlessly as time expired.
Kentucky controlled the first half, trailing only once, at 12-11. The Cats struggled to score in the first 20 minutes, but the UK defense held Seton Hall in check. Kentucky used a 9-1 run to take a 24-16 lead, which would be the Wildcats' biggest advantage of the game. UK led 31-25 at the break.
Early in the second half, Kentucky would again lead by eight, 35-27. But with the Cats leading 39-32, the Pirates went on an 11-0 run to take a 43-39 advantage with 12:39 to play in regulation. Kentucky would tie the game 43-43 and the teams would play evenly until the Cats had a 5-0 run to lead 58-54 with 4:45 to go.
Kentucky held a 67-64 lead with 1:48 remaining in regulation, but Powell, who led Seton Hall with 28 points, hit a contested three-pointer with 1:13 left to tie the game at 67 apiece. Powell struck again with two seconds left, setting the stage for Johnson's heroics, which sent the game to extra time.
Reid Travis had 13 points and six rebounds for the Cats, while Johnson and Tyler Herro each had 10.
Kentucky returns to action next Saturday, hosting Utah at Rupp Arena. Tipoff is set for 5 p.m. ET and the game can be seen on ESPN2.